A single pineapple stands proudly in the center of a ring of water polo players. A few players bow their heads in reverence while others gaze lovingly at the semi-rotten fruit. Finally, senior Kevin Bowers rises from the circle and gently caresses the spiny exterior. The pineapple is then whisked away and the players slowly come out of their trance. They pull on their goggles and speedos before jogging out of the changing room, prepared for their game.
"We have a team pineapple," Bowers said. "He doesn't have a name, but he means a lot to us. We bring him around before the game, we take him out to dinner and we touch him. Every time we've done that, we've won."
"Praising the Pineapple" is the boys water polo team's pre-game ritual. The process allows the team to reflect on their lives and connect to one another. No matter the stresses the players encounter in their lives, the time spent with the pineapple is calming for the team.
"If I'm having a bad day, the pineapple is there for me no matter what," Bowers said.
Most sports at Paly have some sort of ritual, though none are quite as unorthodox than that of the boys water polo team. Team rituals can appear as silly, unnecessary activities to non-athletes, but they are often an integral part of team cohesion and game success.
"You get a better feeling for yourself through the pineapple," Bowers said. "The team just feels more connected because you can all relate to one thing."
Rituals are what bond the team off the field. During practice and games, players learn about each other's strengths and weaknesses, but off the field, they can be complete strangers. Additionally, a sports team brings a diverse set of individuals together, which often creates problems. In order to truly work well together, players need to understand not only how their teammates act, but also how they think.
Football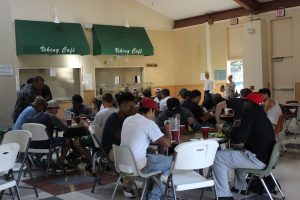 Football is a sport that demands team unity. In order to increase its interactions off the field, the Paly team eats dinners together the night before its games. Junior Sean Romeo feels that this ritual encourages a level of openness that is key to team chemistry.
"The coach will bring up a topic in the form of a question and we discuss it within our groups," Romeo said. "Some examples of questions are, 'What are your goals for the entire season' or 'Why do you play football at all?'"
As the players discuss these core questions among themselves, they get a better feel for how everyone on the team thinks. For the football team, open conversation between players helps break divisions between age, ethnicity and social standings.
"Team rituals are about being open and being honest," Romeo said. "[They] create an environment where you can get on the same level as everyone else, even if they are not people you normally interact with."
Romeo feels that without their weekly dinners, the football team would be divided, and the players would lose their motivation.
"I feel that [our dinners] are really something that has really brought us together as a team on and off the field," Romeo said. "They are why we keep on playing."
Cross Country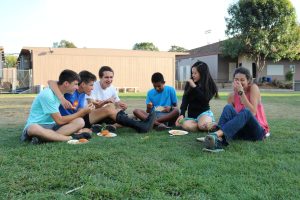 However, not all sports use team rituals for bonding purposes. Cross country organizes a "pasta feed," which is similar to the football team dinner. However, the team uses pasta feeds as events to socialize rather than as intimate bonding rituals. Football requires team cooperation in order for an individual to succeed — a wide receiver cannot score a touchdown if the quarterback throws a bad pass. In cross country, individual performance is unconnected to how well teammates do at a meet because runners receive individual times.
However, there are two reasons that runners attend these social gatherings: nutrition and interaction.
The cross country team is comprised of separate girls and boys teams, and the two
train separately. Pasta feeds are one of the few times when the boys and girls teams can interact. Senior Samuel Desré enjoys pasta feeds because they bring together two similar teams that are otherwise isolated.
"Since the boys and girls teams train separately, pasta feeds create an opportunity to make connections with members of the other team," Desré said. "These connections then help during the meets since both teams cheer each other on."
Senior Portia Barrientos, captain of the girls team, believes that people attend pasta feeds because of the nutritional benefits, not the gender attraction.
"Before every meet, the cross country team has pasta feeds because runners like to [load up on carbohydrates] before their race so that they have extra energy to help them perform," Barrientos said. "Sometimes [pasta feeds] lead to wonderful relationships, but generally people just come for the food."
The girls cross country team also has an exclusive program called "Secret Buddies." Girls are secretly assigned to a teammate, and give gifts to each other throughout the season.
"It's really fun because you get to give gifts and receive a lot of stuff, and you never know what you might get," Barrientos said.
Volleyball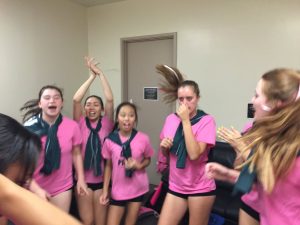 Tangled hair, loss of voice and deafness are a few of the side effects of the girls volleyball
team ritual. Before games, they gather in a tight circle and scream the lyrics to "Shots" by LMFAO. This deformed version of karaoke motivates the team and readies them to spike the ball into the faces of the opposing players.
"Our team thrives on energy, so when we have our team ritual it helps us get super pumped up," junior Jessica Lee said. "At the end we're ready to play."
Unlike other team rituals, "Karaoke in the Gym" exists to drive the team into the frenzy. By the end of the song, the girls are ready to destroy the opposing team. Junior Fiona Green uses the ritual to forget all other distractions and focus in on the upcoming game.
"In games, nothing is really constant, but having a pre-game ritual gives players a constant and brings the people together, ensuring that they work as a cohesive team when the game comes," Green said.
The Big Idea
Although team rituals range from the worship of a rotten pineapple to incoherent singing, their place within sports teams is essential. A team brings together people of wildly different backgrounds and interests and forces them to work towards a common goal. Rituals help integrate new players, embolden introverts and push the team towards success.
"Team rituals bring the team together," Bowers said. "Now why? It's because [they're] something that every member of the team can relate to. Automatically I have to accept people into the team because [they] have touched the pineapple and I've touched the pineapple and [we] have to be friends. It's a matter of tradition, it's a matter of family and it's a matter of the team."