Like she does most mornings, Katie wakes up and scrolls through her social media accounts, catching up on tweets and photos posted by her friends. Next, she opens Tinder. Sorting through the profiles that appear on her screen, she comes across a boy displaying a photo taken at his homecoming dance. After a few moments of consideration, she swipes right.
Three months and dozens of dates later, Katie and her now-boyfriend exchange their first 'I love you's.'
Over the past few years, Tinder, a mobile matchmaking service that allows users to evaluate prospective dates with a single swipe, has revolutionized the world of online dating. While traditional online dating sites such as Match.com, OkCupid and eHarmony utilize detailed profiles and descriptions, Tinder instead offers a small collection of photos along with a name, age, school, job and short bio to users, who can swipe left for no, or swipe right for yes.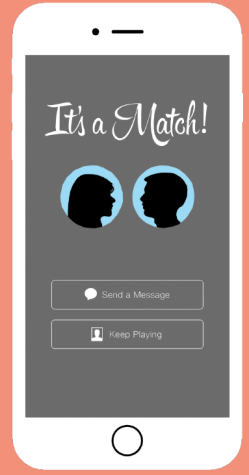 Along with its reputation for being simplistic, engaging and even addictive, Tinder has gained less desirable attention as well, having been frequently accused of promoting appearance-based relationships, demoting love into the careless swipe of a finger.     
Nonetheless, Tinder continues to be the largest matchmaking service in the United States, attracting an estimated 50 million registered users as of 2015, over 50 percent of which are between the ages of 16 and 24.
When Katie, whose name has been changed along with all others who appear in this story, initially joined Tinder, the last thing she expected from the app was a genuine relationship.
"I joined Tinder as sort of a joke and to find people for hookups," Katie said. "I had no real expectations of going through with anything with my matches. Tinder was basically just about sending nudes and sexting, which ultimately I was not into doing."
Tinder users must be at least 13 years old and are required to register with their Facebook accounts, allowing the app to match up users based on mutual friends and interests.
Tinder's simplistic profiles create a vast network for connecting with strangers. However, the service is also notorious for the high volume of casual sexting that takes place within its digital walls.
"Most of the guys that chatted me on Tinder asked for nudes, so it happens pretty often," Katie said.
When first matched with her now-boyfriend, the experience began as Katie's other Tinder encounters typically had.
"When we first started messaging … it was pretty much him asking for nudes and sexting conversations," Katie said. "But eventually we started talking about more personal things, like our daily lives and hobbies."
After a month of exchanging messages, they decided to meet in person.
"We had planned to meet for a hookup, but after [meeting] he asked if I would consider anything more than that, and I said yes," Katie said. "After that, we started getting to know each other better, and we went on a lot of dates."
Nearly five months later, the two are still dating.
According to reports published by Tinder, it has been responsible for over nine billion matches, averaging around 26 million per day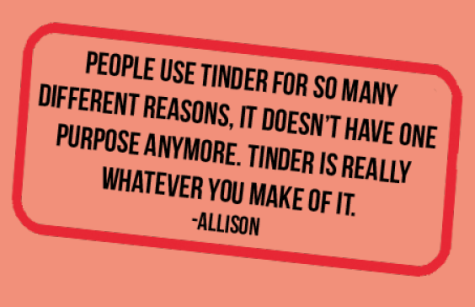 since its launch in 2012. However, not all matches are as successful as Katie's. After seeing a friend using the app, Wesley decided to download Tinder for entertainment, but soon began using it more seriously.
"The first guy I ever met on Tinder, I actually dated for a week," he said. "From there I've met a few other guys who I just hooked up with."
Wesley also experimented with Grindr, a social networking app geared towards gay and bisexual men.
However, unlike Tinder, Grindr presents nearby men in order of their proximity, and allows users to send photos and messages without prior engagement. These easy, rapid interactions lead to a faster-paced hookup culture, whereas Tinder's design of matching users encourages more mutual connection and the formation of a relationship.
"[Grindr] was a lot more hookup-oriented," Wesley said. "It's like, 'I'm going to hook up with you once and never talk to you again, deal with it.'"
Like Katie and Wesley, Allison originally joined Tinder as a joke, but ended up having a very different experience.
"My friends and I were messing around, just swiping [right for] people we thought were hot," Allison said. "We would talk to some people that lived in the area and see what they were up to."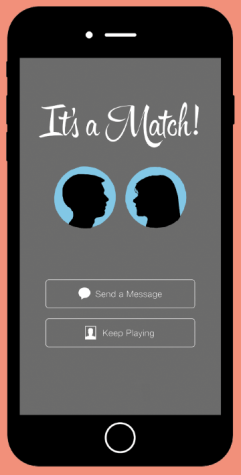 After a few weeks of using  the app, Allison matched with one particular boy, a San Francisco resident, whom she began messaging frequently.
As the two grew closer, Allison established him as a close friend. They exchanged numbers and Snapchats, and decided to meet up for a beach day in San Francisco a few days later. Tinder's minimalistic profiles allow the user to present their best qualities, but their simple design also leave gaps in communication between matches. If two users take the leap to meet in person, the exchange may not transpire as anticipated.
"He was pretty nice, but he had a very different personality than what I had imagined from communicating through social media," she said. "The trip [to San Francisco] was fun and it was cool meeting him in person, but I can't say that I would ever do it again."
Conversing with someone through the Tinder app makes it easy to articulate responses and feed another user a particular impression. However, speaking to a Tinder match in real life is a significantly different experience.
"When you have a Tinder relationship, the first contact you ever have is over the internet, where you know you can taper your answers … and make them think what you want them to think about you," Wesley said. "When you actually meet [someone] in person, it's kind of like … now I need to act this way around them, I need to do x, y and z with them, so there's a certain level of [falsehood] to it."
Andrew, like Allison, remains skeptical of the real-life component of Tinder's matching.
"[Tinder is] just something to [use] when you're bored and you want interactions with people," he said. "I talk to someone as long as I'm interested. If I get bored, I just stop talking to them, or I don't talk to them for very long."
Unlike Katie, Allison and Wesley, Andrew is wary of meeting with someone encountered on Tinder in person.
For some, Tinder is simply a method of entertainment and an occasional confidence booster. The freedom for users to manipulate age,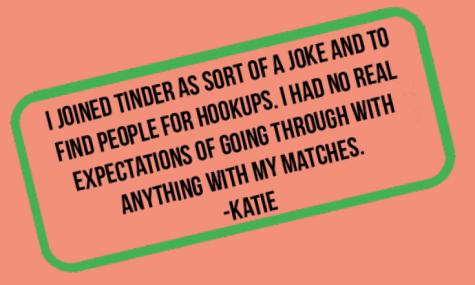 accomplishment and socioeconomic status allows Tinder users to create any persona they wish.
"Tinder allows you to be anyone you want, regardless of who you really are," Andrew said. "It provides a reason to let people be false."
Tinder, despite the ridicule that commonly surrounds it, has proven to be a major milestone in online dating. No matter the purpose it serves to its user, the app continues to gain momentum among young adults, connecting friends, bored teenagers and romance-seekers, one swipe at a time.
"There are a lot of people who don't have hope [of meeting someone], but you never know what to expect," Allison said. "People use Tinder for so many different reasons, it doesn't have one purpose anymore. Tinder is really whatever you make of it."