A pastime to some and worst nightmare to others, traversing cliff faces at dizzying heights is not a conventional sport. But to Palo Alto High School freshman Abby Santullo, it is second nature.
Santullo began competitive rock climbing at eight years old, following in the footsteps of her parents, who are both avid climbers. She first began her journey in climbing shortly after learning to walk.
"My parents started rock climbing right before I was born," Santullo said. "I've been going to the gym with them my whole life, and started climbing with them as soon as I was able to."
Since then, Santullo has gone on to climb competitively for Planet Granite, an indoor team based in Belmont, Calif.
With practices spread out throughout the week, Santullo's relaxed schedule allows her to efficiently balance school and climbing. Planet Granite has two practices a week for two and a half hours each, with an occasional extra practice on weekends that lasts all day. Every few weeks, her team competes in all-day competitions.
In local competitions, climbers are assessed on the number of climbs, or "problems," they are able to complete. Advanced competitions limit participants to a smaller number of problems, giving each climber several attempts and a designated period of time to complete each climb or get as high up on the wall as he or she can. Climbers compete individually within their age group, placing based on the difficulty of the climb completed, their speed, or their overall ranking among other competitors their age.
Since she began climbing competitively, Santullo has received recognition and numerous medals for ranking highly in competitions. At the age of 11, just three years after beginning to climb competitively, Santullo placed first or third in every local competition she competed in. More recently, she has competed and placed in several out-of-state competitions, including Youth Divisionals in Salt Lake City, a selective invitational meet. In the upcoming months, Santullo looks forward to traveling to more competitions outside the Bay Area.
"The competitions in other places haven't started yet, so I haven't been to any away meets this year," Santullo said. "I'm really looking forward to them. Competing somewhere unfamiliar makes everything feel more exciting and it kind of motivates me to do as well as I can, and it's just fun to travel to cities I wouldn't normally ever visit."
Climbing also allows Santullo to enjoy the benefits of team sports without requiring the skills typically regarded as necessary for conventional athletes. While rock climbing necessitates strength, it places less emphasis on the heavy physical exertion found in most other sports, which Santullo feels makes the sport more fun and rewarding.
"I love climbing because you don't need to be super agile or athletic," Santullo said. "I'm not either of those things. But I'm still a part of a team and I am still really dedicated to my sport. I'm not very good at most other sports, but rock climbing is something I can actually do and still have a lot of fun."
Beyond competition, Santullo enjoys climbing recreationally with her friends and family. Having climbed with her parents her entire life, she occasionally travels to outdoor climbing sites with them on weekends. Each summer, Santullo spends the last weeks of her vacation visiting family in Maine, where she frequently climbs nearby cliffs and boulders — a refreshing change from the indoor climbing walls she practices and competes on.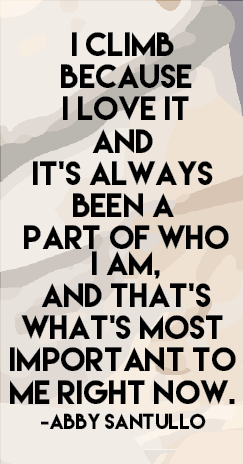 Santullo feels that climbing outdoors can be a more realistic and satisfying experience — ascending natural rock faces rather than artificial plywood and concrete ones and enjoying the open-air setting rather than that of an enclosed gym.
"I always train and compete indoors, so it's nice to climb outside when I have time," Santullo said. "Bouldering and cliff climbing have challenges that don't show up in gyms, so even when I'm just climbing outside for fun it's still good practice."
However, like all other athletes, Santullo has had her fair share of difficulties with her sport over the years.
"I broke my wrist a few years ago, which prevented me from climbing for a few months," Santullo said. "That really set me back a lot. It's also hard to train sometimes, when we occasionally have practices as far away as Reno, [Nev.]"
Though Santullo's climbing schedule is generally relaxed throughout the school week, occasional crucial practices in larger, less proximate facilities can make it harder for her to train for a higher level of competition.
"When we have practices further away, I have to sacrifice some time that I would have used for schoolwork," Santullo said. "If I were to not go to the travel practices, I would feel like I'm missing out on important training time with the rest of my team."
The irregularities in her team's practices are some of the largest drawbacks Santullo has experienced with competitive climbing, forcing her to haphazardly plan and make decisions surrounding single training sessions.
Nonetheless, Santullo will continue to climb for as long as she can. In the future, she hopes to progress to higher levels and rankings in order to compete in more advanced competitions, but she also has no specific long-term goals in the sport. Instead, Santullo is focused on performing as well as she can in competitions, taking each meet one at a time.
"I'm pretty content with the way things are now, I practice to do well in competitions but still having a lot of time to do recreational climbing," Santullo said. "I climb because I love it and it's always been a part of who I am, and that's what's most important to me right now."