A late night decision made by three administrators, Superintendent Dr. Max McGee, Palo Alto High School Principal Kim Diorio and Henry M. Gunn High School Principal Dr. Denise Herrmann on Wednesday cancelled a new policy change of removing community service hours from transcripts which had been set to be implemented in the upcoming week. The decision was reversed due to a lack of communication that left school officials in the dark.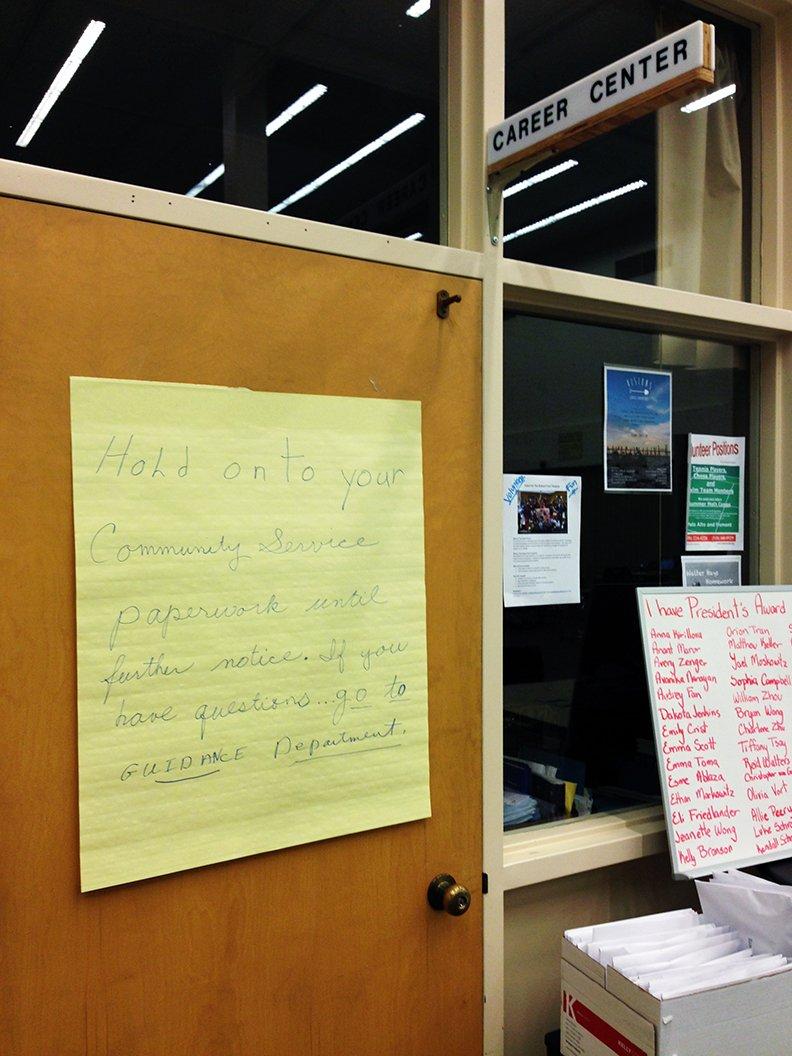 Under the new policy, no service hours would have been reported for all current and incoming Palo Alto Unified School District (PAUSD) students.
The policy change had been finalized in the spring of the 2014-15 school year by Secondary Records, a committee dedicated to refining processes of record keeping in PAUSD high schools and middle schools. The committee is composed of various authorities from within the guidance departments of each high school. However, McGee was not notified about the change until Tuesday when he received a phone call from the Board of Education President Melissa Caswell, who found out through a concerned parent. A letter to students explaining the new system had already been drafted at the time.
Diorio, who was informed of the policy change in passing on Monday, credited the reversal to the timing of the change.
"We all felt very strongly that regardless of the reason why this committee made this decision it just wasn't fair to kids to do it at the start of school and without any kind of advance notice — especially for seniors," Diorio said. "We don't want to cause any undue stress on kids."
McGee and Diorio were also very concerned by the lack of input and taciturn decision-making that took place.
"There should have been an opportunity for students, parents and faculty to be heard on a decision that affects them," McGee said. "I'm not pointing fingers at anyone but I am going to find out how this decision was made and what went into it."
McGee has since set the new Associate Superintendent Markus Autrey on the task of discovering how and why this happened behind closed doors.
[pullquote align="right" speaker="Superintendent Max McGee"]Sometimes when we decide to make decisions as a group and people want to go with the whole, irrational decisions can be made by rational individuals. We can't have a repeat of something like this.[/pullquote]
Christina Owen, Paly's community service and career advisor, has been long-term subbing in the Jordan English Department last Spring and this fall, but has continued and will continue to run the service-learning program at Paly.
"Our vision [for the district] is about supporting students as they prepare to thrive in a rapidly changing global world," McGee said. "Thriving in a global world means you serve others and contribute to the greater good. Service hours are an important part of students' educations."
An email will be sent to Paly and Gunn students and parents to further clarify the issue, according to Diorio.
"It was a communication fail on our part all around at the district and school level so I apologize profusely to the senior class and their parents as well who I know were worried about this," Diorio said. "We'll do better next time."
Additional reporting conducted by Nikhil Rajaram.
Note: A previous version of this story incorrectly stated that Christina Owen was leaving Paly's service learning program. The Campanile has since been notified that Owen will continue to volunteer.