College is undoubtedly a huge stepping stone in any student's life. While many prospective students have gathered bits and pieces of what the college experience entails, it is often difficult to gauge what surprises these next four years might bring. To paint a clearer picture of this transition, recent Paly graduates provide advice for current and future students as they shed light on their experiences of adapting to new academic structures and Paly's impact on their college careers.
ACADEMIC STRUCTURE
When a student transitions from high school to college, one of the biggest changes across all universities is in academic structure, leading to an increase in independent learning. College is often a person's first experience in paving his or her own path and making independent decisions without the close guidance of parents and teachers.
Based on his experiences in college so far, Joseph Chang, a Class of 2015 Paly alumnus and current freshman at Stanford University, has noticed a shift in class structure, which now puts more emphasis on independence and academic responsibility.
"For college, there's less of a 'safety net' in the sense that you need to motivate yourself to do stuff," Chang said. "In high school you're required to go to class and be present all the time, but in college you don't have to, so it's easier to fall into a cycle of just ditching class because you want to catch up on sleep."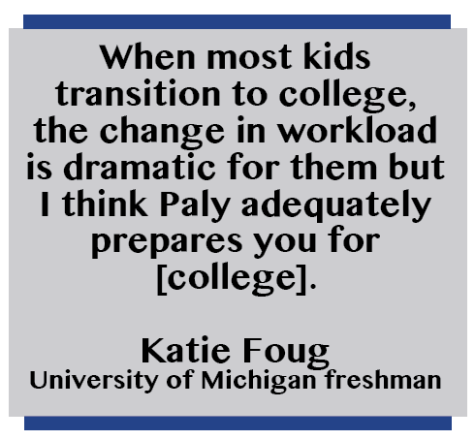 Casey Glassford, a 2015 Paly alumna and current freshman at Foothill Community College, also finds her classes easier now than they were while she attended Paly.
"My classes in college are easier than my classes at Paly were, and they are less stressful," Glassford said. "Since I go to Foothill, everyone's mostly focused on getting their work done so that they can transfer to a good school … Foothill has a bunch of transfer programs for the students that are really helpful and the transfer rate is really high."
Many college students are enrolled in four to five classes, meaning that they can spend more time thoroughly exploring all facets of the topics discussed in their courses. Noah Hashmi, a Class of 2015 alumnus and current freshman at Brown University, finds that this academic framework allows one to focus more on select topics, rather than only broadly approaching subjects.
"My classes right now are easier than those at Paly — part of the reason is because I have four classes I can focus my attention on as opposed to the seven that I had to constantly worry about at Paly," Hashmi said. "Classes are individually much more time consuming than those at Paly."
PALY PREPARATION
Though every student at a particular university shares the common bond of attending that institution, each enters with a different background of secondary education. Students coming from Paly have received different preparation than students from a private school in New York and even different preparation from students from Henry M. Gunn High School.
For Hashmi, college has been a smooth transition in terms of academic rigor. However, he believes this ease is not felt by many of his classmates coming from different high school.
"I definitely feel like Paly prepared me really well for college, especially compared to most of my classmates — for most of them, everything is a step up, but coming out of Paly, it's just a continuation of what I'm used to," Hashmi said.
Katie Foug, a Class of 2015 alumna and freshman at the University of Michigan echoed Hashmi's sentiment of feeling more prepared than most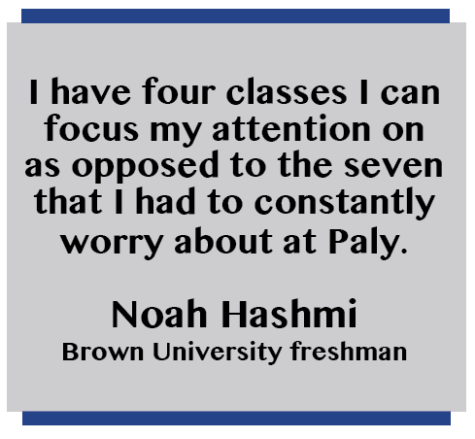 students from other high schools, even though she attends a public university with more than five times the students that Brown has.
"I feel more prepared coming from Paly than some of my fellow peers coming from other high schools," Foug said. "When most kids transition to college, the change in workload is dramatic for them but I think Paly adequately prepares you for [college]."
In particular, some feel that Paly's math department prepared them exceptionally well for college. Chang found that his math teachers at Paly have made learning the subject at Stanford much more manageable.
"Paly, especially in math, prepared me very well for college," Chang said. "If you learn your math well in high school, it will save tons of time in college."
In addition to specific subjects, Class of 2015 alumna and freshman at the University of Puget Sound Natalie Holla believes Paly has given her specific study skills, something students coming from other high schools lack.
"Paly definitely prepared me in time management," Holla said. "It seems that I am a bit more prepared than other people in my school in time management and being on top of my school work."
As one of the top high schools in the nation, Paly seems to prepare its students well for any college its graduates may attend, from smaller liberal arts colleges like the University of Puget Sound to research universities such as Stanford.
LOOKING BACK
With at least five months since leaving the realm of high school, many Paly graduates have come to view their time as high school students differently now that they have transitioned into higher education.
Though the stress surrounding college applications seems almost unavoidable, once on the other side, the stress can seem trivial. Carol Hung, a Class of 2015 alumna and freshman at Cornell University, went through college stress like any other applicant, but looking back, regrets the unnecessary stress she added onto herself.
"Don't worry too much while applying to college," Hung said. "It's obviously easier said than done, but I wish I hadn't been so stressed. When college commitment time came around, most everyone found a school that suited them and were happy about going to."
Some students wished they had done more research on their school before committing, but still believe they made the right choice. Kylie Wilson, a 2015 Paly graduate and freshman at Boston University, was surprised to discover how present grade deflation, the policy of only allowing a certain number of As in a class, is at her college.
"I wish I knew Boston University was known for grade deflation," Wilson said, "We don't have many Paly kids who go to [Boston University] so I think that's why I didn't know about it. Even when I went to orientation and admitted students week … nobody talked about it, probably because it's kind of a turn off."
Foug wished she had known more about the demographics of the University of Michigan population. As a state school, Michigan attracts more students in-state than out-of-state.
"Something I wish I knew when applying for [the University of Michigan] was taking into account that because it is a state school, over 50 percent of the students are from Michigan," Foug said. "A lot of the Michigan kids already had their best friends when entering campus, making me feel a little more of an outsider."
Caroline Young, a 2015 Paly graduate and freshman at Stanford University, now sees the value in focusing on the present, rather than constantly looking into the future to try to predict how one will feel later on, a lesson she learned while choosing which college to go to.
"When I was trying to decide what college to go to, one of my teachers, Mrs. [Melinda] Mattes, told me that we are terrible at predicting how we will feel in the future," Young said. "We should just go with how we feel in the present."