"And with the 13th pick of the 1996 NBA Draft, the Charlotte Hornets select Kobe Bryant!" On June 26, 1996, former National Basketball Association (NBA) commissioner David Stern unknowingly announced a new era of basketball.
Nicknamed "The Black Mamba" due to his agility and his aggressiveness, Bryant was introduced to the game of basketball by his father, who played professionally overseas. Bryant grew up in a  Philadelphia suburb, where he played basketball for Lower Merion High School. Averaging over 30 points per game, Bryant was named the Pennsylvania Basketball Player of the Year, and gained the recognition of college and professional coaches alike early on. When Kevin Garnett, another prolific basketball player, decided to skip college in order to play professional basketball in 1995, Bryant took his chances as well, skipping college and proceeding directly to the NBA.
As one of two notable players coming out of high school, Bryant was drafted in the first round by the Charlotte Hornets. Immediately after he was drafted, the Hornets traded Bryant to the Los Angeles Lakers. Bryant's impact on the team was immediately felt. He became the youngest player to ever play in an NBA game at just 18-years-old and helped his team to a Western Conference Finals berth, where they would eventually lose to the Utah Jazz. Although this would be the farthest that Bryant's Lakers would get in the next two years, he still emerged as an elite player in the league and was invited to the 1998 All-Star Game.
They say a coach can change everything, and in Bryant's situation, the hiring of Phil Jackson in 2000 changed his career for the better. With Phil Jackson at the helm, Bryant's Lakers cruised to an NBA championship. Over the next two years, Bryant's success would repeat and the Lakers would go on to "three-peat," or win the NBA championship three times consecutively. After three outstanding seasons under Phil Jackson, the Lakers remained favorites for their title defense in 2003. However, the next two seasons would be upsetting, as Bryant's Lakers were eliminated in the first round of the playoffs and then heartbroken in the finals by an outstanding Detroit Pistons team. Jackson was let go as the team felt that change was needed in order to win more championships.
After losing to the Pistons in the finals, not even Bryant could turn the ailing Lakers team around. Legendary center Shaquille O'Neal had left for sunny Miami, and without anyone to support him, Bryant's play took a hit. He wasn't named to the All-NBA defensive team and his all-around unimpressive play that season eliminated the Lakers from the playoffs.
Then, the Lakers decided to rehire Phil Jackson, allowing Bryant to show the difference between a superstar and a legend. In a midseason matchup, Bryant took over the game and scored a modern NBA record 81 points. According to many experts, this would be the masterpiece of Bryant's career.
The signing of All-Star Pau Gasol assisted Bryant in having an outstanding season where he would be recognized as the league's Most Valuable Player (MVP). Bryant impressed coaches and players all year, leading the Lakers to an NBA Finals appearance. The Lakers won and Bryant was heralded as the NBA Finals MVP. Defending his championship yet again next year, Bryant would take the Lakers' season into his own hands. Bryant commandeered the Lakers to an NBA Finals victory over the Boston Celtics and was once again named Finals MVP.
Sadly, that would be the last time Bryant would play in an NBA Finals match. The rest of his career would be a slow downhill slide and the Lakers reputation as a dominant team waned. Two seasons in a row would end early for Bryant due to season-ending injuries, and after playing a memorable 20 years with the Lakers, he decided to call it quits.
His farewell season was filled with heartfelt videos, but his playtime decreased throughout the season in order to let the younger team members play. On April 13, 2016, Bryant would issue a final goodbye to the league his own way, scoring 60 points and eliminating the Jazz from playoff contention in his last game.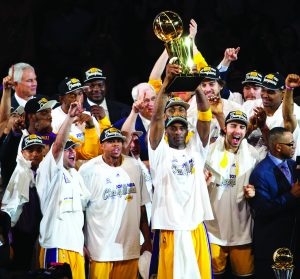 While Bryant should be recognized as one of basketball's greatest, people's opinion of Bryant will be forever hindered by off the court issues. Bryant has had many problems with the law, and in 2003, was accused of rape. Bryant settled the case, and while admitting that he had a relationship with the victim, never pled guilty to rape. Many saw settling the case a way to avoid media scrutiny and this case remains controversial.
Nevertheless, Bryant's legacy as a player will never be forgotten. His unique ability to take over a game and make the impossible happen was a rare quality. He was able to create shots by himself, while also assisting his teammates when needed. His five championship rings put him at the top of any "Greatest Players" list.
Bryant's play isn't the only thing that will leave him in history as one of the best ever. His work ethic and dedication to the game paralleled and usually outmatched any professional player. Additionally, his energetic, fiery and brash personality was appealing and relatable to his fans.
While basketball followers' opinions on Bryant vary hugely, there is one thing that all fans can agree on: his play was simply awe inspiring and left them completely captivated. So for that, thank you Kobe.