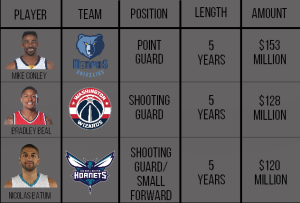 National Basketball Association (NBA) contracts have been a prevalent topic covered in the media and have correlated with an athlete's caliber of play. In the past few decades, basketball superstars in the league such as Lebron James, Kobe Bryant and Michael Jordan have been granted grossly expensive contracts, exceeding the amount paid to any other player. However, contracts have gradually become more expensive, which brings into question the management style of contemporary basketball teams.
Prior to the 2015 season, Lakers' guard Kobe Bryant had the highest annually-paid contract of all time, which was signed in 2004. The contract was worth $136.4 million dollars (to be distributed over the course of seven years), granting him nearly $20 million dollars annually.
The previous year, Bryant averaged 24 points per game (PPG), 5.5 rebounds per game (RPG) and 5.1 assist per game (APG). From 2000-02, he led his team to three consecutive championship victories.
However, after the 2015 season and even more evidently in the 2016 preseason, larger contracts were signed by players considered to be average performers — certainly not part of the elite class of superstars.
The best example of this group is Mike Conley, a point guard who has played for the Memphis Grizzlies since 2007. Last year, he averaged 15.3 PPG, 2.9 RPG and 6.1 APG, while shooting 44 percent from the field. While these statistics are consistent with those of a well-balanced guard, they did not correlate with Conley's $153 million dollar contract over five years, awarding him over $30 million dollars per year, making him the player with the largest contract in NBA history.
Another notably expensive contract was signed by Solomon Hill, a small forward for the New Orleans Pelicans who most spectators have never heard of. He averaged a mere 4.2 PPG, 1.0 APG and 2.8 RPG in the 2015-16 season. However, his  relatively mediocre stats were enough to earn him a stunning 4-year, $48 million dollar contract, making his salary more than that of unanimous Most Valuable Player (MVP) Stephen Curry by over $700 thousand dollars per year.
In addition, center Joakim Noah signed a 4-year, $72 million dollar contract with the New York Knicks. Noah was a hot prospect when he was drafted in 2007; however, from that point, most spectators would agree that he has never lived up to those high expectations. Since his peak performance in 2013, where he averaged 12.6 PPG, 5.4 APG and 11.3 RPG, every aspect of Noah's game has gotten worse, leaving a pervasive feeling of confusion  among NBA fans following the deal.
After all contracts had been finalized for the upcoming 2016-17 season, viewers everywhere questioned the financial decisions made by management, wondering how teams could allocate so much money towards such ordinary players.
Despite popular beliefs, these contracts are not random, and are not always worth as much as they seem.
In fact, since a $24 billion dollar television deal with the Electronic and Sports Programming Network (ESPN), the NBA has raised the salary cap for each team. From last year alone, the price cap has increased from $70 million dollars to over $94 million dollars; the largest annual increase in the history of the NBA.
While the percentage of the team's salary cap given to players has remained nearly constant, larger contracts can be heavily attributed to the increased salary cap. In other words, teams now have access to a greater amount of money to spend collectively, creating the opportunity to spend more money to attract and keep players.
Even with these factors, players received large contracts that many fans found to be unwarranted, which brings up the next factor: the free agent class.
With more money to spend than ever, teams are looking to use the new salary caps by acquiring new players and free agents. However, a weak free agent class was the reason formerly unimpressive players such as Hill were able to receive the contracts they did.
With a limited number of skilled free agents and a homogeneous class of rookies, teams this year were forced to drop their standards and build their teams around available players, offering unbelievable amounts of money to players who would fit a team well, even if the players themselves would not be worth that much.
Ultimately, the newfound wave of giant contracts has nothing to do with luck or randomness.
In future years, contracts will depend even more heavily on the free agent class — more talent will result in smaller contracts for less talented players, and huge contracts for the elite.