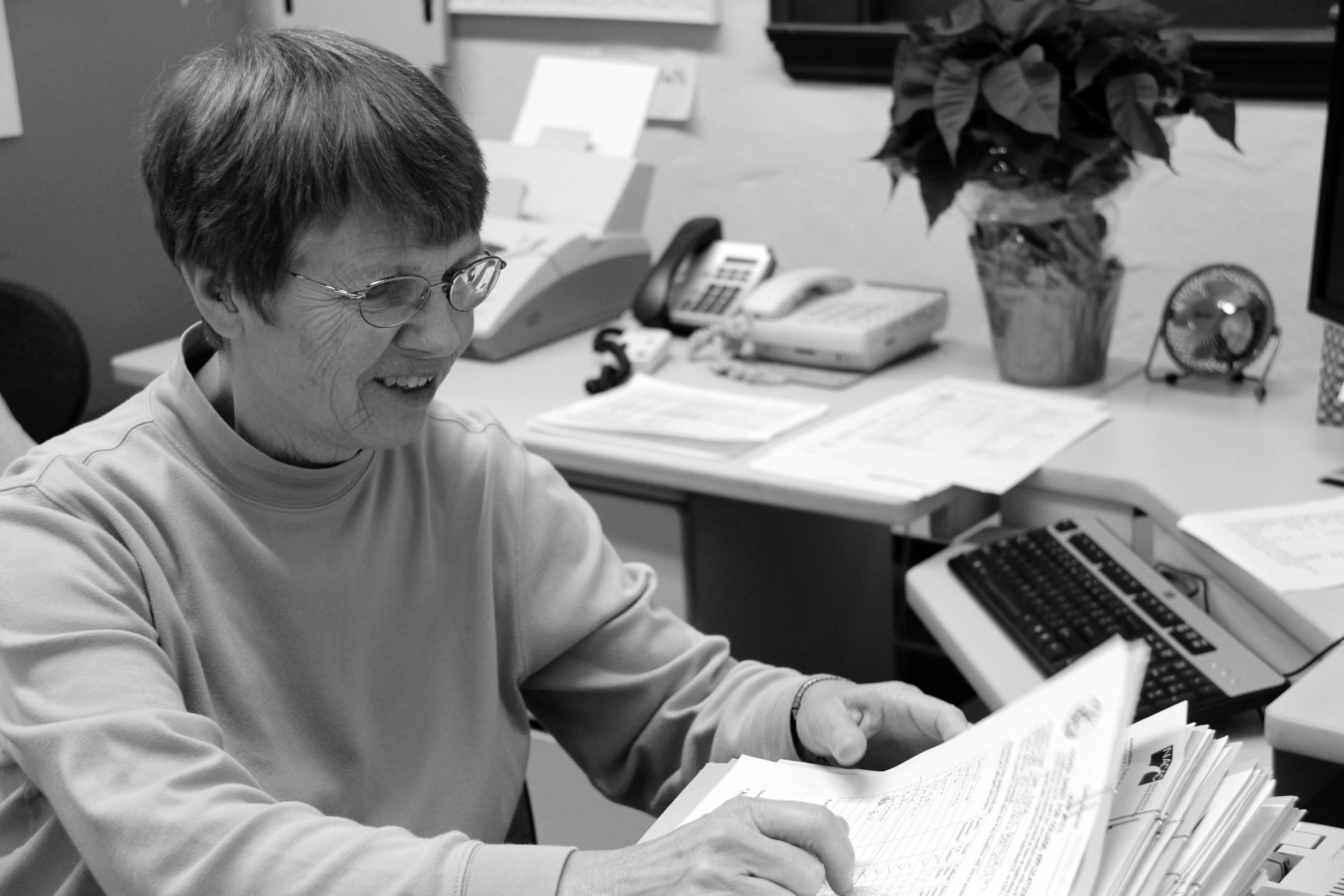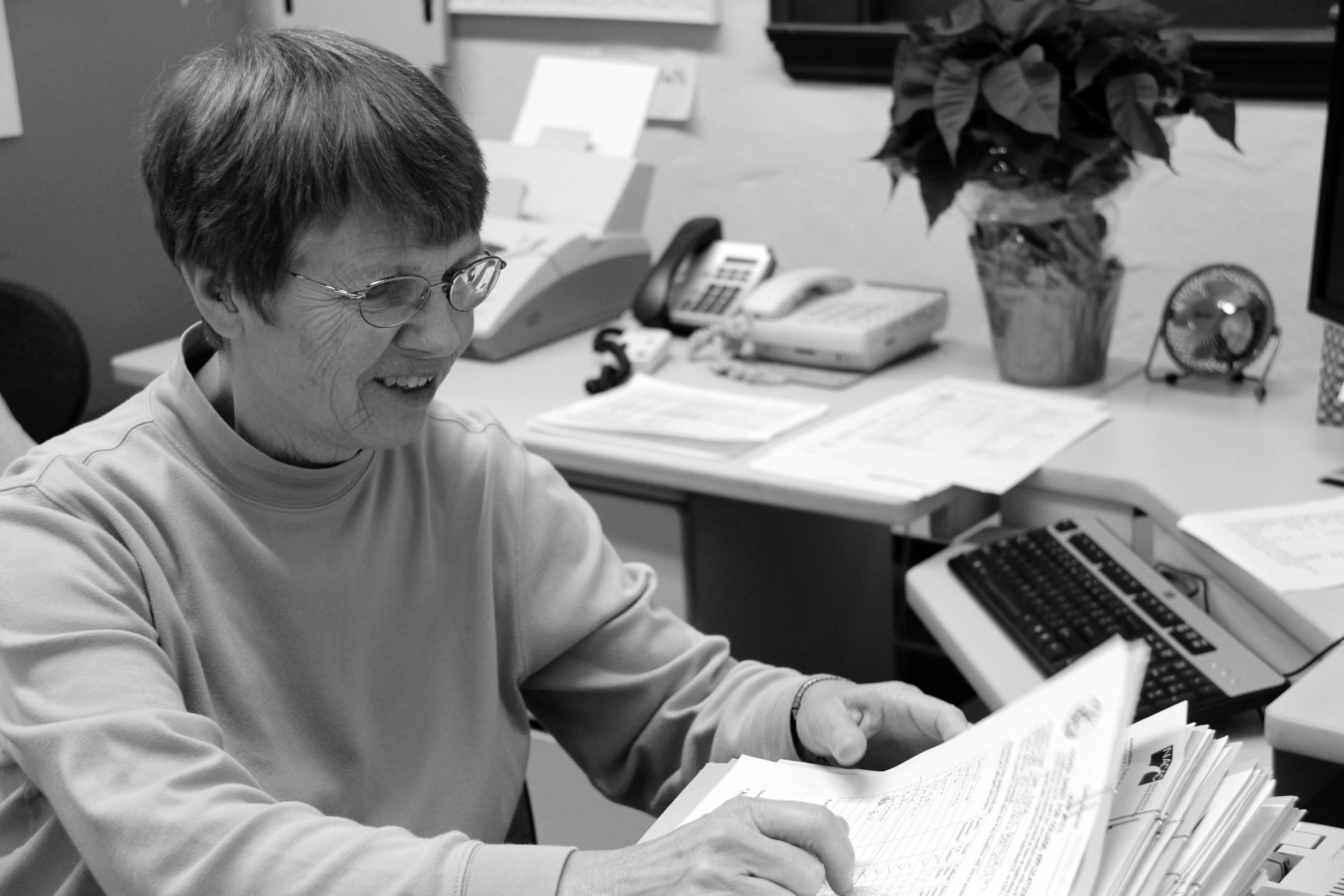 I work with and for some of the greatest people on earth. It is a real pleasure to come to work knowing I will spend the day with all of the students confronting and solving problems and just enjoying the camaraderie," Paly Registrar Suzanne Brown said with a smile of excitement as she addressed transcript envelopes.
Brown has been serving Paly students for almost 15 years and the Palo Alto Unified School District (PAUSD) for over 30 years. She has assisted many Paly seniors with compiling their college applications, and has made sure their paperwork is filled out correctly.
"She has sent my transcripts, helped me with my envelopes, and sends me friendly emails whenever I have done something wrong with my envelopes," senior Emily Pomeroy said. "She is a very sweet and helpful lady."
According to Brown, transcripts are her main responsibility, which includes recording grades and checking transcripts for corrections and omissions. She is also responsible for sending Secondary School Reports, revised transcripts and quarter grades to schools and that the students fill them out on time.
"She works hard to make sure all of our transcripts go to our schools before the due date, and always greets me and other students with big smiles," Pomeroy said.
One of the most challenging jobs connected with transcripts is computing credits for students coming from foreign countries, according to Brown. This is because the United States is the only country in the world that measures completion of subjects by the use of credits as opposed to students' own individual requirements, according to Brown.
"Creating a way to compute credits based on Paly's graduation requirements has become both challenging and time consuming," Brown said. "The good thing about this is that it can be done – it just takes time."
Brown also transcribes students' grades from Foothill Middle College, one of PAUSD's alternative schools, onto their Paly transcripts. On top of that, she enters community service hours onto senior transcripts.
Because Brown's many responsibilites seem overwhelming, she is grateful to be able to complete much of it online.
"One of the biggest and most important jobs I have connected with transcripts is sending out electronic transcripts via Parchment," Brown said. "I am thrilled to be able to send transcripts to colleges this way because transcripts can be sent and received by colleges in the same day they are approved and sent. This eliminates officializing transcripts by hand with signatures and seals."
In addition, Brown has walked students through the process of filling out the Secondary School Report forms, applying for scholarships, and many other college application requirements.
"[She] is very helpful and approachable," Paly grad 2012 Hannah Kim said. "She definitely helped me a lot last year, and walked me through the process of how to send transcripts to scholarships."
In addition to her other duties, Brown keeps track of test results from Standardized Testing and Reporting (STAR) tests, American College Tests (ACT), Scholastic Aptitude Tests (SAT), Education Record Bureau (ERB) Writing Tests, PLAN and PSAT tests.
"I answer requests for records from schools where our former students have moved from, writing letters of various kinds," Brown said. "I also work with Mrs. Deggelman preparing college envelopes for consideration by our TAs, which involves hundreds of envelopes and lots of time."
Not only does Brown work during the day while students are in school, but she also often stays after school to finish work, particularly when college applications forms are rolling in.
"As many have experienced, there are certain times of year when college applications flood the Guidance Office, and now is one of those times," Brown said.
Brown is grateful to have volunteers who have helped her with college application organization, especially during the college application season.
"One of the things, for which I am most thankful, is that I have two volunteers who come every Monday and Tuesday for one and a half hours each day to work in my office," Brown said. "One of these volunteers is a real veteran, having worked steadily for two registrars before me."
Prior to her tenure at the Registrar, Brown was hired by PAUSD as a classroom aide in 1979. The next year, she became the Special Education Aide to PAUSD Resource Specialists and Special Day class teachers at Addison and Juana Briones Elementary Schools. She spent the next 20 years there before working as the Paly Registrar in 1999.
"I had expected to retire with my teacher doing this same kind of work, but she decided to move to regular [education] teaching and has since retired," Brown said. "I tried to stay with her, but there weren't enough work hours in a day in regular [education] for me to make a living, so I had to move on."
She is still a 10 month employee, but this is the first time in her PAUSD career that she has had an eight-hour day position, according to Brown.
The best thing Brown loves about her job is helping students achieve their dreams and aspirations by helping them get into college as a first step.
"I love the students," Brown said. "I wish I had time to spend much more time with them, getting to really know them. I find great satisfaction and pleasure in being able to solve problems with and for them. It's my lifework and I love it."