Palo Alto High School's first annual Fun Run drew over 200 participants this Saturday, raising around $7,000 to help fund all Paly athletic teams. Senior Ben Beaudry and sophomore Donald Taggart came in second and fourth respectively, with impressive average mile times of five minutes, 38 seconds and six minutes over five kilometers.
The course consisted of one lap around the Paly campus, followed by a loop into the old Castilleja neighborhood. Runners then cut through campus, passing iconic Paly structures like the Performing Arts Center, the Tower Building, the quad and the incomplete gym before finishing on the track.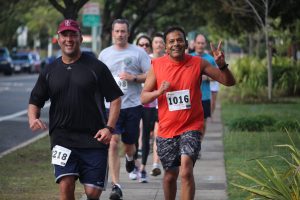 "It wasn't a great race for me personally, but I still had a lot of fun because everybody around me was having a good time," Taggart said. "I signed up because there were a lot of people doing the race, and it sounded like a good way to help Sports Boosters. Everyone likes to run, right? Why not do the Fun Run?"
Track and field Head Coach Michael Davidson was impressed with the turnout, but believed that the event could be even more successful with the participation of all Paly athletic teams. Only track and cross country members played a major role in helping set up the course, direct runners and record times for Fun Run participants.
"It would be great to have more of the other teams represented here to help support the event, let participants know what they do and what their needs are. I think it would be better for everybody if we could get lacrosse or tennis [members] out here showing off with their rackets. Maybe golf showing some people how to putt."

Michael Davidson, Track and field head coach
The Fun Run is set to become an annual event, and Davidson has ambitious goals for the future.
"I personally would love for thousands of people to be out here," Davidson said. "There is [already] a lot of support [for] what we are doing, which is to raise awareness for Paly athletics and get the whole family fit."
The event was made possible by collaboration between the Paly Sports Boosters and the track team. The two groups worked in advance to acquire the sponsors and volunteers needed to run the event. Sponsors such as G-Fit Boot Camp, Fleet Feet, YMCA gym and the Capitola Hotel set up booths near the finish to showcase their goods and services as well as raffle off prizes such as a free two-night stay and a $50 gift card.
The Paly Juggling Club also set up a booth to help entertain participants before and after the run. The club has slowly gained members over the course of two years, and is finally ready to start showcasing member skills at large events.
"The Fun Run is the first event that we are attending, and we got a great turnout from our club members and people watching. A lot of people at Paly are juggling academics. So physically juggling actually helps you become more grounded and it looks awesome."

Zach Strassberg-Phillips, Juggling club president
This year's Fun Run hopefully marks the start of an exciting new tradition for Paly athletics. With the continued support of Sports Boosters and Paly athletic teams, the event will likely continue to bring the community together to support Paly.
"It was good to see everybody I knew, not only from track and field, but everybody from the school running and showing that they care," said sophomore John Tayeri.