Located in the heart of Palo Alto is the LifeMoves Opportunity Center. 10 years ago, the building opened its doors to offer housing to homeless people and those who were marginally housed, or lived in a home with inadequate facilities.
Currently, the center is occupied by LifeMoves, a company that runs transitional housing sites for the homeless across the Peninsula. To this day, the Opportunity Center provides access to a variety of drop- in services, including meals, clothing closet, medical facilities, education, transportation assistance and case management.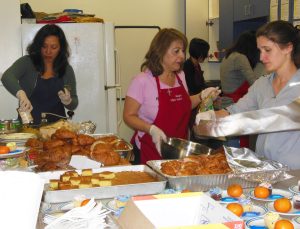 Around 60 to 90 lunches per day are served to the center's clients. The center receives hot food deliveries from the Loaves & Fishes Family Kitchen and pastries from Starbucks every day. Occasionally, The Cheesecake Factory and Safeway will donate food as well. In addition, the center partners with places such as Second Food Harvest to supply an electronic benefit transfer card (EBT) to their clients.
"An EBT, which we call food stamps nowadays, is like a credit card, and you can use it at stores like Whole Foods," said Stephanie Bruggeman, the center's Volunteer and Program Coordinator. "The nice thing is if you're in line behind somebody using it, then you'll never know they're using it because they just swipe and it looks like a credit card, so it brings dignity to the whole process."
Last year, the Opportunity Center set a record of housing 47 people. Its waitlist holds approximately 160 households, so they are currently not accepting new applications.
"Our building houses 88 units of permanent supportive housing," said Bruggeman. "It's permanent so folks don't move in and out. The rent is highly subsidized, so it might be $300 a month, depending on their social security."
[divider]Michele Waters Pritchett[/divider]
Michele Waters Pritchett, an eight-year tenant of the Opportunity Center, is grateful for the services that the organization provides for the community.
"I use a lot of the amenities set up for people who live in the building and the clients here," Pritchett said. "I'm blessed to be housed and have a roof and be able to get my medical situation together."

Three years
ago, Pritchett endured several hardships, including the loss of her husband and economic instability.
"I had a nervous breakdown," Pritchett said. "Financially speaking, I was not in the best of shape. Security put a tax on my benefits, then took my benefits from me, so I was broke and not able to work at the time. Philip Dah, the director of LifeMoves, and my case manager helped me with rent for almost a year until I got back on my feet with a part-time job here."
For the past few years, Pritchett has worked and volunteered at the center's in-home supportive services and the children's program. Her favorite part about the center is the daily interaction with the clients.
"Helping out at the Opportunity Center warms my heart and helps me as a person who is a client," Pritchett said. "Being able to come down here and do volunteer service is what I find rewarding for me."
[divider]Eugene Johnson[/divider]
Eugene Johnson, a client at the Opportunity Center, frequently utilizes the medical and meal services.
"I've been coming here since 2007," Johnson said. "It's nice to have a place where you can come wash your clothes if you need to or get something to eat."
Johnson recalls his past experiences with struggling to find a job and remaining financially stable.
"I remember the job market started slowing down in '99, right before the first "dot com" stuff took off," Johnson said. "That's when the slip-ups started happening. They told us we were going to be put in a tough situation, and I got laid off from my job."
Currently, Johnson stays at Hotel de Zink, an emergency residency program that collaborates with LifeMoves. The program provides many important services to its clients, such as home-cooked food and a place to stay overnight for up to 90 days. Hotel de Zink rotates its location on a monthly basis and is hosted by various churches in Palo Alto.
Johnson acquires his medical assistance through the Opportunity Center.
"I need surgery for hernia, which is when your intestinal wall loosens up," Johnson said. "Sometimes it causes pain, and as time goes by it can get worse. It could end up rupturing if I work. I just want to make sure I get the right care, so I'm getting my services through this program."
[divider]Kim Lu[/divider]

For the past five years, Kim Lu has been a regular client at the center.
"Throughout my day, I go to other services like this place," Lu said. "Every morning at 8 a.m., I come to the center to have breakfast. Sometimes, I'll go upstairs to take a shower and then eat the lunch here."
Although Lu is not a resident at the Opportunity Center, she stays on the 24-hour bus overnight.
"I don't have a place to stay because I can't pay the rent," Lu said. "Normally, I just go to Walmart, buy a ticket and wait for the bus. Then, I get on the bus at 9:00 and sleep on the bus, which drives around town all night long."
Previously, Lu worked as a factory worker.
"When my factory closed, I lost my job," Lu said. "Unfortunately, I didn't have any income or money to pay rent, so I became homeless."
After a few years, Lu stopped searching for a new job and became involved with emergency programs.
"I lost my job when I was 55, so it was really hard for me to find another one." Lu said. "Now that I'm older, it's even harder to find a job."
[divider]Gary Peters[/divider]
Gary Peters has been with the LifeMoves program for about 14 years, a few years before the Opportunity Center was built in 2006.
"I moved in ten years ago," Peters said. "The apartments and the low rent is what I like the most. It's a nice place to stay and I can meet other people."
Peters was introduced to LifeMoves through Hotel de Zink.
"My brother dropped me off at Hotel de Zink, a church in Menlo Park, and I tried to get my three months in each year. "
Prior to living at the center, Peters stayed with other programs such as Freedom and the Recovery House in Redwood City, Safe Harbor in South San Francisco and Little Orchard in San Jose.
"I bounced from one city to another, staying at different places," Peters said. "For the last 10 years, I quit bouncing and just stayed here. It's been nice to just have my own place for a long time."
Throughout his years, Peters has gained much experience in the workforce.
"In my 65 years I've been living, I've been a professor in Korea, high school teacher, minister, accountant, landscaper and a custodial worker," Peters said. "I've had about ten different careers in my life, so I've covered a lot of ground."
However, Peters is currently unable to work.
"I've been on disability for arthritis since I was 54," Peters said. "If I could have a job, it would be either teaching or working in churches."
[divider]Stephanie Bruggeman[/divider]
Stephanie Bruggeman has been working at the Opportunity Center for about a year.
"I used to work for high-tech companies, and then one day I that sitting in an office and crunching numbers was no longer doing it for me anymore," Bruggeman said. "I loved volunteering here and this place needed somebody with my skills, so it was a great match. I've never looked back."
From overseeing the volunteer management to working with the donation management, Bruggeman claims she never goes home thinking 'what a waste of a day' or 'what a boring day.'
"Every day is a different challenge," Bruggeman said. "Sometimes it's physical challenge, like running around up and down and lifting boxes. Other days it's a mental challenge because you hear some pretty tough stories."
Recently, local schools such as Woodside Priory School, Menlo School, Sacred Heart School and Saint Francis High School have volunteered at the Opportunity Center on community service days. Additionally, Bruggeman believes that the support from the community has significantly contributed to the center's success.
"We're right across the street from Paly and there's a lot of wealth around us," Bruggeman said. "This can create an interesting dichotomy, but it also means we get a lot of help from the community through donations and volunteers. The more people who are exposed to our center, the more they understand and have empathy for our clients."
Bruggeman leaves Paly students with an important piece of advice.
"We've all run across a homeless person and we're not sure what to do," Bruggeman said. "It can be scary and intimidating, but try to fight that fear inside your head. If you look that person in the eye and say 'how are you doing' or 'good day, sir,' that goes a long way to making these people feel less marginalized and worthless."