The explosion of social media in the last decade has made the world a smaller place. People can interact with faraway friends and keep up with their favorite athletes and celebrities with the tap of the screen. However, at what point does an athlete's social media sharing become excessive?
The most recent athlete-centered social media incident occurred when Phoenix Suns starting point guard Eric Bledsoe made an ill-advised tweet. The Suns are arguably the worst team in the National Basketball Association (NBA), having suffered two of the four worst losses in franchise history and losing the first three games to begin the NBA season. On top of that, Bledsoe was their best player and would have been a key part of their rebuilding plans for years to come.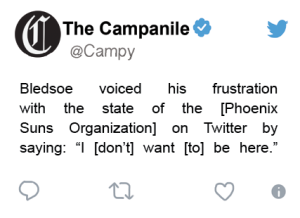 The tweet was retweeted over 1,500 times within 10 minutes. In context, it was clear  Bledsoe was talking about not wanting to play for the Suns, and some fans may have  even appreciated his honesty. The General Manager of the Suns, Ryan McDonough, however, did not.
"He said he was at a hair salon," said McDonough in a media appearance. "It wasn't about the Suns or anything related to the Suns. He said he was at a hair salon with his girl and that he didn't want to be there anymore. So, I don't believe that to be true. We thought about it and talked about it with [Suns owner Robert Sarver], and my staff and Coach [Jay] Triano and his staff and decided it's what's best for the organization. He won't be with us going forward."
Bledsoe is not the only athlete to have put questionable material on the internet. Perhaps the biggest scandal in recent years was the D'Angelo Russell and Nick Young incident, when the two played for the Los Angeles Lakers. In 2016,  Russell was the second overall pick for the Lakers and was seen as a potential star point guard the team would build around, but he didn't make the best impression on his new teammates.
Russell recorded a video of Nick Young admitting to have cheated on his (now ex-) fiance Iggy Azalea. The video was meant to be a prank on Young but was somehow leaked to the public. This social media mishap impacted Russell's career as he was recently shipped off in a trade to the Brooklyn Nets.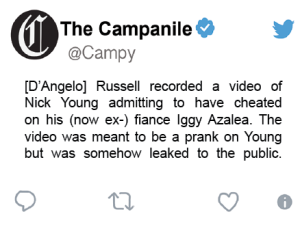 In addition to these incidents, social media has incited quite a few comical statements by athletes. Cardale Jones, current quarterback of the Los Angeles Chargers, played college football at Ohio State University. Traditionally, college athletes are seen as student-athletes, student coming first.
However, Jones had a differing viewpoint on this distinction, as during his time in school, he tweeted: "Why should we have to go to class if we came here to play [football], we ain't come to play [school], classes are [pointless]."
Not only have athletes received criticisms for poor social media decisions outside of their jobs, but certain athletes have taken it one step further by even using it during games.
Former NFL wide receiver Chad Ochocinco tweeted during a live National Football League (NFL) game when he was on the bench, saying: "Man [I'm] sick of getting hit like that, [it's] the damn preseason. [One day] I'm [going to] jump up and start throwing hay makers #Tylenolplease."
After being fined by the NFL for his tweets during the game, Ochocinco again went to Twitter to apologize: "Dear NFL I apologize for tweeting during the game but that was [two] months [of] Bugatti payments you just took from me, I won't do it again."
Overall, social media has had a large impact on not only the lives of regular people, but also on the lives of athletes. At times, it can be detrimental to both the performances of athletes as well to the direction of their careers.
"I think anybody in sports who reads social media is not all there," said former Louisville Men's Basketball Head Coach Rick Pitino. "To me, it's the great class of underachievers who live on the Internet and social media. I think it's people who waste their time, and underachieve because they're not paying attention to what they should be."
Even though the world may seemingly be getting "smaller," the stakes for athletes are certainly higher as what they share from their privates lives is no longer separate from their professional lives.
However, the majority of athletes use social media responsibly and as a way of interacting with their fans and other athletes.  A recent example of the positive power of social media  was the support shown for Gordon Hayward by other professional athletes and fans from around the globe on social media after he suffered a fractured ankle in his first game for the Boston Celtics in their season opener of the NBA season.