Since the exposé of Harvey Weistein, sexual assault has dominated news reports. Most recently came the suspension of James Levine of the Metropolitan Opera, who is accused of sexually assaulting two men when they were teenagers. The conversation, sparked by hashtags like #MeToo, has opened up spaces for women to talk about the sexual harassment and assault they have faced. However, with the exception of Levine's case, male victims of sexual assault have been largely absent from the conversation.
While it is true that, on average, women experience sexual assault and rape at much higher rates than men, the experience of sexual assault still affects men significantly. Men often face different reactions from society when disclosing rape and have different obstacles that prevent them from coming forward. The idea that men shouldn't be the ones being raped, male rape victims aren't "manly" enough or they should have been able to fight back are all common misconceptions that discourage male rape victims from coming out about rape. In reality, the event of men being raped is the same as it is for women. Being in a situation where you feel powerless and unsafe is traumatic for both men and women.
Society still lacks an adequate response to rape, for both male and female victims. Some women face comments saying they are sluts or that they "had it coming." According to a New York Times article, men who report rape risk appearing weak in the eyes of society, and because of this societal expectation  men should be strong, powerful and unemotional, male victims of assault may stay silent.
It's unfair that a man shouldn't be the one being raped, or that he should have been able to fight back.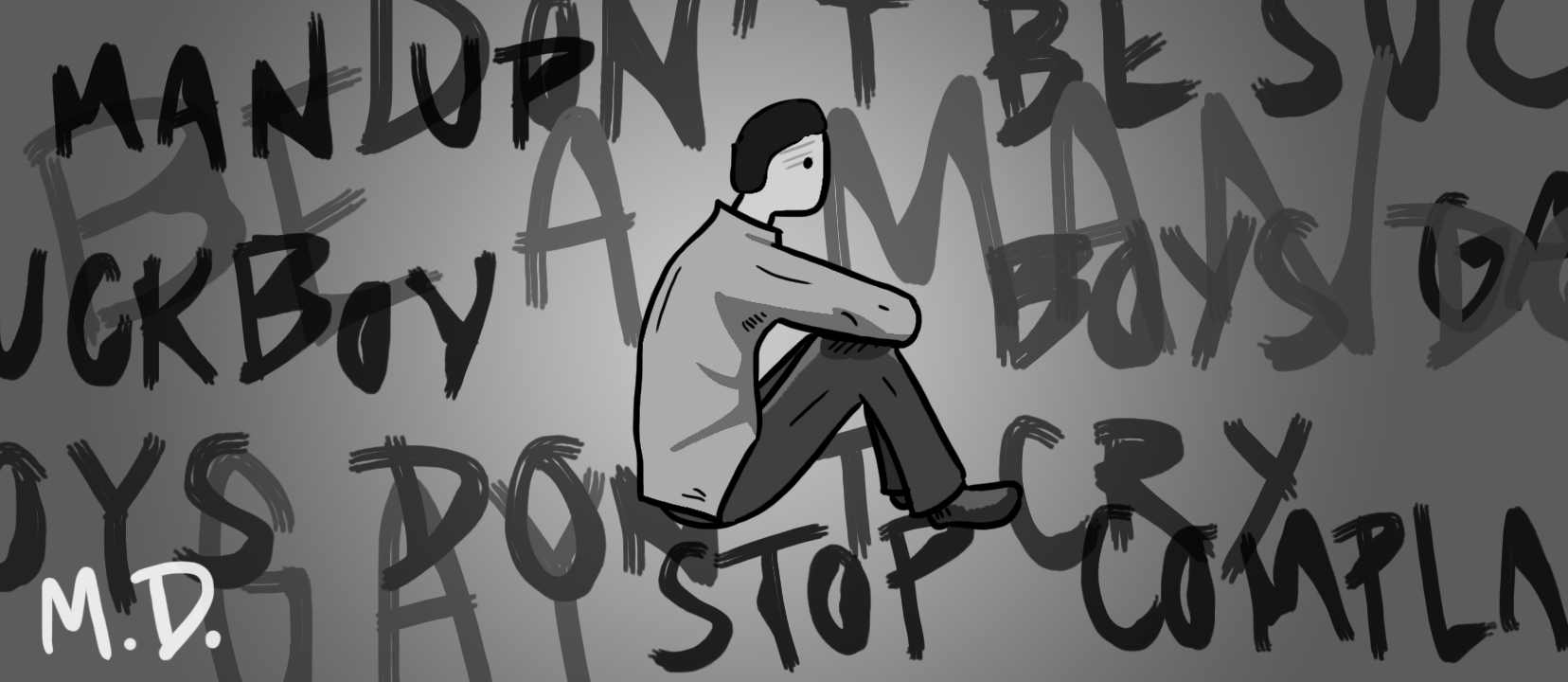 Until 2012, national crime statistics on rape included only incidents against girls and women committed by men, according to a New York Times article. This idea that men are "strong" and "shouldn't be the ones being raped" remains prevalent in national organizations.
Male-on-male rape is littered with issues regarding sexuality. While homosexuality has become less of a taboo topic, straight men who are raped fear being labeled as "gay." Society has historically used the word "gay" as an insult, usually to suggest being homosexual makes one weak, overly emotional or otherwise feminine. The shame associated with this term stems from a long history of viewing feminine traits as inferior to masculine ones.
According to Neil Irvin, executive director of the organization Men Can Stop Rape, in a New York Times article titled "Men Struggle for Rape Awareness," "If you're sexually assaulted, there's this idea that you're no longer a man. The violence is ignored, and your sexual orientation and gender are confronted."
Sexual abuse in prisons is even worse. Inmates are at risk for assault from both prison guards and fellow prisoners. According to a report from the Bureau of Justice Statistics titled "Sexual Victimization in State and Federal Prisons Reported by Inmates, 2007," 4.5 percent of state and federal inmates reported sexual victimization in the last 12 months. With the national prison population of 1,570,861, the report suggests that 70,688 inmates experience sexual abuse annually.
Though there is more acknowledgement for the sexual abuse of male minors, children who experience abuse are reluctant to come forward because of the pressures put forth by society. In an interview with the New York Times, Dr. David Lisak, a clinical psychologist who has experience with interpersonal violence and sexual abuse, said there is "cultural blind spot about this [male sexual assault].
"We recognize that male children are being abused, but then when boys cross some kind of threshold somewhere in adolescence and become what we perceive to be men, we no longer want to think about it in this way."
Society sees children as more vulnerable. It is more willing to be sympathetic to male children who are raped when compared to adult males who are raped. However, even then, children fear coming out because of shame; many think the assault is their fault, or people will ostracize them.
According to a study in Virginia in 2009, 91 of 705 men surveyed  experienced sexual assault, with the 94 percent of the assaults occurring when the men were minors. Of the men assaulted, fewer than one-fifth have ever received services related to their assault.
Both male and female victims of rape can experience shame, depression or even suicidal thoughts stemming from their assault. Victims are also at an increased risk for substance abuse, depression, interpersonal relationships and other health problems.
However, there is a lack of resources for male survivors, as many crisis centers do not even carry the resources to help men who are victims of assault. Of the few that do exist, the most prominent are the organization Male Survivor and the National Sexual Assault Telephone Hotline (1-800-656-4673).
Society needs to do a better job when it comes to individuals who come out with their experience of rape. We should not ignore women survivors, but we need to pay attention to all the male survivors as well.