Streets are empty, and stores are closed. Aside from essential activities such as walking dogs or buying groceries, people are stuck at home until at least the end of May.
Life in Palo Alto came to a screeching halt after the Santa Clara County Public Health Department ordered residents to shelter-in-place starting March 17. Since then, students have had varying experiences while stuck at home.
[divider]Erin Brady[/divider]
Freshman Erin Brady was about to start performing in Paly's spring play, "Tartuffe," when everything shut down. Initially, Brady had mixed feelings about the shelter-in-place order — the school closure alleviated tons of stress, but she said sadness overcame her as she realized she could no longer see her friends in person.
"Hanging out with my friends really helps me with my anxiety and depression," Brady said. "Not being able to see them really affects me."
Brady said she did not initially "social distance." She did not stay home and was occasionally fewer than six feet away from her friends. However, Brady said she soon realized the magnitude of the situation following a flood of posts on social media begging people to stay home and a set of new public health orders by the county.
Now, Brady said she's shocked when she sees people complaining about social distancing.
"I'll see people on TikTok crying about their Billie Eilish or BTS concert being canceled when people's relatives have already died because people aren't social distancing," Brady said.
Still, Brady said being isolated from her friends and society has been emotionally draining.
Brady said that staying at home has had negative effects on her mental health. She said she feels trapped, anxious, and exhausted. 
Feeling overwhelmed by the pandemic, Brady said she began coping in negative ways.
"I've been complaining about it and posting on my Snapchat story," Brady said. "I keep forgetting to eat … I'm stress starving."
As students transitioned from learning at school to learning at home, the district implemented guidelines for Flexible Learning Options which Brady said she disliked. To her, FLOs were vague and only added more stress and uncertainty during an already-stressful and uncertain time.
"Everything in the world is really scary, and I have no idea what the future will be like," Brady said. 
Despite the hardships, Brady said she has managed to find good things in isolation and has kept herself entertained. Every day, her Nintendo 3DS lights up with chatting critters from "Animal Crossing" and the crazy antics of "Tomodachi Life." She also said she has spent time doing more of the things she loves, including baking, taking photos and doing makeup.
Brady said she bakes frequently while at home. "I'm good at baking and it makes me feel good," Brady said.
Brady also said she manages to keep in contact with her friends through texts and video-chatting services such as FaceTime.
Even though quarantine has led Brady to experience a wide variety of emotions, she said her experience so far can be best described with one word: ambivalence.
"Some days are good and some days I hate this," Brady said. "It's scary, but we need to stay grounded."
[divider]Paly Sophomore[/divider]
The week before the district closed and the county ordered residents to shelter-in-place, many members of Paly's student body voiced their support of closing schools to prevent the spread of COVID-19. Among these voices was a Paly sophomore, who asked to remain anonymous due to instances where she did not fully comply with the shelter-in-place order.
The sophomore said that when she saw private schools in the Bay Area close before Paly did, she wanted Paly to close down as well to help "flatten the curve." PAUSD then announced its temporary closure on March 13 in accordance with the county's shelter-in-place order.
"It was about time," she said. "But it definitely was quite scary to see how everyone in the world was freaking out."
She said she initially wanted school to close and for government officials to implement a shelter-in-place order, but quickly found herself feeling trapped with her family and wishing things were open.
"I really like school because it kept me going, kept me awake (and) kept me socializing," she said. "But now that I'm home, I've taken so many naps. I've had so much free time and I don't know what to do with myself."
Like Brady and many other students, the sophomore said she had an adverse reaction to FLOs and ROLEs, PAUSD's system of online schooling.
"It's really hard to stay focused and motivated. It's not ideal for anyone involved," she said. "But doing schoolwork as a distraction really helps during this time."
The sophomore said that in an attempt to stop her constant boredom she has been doing schoolwork, exercising, walking her dog and channeling her emotions through art. 
"I've focused more on painting and drawing," she said. "If I'm in a good mood, drawing can easily take two or three hours, and I won't even know it."
She said she also taken up journaling as a way to express her emotions and kill time.
"Every time I do another entry it gets less and less fun," she said. "In doing so, I've noticed that my mental health is definitely declining which is scary because I don't want that to happen, but I also don't want to break quarantine."
The sophomore said that when she feels upset about the situation, she reminds herself that everyone is sheltering-in-place to flatten the curve and protect others. She said she manages to feel better by balancing her news consumption and doing art, but most importantly being with her pets and her boyfriend.
The sophomore made an agreement with her family and her boyfriend's family outlining strict rules that allow her to see him in person.
"Even having one person there really helps," she said. 
Santa Clara County's Health Department says "you are not allowed to visit friends or family members outside your own household (if there is no urgent need)."
Although being with her boyfriend breaks the rules, the sophomore said that she is still taking the shelter-in-place order seriously.
"We don't go anywhere," she said. "We only see each other. We're trying our best to be careful. The only outside exposure we have is when our parents go grocery shopping."
Despite many having mixed feelings about sheltering-in-place, the sophomore said she knows someone that's having the time of their life.
"My pets are having a good time," she said. "My lizard is getting all the attention in the world. He loves it."
[divider]Lexi Gwyn[/divider]
Junior Lexi Gwyn said she initially felt frustrated with Paly's closure. She said she knew it was going to be hard for her.
"Prom was cancelled. My extracurriculars stopped," Gwyn said. "It's like the carpet was ripped out from under you so suddenly. We had no idea it was going to unfold like that."
In light of the shelter-in-place, Gwyn suddenly lost many of the things she loved, including playing field hockey, and said  she felt upset. However, she said she quickly started feeling differently about shelter-in-place once she got used to it.
"I'm feeling good," Gwyn said. "There are moments of frustration, but I expected to be more down." 
Gwyn said that in her time at home, a whole new world of opportunity has opened up to her.
"Something I always needed more of, my one wish, was time, and now I have it," Gwyn said. "A lot of the things I love to do I can do at home."
Now that Gwyn has time, she said she has focused a lot of her energy on art, whether it be therapeutic painting, copying a Bob Ross painting or starting a canvas train, where a group of people leave a painted canvas on another's doorstep and they build off of what everyone else has painted on it.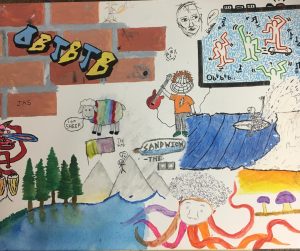 As a midfielder on the Paly girls' field hockey team, Gwyn said she exercises a lot during her free time. She went on a 12 mile run, does online yoga classes with her mom and even does online workouts with her field hockey team virtually.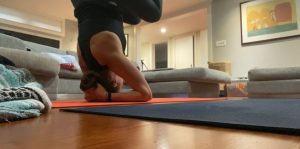 Gwyn said she is trying to be positive about the shelter-in-place order and process her emotions in a healthy way. Similar to the aforementioned sophomore, she has also picked up journaling, and has started baking more, playing the saxophone more and reading more.
"I'm also learning German," Gwyn said. "Why the hell not?"
To Gwyn, interacting with friends is also important. She said she found a method for spending time with her close friends: the six-feet-apart walk.
"(The walks) let you connect with people one-on-one," Gwyn said. "It gives us a reason to connect with people in a human way."
Gwyn said that spending a lot of time alone has led her to reflect on herself and her current situation.
"I'm worried (about COVID-19), but I'm optimistic about the present," Gwyn said. "I'm taking it day by day and looking at what was good each day. I'm also quite privileged in the things that I have."
Despite having a generally positive outlook, Gwyn said staying at home hasn't been all good.
"It is absolutely terrifying thinking about this happening for months and months," she said. "There's so many things that could happen. There have been so many deaths."
Gwyn shares Brady, the sophomore and many other students' sentiments regarding virtual schoolwork.
"It's taking quite a while to adjust (to online school)," Gwyn said. "I don't have a lot of motivation to do schoolwork and learn material by myself."
Gwyn's final nugget of advice is this: "Your attitude affects others. Let your positive thoughts speak louder than your negative ones."
[divider]A Note From The Wellness Center[/divider]
Paly's Wellness Center Outreach Coordinator Whitney Aquino said people who struggle with mental health issues should see a therapist digitally. 
"If you are not connected to a therapist, you can sign up to check in with one of the Wellness staff by filling out the form," Aquino said. "Families can also use Care Solace to find a community provider matched to their needs."
According to Aquino, this situation can be hard for people with or without prior mental health issues.
To cope with the negative emotions and habits that arise during quarantine, Aquino said students and staff can add more structure to their day by creating a routine, scheduling meals and having a consistent sleep schedule. Aquino also encouraged students to reach out to friends, journal, exercise and practice gratitude.
Aquino said that if students are struggling, they can also reach out to the Wellness Center, grade-level counselors or use the resources that PAUSD provides. She also encouraged students to check out her Heart, Mind, and Soul posts on Schoology.
PAUSD's mental health resources can be found by going to this link. 
Santa Clara County's public health orders can be found by going to this link.