Boys' lacrosse ends season with loss to league powerhouse Sacred Heart Prep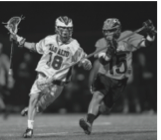 The Paly boys' lacrosse team suffered a heartbreaking loss this past week to the Sacred Heart Prep Gators in the Santa Clara Valley Athletic League (SCVAL) semifinals.
The final score of the game was 18-6 in favor of Sacred Heart, as the Vikings were unable to get anything done on either side of the ball.
Despite multiple shots on goal in the first half, the Vikings could not get the ball past Sacred Heart's goalie. Paly did not score until senior mid- fielder Walker Mees found the back of the net in the final minute of the second quarter.
"it was one of those days where nothing clicked for us," junior mid- fielder Zach Rizk said. "Their goalie was having a lights-out game. Going over the game film, literally every shot we took was blocked or hit pipe, with a few misses. it's almost unbelievable to me. And with offense not being able to do much, defense could only hold out for so long before faltering."
Junior captain James Harrison voiced similar views on the semi-final game.
"We needed more energy and more focus to win the game and i think we lacked both in that game," Harrison, a defenseman, said. "it was disappointing because we knew we
could make it to the championship and win it all if we just left it on the field that game."
in the second half of the game, the Vikings were able to find the net more often, with junior attackman Jordan Gans and senior attackman Jonny Glazier netting two goals each and Mees adding one more.
However, these five goals were not enough to keep up with Sacred Heart's high-flying offense.
"There's something about Sacred Heart that we haven't been able to get past," Harrison said. "We defi- nitely could have beat them because they lost to Menlo-Atherton in the [SCVAL] championship, who we beat at the end of the regular season. Overall, the last game of our sea- son against Sacred Heart was pretty disappointing because we just didn't show up the way we normally do. it's going to be tough losing a lot of these seniors, but next year still looks promising."
The Vikings will be losing 10 seniors this year and while taking on more responsibility seems a bit daunt- ing to the juniors, they acknowledge all that the seniors have done this past year and their dedication to the sport and team.
Some seniors will go on to play collegiate lacrosse, like Mees who will play at Kenyon College this coming fall, and others will either play on a club team or hang up their sticks for good.