After over a year-long hiatus due to COVID-19, the Paly Flea Market is back in the Embarcadero parking lot on the second Saturday of each month from 9 a.m. to 3 p.m. 
The flea market funds music trips and new instruments, band and orchestra director Jeff Willner said.
"The way we make money is we sell spaces," Willner said. "Each single booth has two parking spaces for $25."
Phillis Smith, a former Paly parent, started the Paly Flea Market in 1989 when her daughter was in the band, and has been running it since. She said vendor rates have remained the same since the beginning, making the Flea Market a reasonably priced place for people to sell their wares.
She also said some vendors have been in the same space for years and qualify for a discounted senior rate.
Willner said the Flea Market is essential for the music program because of a lack of school funding.
"The school only covers about 10-15% of our expenses," Willner said. "Music at Paly would look a lot different without the Flea Market."
During the COVID-19 pandemic, Willner said the music department relied on donations, which were sufficient because of spending cuts on large equipment and field trips.
"We were getting good donations, but we weren't buying tubas or things like that," Willner said. "That's (why) we need the money from the flea market."
Because COVID-19 is still prevalent, Smith said the Flea Market is taking precautions like requiring proper mask use and that all vendors be vaccinated. 
Willner said the Sept. 11 flea market — the first since the pandemic — was a monumental success.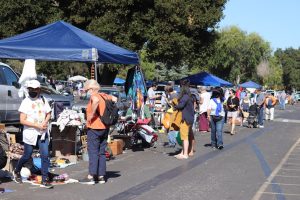 "I was glad that a lot of the vendors that have been doing it for decades came back to support us," Willner said.
 Jack Harrington, a long-time vendor who sells collectable coins and paper money, said he is glad to be back because he missed the interactions with his customers during the closure. 
"At my age, you can either sit at home and do nothing, or you can get out, enjoy people and keep your mind busy," Harrington said.
The next Flea Market on Oct. 9 will include performances from the band, jazz band and orchestra to celebrate the reopening.
"We want this to be an event that signifies what it's all about: students learning and making music," Willner said.
 Willner also said it's important to get new people involved because shoppers and vendors were dwindling before COVID-19 due to a lack of advertising.
Marty Higgins, who sells family memorabilia, said more people should come to the Flea Market because of what they will find. From antiques to collectables to clothes to plants, she said there is something for everyone.
"You never know what treasures you're going to find that are going to become part of your life and part of your family's life," Higgins said.
Julian Gomez, who has been coming to the Flea Market since his son joined the band in 2008, said he has many memories of exchanging stories and interests with vendors over the years, including a man who sold World War II history books.
"We spent 25 minutes just talking about historic airplanes," Gomez said.
In addition to selling vendor stalls, band and orchestra students run the concession stands to raise additional funds in exchange for volunteer hours. 
Junior flutist Celeste Maino said she volunteered at many Flea Markets during her freshman year and is excited to help out at them again.
"Concession stands are a fun way to meet people and talk to people in band that you play with," Maino said. 
Maino also said the Flea Market is a good balance between sales and community.
"It's a nice way for Paly to interact with the rest of the community while also bringing in funds," Maino said.
Willner added that even though the purpose of the flea market is to make money, it's also about having fun and bringing people together.
"When we do something and everybody's had a good time, you feel good about it," Willner said.
The grand reopening of the flea market is Oct. 9.  Sign up to become a vendor by calling (650)-324-FLEA, visit the Paly Flea Market's Facebook page @palyfleamarket for the latest updates, and stay connected with Paly Band and Orchestra at palyband.com.