In the days after an underwater volcano erupted off the coast of Tonga on Jan. 15,  triggering tsunami waves and severing communication to the islands amid widespread damage, the Palo Alto Tongan community has joined together in prayer and gathered food and supplies for those affected.
Registrar Merilyn Tonga, whose family is from Tongatapu, Tonga's main island, said the first few days after the eruption were difficult for her because of the abrupt disconnection to her family. 
"The (phone) lines just went dead," Tonga said. "My husband and I didn't sleep for 24 to 48 hours just trying to get information on how everyone was doing." 
The underwater volcanic eruption caused damage to the undersea cable that transmits cell service to the island, effectively cutting all electronic communication to the Kingdom of Tonga. Four days after the eruption, SES S.A., a Luxembourgish Telecommunications Company, restored international call services.
Though Tonga said her immediate family is safe, her husband's aunt's home was destroyed.
"All of the homes on the bottom part of the island are gone," she said.
Junior Mia Rose Tuifua, whose family is from Ha'apai, a group of islands in central Tonga, said her grandma, who took pride in the island, passed away over winter break, making the damage to Tonga especially devastating.
"My grandma held great pride in being from such a beautiful island, and it breaks my heart to think about it not existing anymore," Tuifua said. "I can't help but think that losing the island is losing a little bit of her."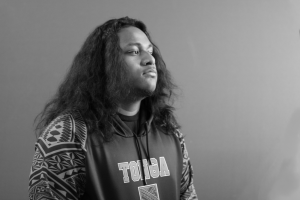 Since the eruption, junior Vainga Mahe said he is concerned for his Tongan family back home.
"It's a big hit for the community," Mahe said. "We are just praying to God hoping that everyone is safe and that we can rebuild our country."
For Merilyn Tonga and her family, praying was the first course of action.
"Our faith is very strong," Tonga said. "As the community heard about the eruption and tsunamis, we all came together, even through Zoom, to sit and pray."
Beyond prayer, Merilyn said the Tongan community is in need of clean water since ash rain storms resulting from the volcanic explosion have contaminated the island's drinking water.
"The first thing they said when our calls went through was that there's no water," Tonga said. "They usually drink from the rain through filters, but (the rain) got all infected with ash."
Mary George, the Director of Communication and Community Outreach at the Church of Jesus Christ of Latter-day Saints in Menlo Park, said there are 19 Tongan church congregations in the Bay Area that are organizing donations to help support the Tongan community. 
Water is their most urgent need, but George said the islands also need non-perishable, easy-to-open food, tarps, PPE, wash kits, hygiene kits and shelter tool kits. 
While donating provisions is critical to the safety of Tongans, Rose said another way students can support the Tongan community is by being sympathetic towards their Tongan peers who may be struggling mentally and emotionally.
"The best way to help is to just listen to what we have to say," Rose said. "I find it comforting when my friends ask me how I feel about the situation and offer a hug."
Donations to support the Tongan tsunami relief effort can be dropped off  for the next three weeks at the Church of Jesus Christ and Latter-Day Saints Cultural Hall (975 Sneath Lane, San Bruno, Calif.) Monday through Saturday from 10 a.m. to 12 p.m. or 4 p.m. to 8 p.m . Please call Ane Pasina at (650)-834-4777 before dropping donations off.