To recognize senior artists as the school year wraps up, senior showcases allow students to display or perform their work for friends and family. Some of these events are school sponsored, such as the theater program's senior showcases or the dance team's spring show. While some seniors put together a performance or display on their own. 
Sam Yamashita
While the personal satisfaction of learning to play an instrument is meaningful, music is meant to be shared. For senior Samantha Yamashita, working hard to share her music with family and friends has become a memory she will remember for a long time. 
"My senior recital was definitely a memory I will forever treasure because I got to share music that I love with people that I love." Yamashita said. "We had around 150 attendees and I was overwhelmed by how many people were willing to take time out of their day to come hear me play."
Yamashita's recital contained five pieces, one was 30 pages long. She memorized them starting in fall of this year. 
"It was definitely a lot to hold in my brain at once," Yamashita said. "But thankfully my teacher was there to help me plan out how much to memorize per week so that I felt ready by the time the recital came around."
Yamashita feels especially passionate about classical pieces. 
"I feel like classical is more expressive than other genres of music in many ways because without lyrics, the piece can communicate many different emotions depending on the person who is playing it." Yamashita said. "As a pianist, you aren't limited by the meaning of words but can express your own interpretation through the notes, which I think is really cool."
Despite the challenge Yamashita undertook, she will continue playing in college and beyond and would advise younger students to continue with the craft. 
"I would say stick with it! Piano provides such an amazing creative outlet, especially as you learn more complicated pieces." 
Renee Vetter 
Senior Renee Vetter has been part of the theater program since their freshman year. They have acted in several plays and also worked behind the scenes during their four years with the program. 
"Being a student producer on the thespian board, attending thespian club, being in the stage tech class. I also acted in two of the shows this year and did tech for all." Vetter said, "Right now I am producing, writing  and directing for one acts."
Vetter said the theater program's senior showcase is a cross between graduation ceremony and performance. 
"Senior showcase is a night that the juniors plan for the seniors where people give speeches about each graduating student and give them flowers. We also have the chance to perform stuff as seniors because it will be our last chance to at Paly."
Vetter said they hope to continue theater in college. 
"A favorite memory of mine is doing 'I love you.' before one of our last shows in the illusion because it was very fun to tell everyone how awesome they are … when the whole cast and crew goes around and tells people why they love them and compliments them on the night before closing." 
Trevor Wong Van Haren
Senior Trevor Wong Van Haren has been playing guitar every day for 10 years, and in that time he's had multiple teachers, as his family moved to and from Barcelona. "I work on learning songs, usually for a goal like playing a song at a recital or playing a couple songs for my grandparents when I visit them," Wong Von Haren said. "Most recently, I had my graduation recital,  concert for my friends and family. I prepared 10 songs for it. I started preparing about six months in advance. Deciding what songs, learning them, memorizing them and most importantly, maintaining them."
Aside from working on his showcase, and honing his talent, Wong Van Haren teaches guitar too. 
"I have been teaching classical guitar, through a non-profit, for over one year now. The non-profit, Peninsula Guitar Series, finds underprivileged students, supplies a guitar to them, and connects teachers to them." Wong Van Haren said.
He has two students at the moment, one who has been with him for over a year, and one who has been with him for about two months
"It's been a very rewarding experience," he said. 
Wong Van Haren said younger students should work to find joy in playing music. 
"Practicing one instrument can be very rewarding, being able to know your way around an instrument, but you shouldn't force yourself to continue if you don't enjoy it." he said. "Mastering the instrument isn't the end goal. The end goal is to enjoy playing it."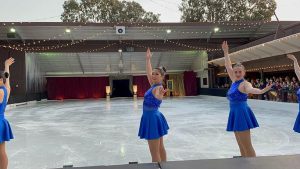 Sophia Cummings
Though ice skating may not be the first sport that comes to mind when one thinks of Northern California, senior Sophia Cummings has been figure skating since she was 3 years old. 
"I do three types of skating," Cummings said, "synchronized team, dance team and freestyle." Cummings' team begins its practices in January and works towards putting together an end-of-year recital featuring their seniors. Cummings says she practices a lot in her room, using her floor as a makeshift ice rink, in between bi-weekly practices. 
"My favorite memory is hanging out with my team after our dress rehearsal. It was like 10 p.m., and we just blasted music and danced in our shoes on the ice," Cummings said. 
Unfortunately, ice rinks to practice at are few and far between near American University, so practicing regularly may not be possible in college. 
"I will most likely not continue skating in college because there is no rink near my campus." Cummings said, "Usually what happens is alumni skaters will come back to the rink during our breaks and get to skate together again, so I look forward to that."
Cummings also teaches ice skating to younger skaters at the Winter Lodge. 
She said,"Remember to always keep your eye on the end game, there will be so many times you want to give up and you will be falling jump after jump. But the gratification you get when you achieve an element is the best feeling ever."
Hannah Wolf
Though staying late after school to learn how to make a moose may not sound like the ideal afternoon to many students, senior Hannah Wolf wouldn't trade it for anything. 
"My favorite memory was when I stayed after school working on production for the glassblowing sale, and we made like 20 mooses." Wolf said. "It was fun to learn how to make one item so efficiently while working with friends."  
Wolf has been a part of the art program since freshman year. She, like many of Paly's visual art has placed her work around the school and submitted pieces to the creative minds persevere show, which will take place at Cubberley this spring. 
"I try to glass blow at least once a week in class, and if I'm not outside, I am working with clay in the classroom." Wolf said, "I also volunteer with the Paly Fiery Arts Biannual Sale and occasionally glassblowing on the weekend."
Though Wolf will not be submitting an AP portfolio, she said she hopes to continue to perfect her craft in college. 
"In college, I hope to possibly minor in studio art and definitely be part of the pottery club. There is not a glassblowing program at my college, so maybe I will find a hot shop to work at over the summer," Wolf said. "It would also be really cool to work with a glassblowing studio internationally one day!"