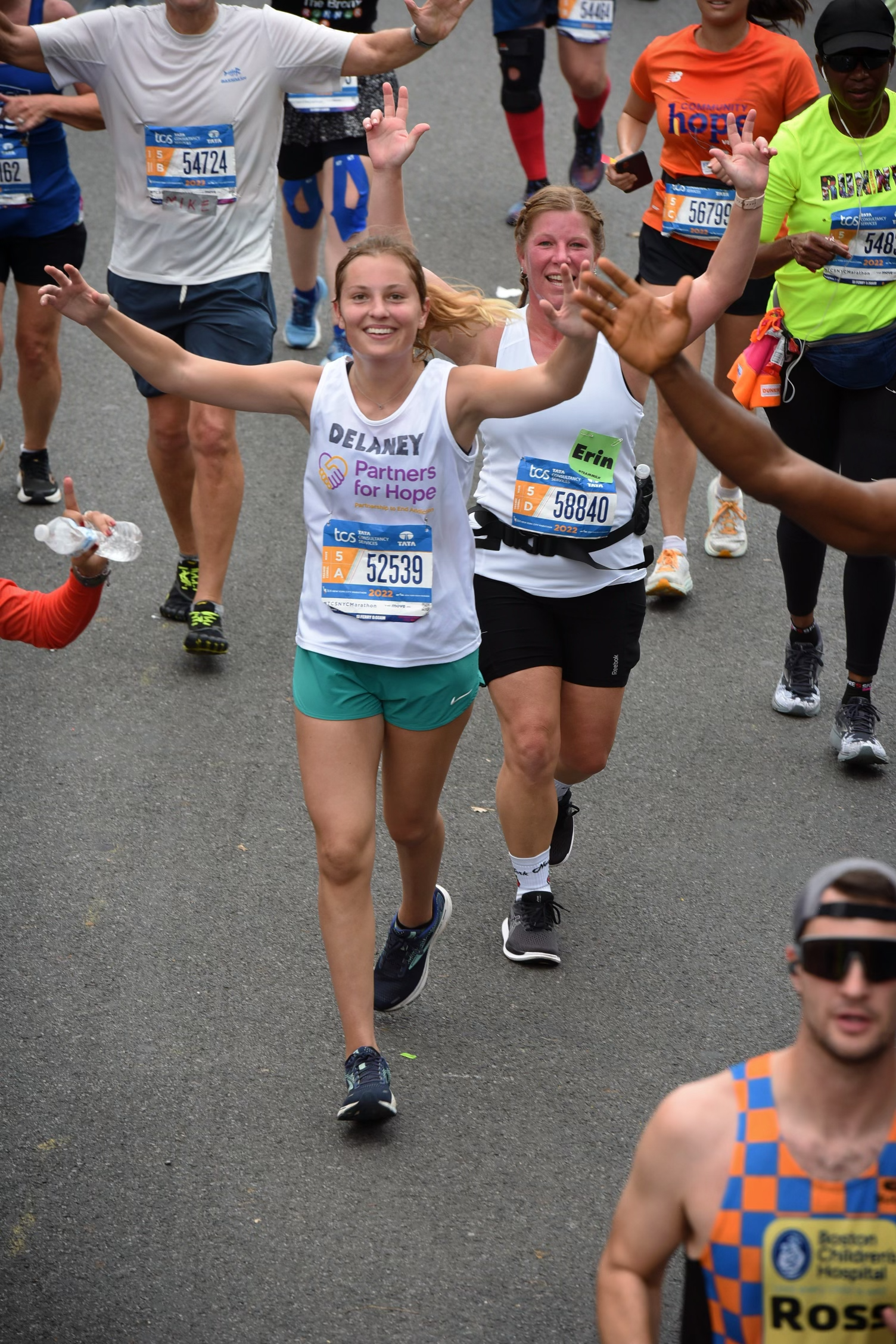 Senior Delaney Ball looks out at the gray rippling currents below Staten Island's Verrazzano-Narrows Bridge and takes a deep breath. The chilly morning air buzzes with anticipation: surrounding her are 44,000 people, all of whom are about to embark on a 26.2-mile run through the five boroughs of New York City.

On Nov. 6, Ball completed the largest marathon in the world — the New York City Marathon — and raised $3,500 for Partnership to End Addiction, a nonprofit organization that organizes campaigns to stop teenage drug and alcohol abuse in the United States.

Ball said she began seriously thinking about running a marathon this year after spending her childhood watching her mom run in them.

"Just seeing my mom run marathons inspired me," Ball said. "Knowing that she put in all this work, and seeing her out on courses trying her hardest really hit me."

Ball said she chose the New York City Marathon as her first marathon because of the large running community that thrives there.

"I wanted to choose a race for my first race that was going to have a ton of crowd support," Ball said. "I knew it was going to be an incredible first marathon to run and something I'll never forget."
Ball said she and her mom also decided to run in support of Partnership to End Addiction because they wanted to raise awareness for drug addiction and give themselves a purpose to run.

"Substance use and addiction affects more than 20 million Americans," Ball said. "The road to recovery can be long and hard, which is what my mom and I will keep in mind (for) each of the 26 miles we run, especially in those hard miles at the end."

To prepare for the marathon, Ball said she followed a rigorous six-month training schedule with her mom that consisted of one long run each weekend.

"I started out with one mile, and then I went to four, and then eight, and then 12," Ball said.

Ball said she would often wake up before the sun rose to train at far-away locations like the Golden Gate Bridge.

"I like to sleep in," Ball said. "But (my mom) would get me up at 5:30 or 6 in the morning sometimes because we would do destination runs."

Ball said her mom was her biggest motivator to continue with the rigorous training.

"If I didn't have my mom to train with me, I don't even think I would have been able to motivate myself to get up and run each weekend," Ball said. "My mom was really my biggest supporter in the training process.

But two days before the race, her mom unexpectedly fell sick.

However, Ball didn't back out.

"At first, I was a little disappointed because I wanted to do it with her," Ball said. "But then once I got into (the race), I was like, 'This is just like the training runs.'"

On top of not running with her mom, Ball said the weather was more intense than she expected during the marathon.

"It was the hottest day on record for the New York City Marathon," Ball said. "It was 73 and sunny, which is not ideal running weather."

Ball said the biggest challenge she had to overcome took place during mile 20 of the marathon because she had never run beyond that distance during her training.

"When I got to mile 20, I literally broke down," Ball said. "It was one of the hardest things I've ever done. I had no fuel."

Even though Ball wanted to give up, she said the support from the crowd and her family kept her going.

"It was like the biggest party in New York," Ball said. "There were people (cheering) from mile one all the way to the finish line."

Ball said her mom's encouragement from the sidelines gave her the final push to keep going.  

"I really had to be strong in the moment," Ball said. "I remember calling my mom and crying on the phone to her to tell her, 'I don't think I can do this.' And she just reassured me that (I'd) be OK."

When Ball reached the finish line, she said she felt overwhelmed that she had accomplished her goal.

"It was honestly one of the hardest physical challenges I've gone through in my entire life," Ball said. "I cried because I was so happy to finish. That was my one goal. I didn't care about my time."

When Ball returned to Palo Alto, she said she began a long recovery process.

"After the race, I couldn't walk for three or four days," Ball said. "Every muscle was sore. Even getting from class to class was a challenge."

However, Ball said she enjoyed the recovery experience because it reminded her of what she had accomplished. 

"(Recovering) is a really satisfying feeling because I know I challenged my body," Ball said. "It's definitely rewarding to feel sore after."

Ball said she hopes to run in more marathons in the future.

"My ultimate goal is to qualify for the Boston Marathon," Ball said. "I think that's something  I would do later in life, when I'm in my twenties. I don't think it's achievable at this moment because I'm just so busy."

Ball also said the Marine Corps Marathon and the Chicago Marathon were on her bucket list of marathons as well. 

Ball said, "(This marathon) taught me that if you want to do something and you work hard for it, it can happen."