School should have class feedback system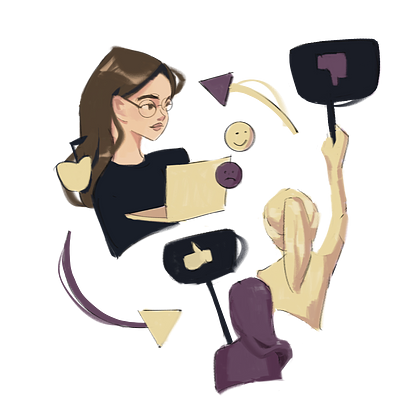 Walking into class two minutes before the bell rings, I eye my teacher's computer, a bright red dress on the screen catching my attention. Scrolling through a clothing website, she stares intently at her screen, not acknowledging me. As soon as the bell rings, she stands up from her desk and walks out of the classroom, letting us know she is going to the bathroom. 
This happens a lot, with this teacher sometimes leaving class for more than 15 minutes. These extended absences cause the class to lose lecture and work time, putting us behind schedule and forcing us to complete assignments outside of class. 
I talked with my classmates and realized almost all my peers shared the same concern. However, we had no effective option to bring awareness to our unease.
To prevent lost instructional time and student dissatisfaction,all students should be given a consistent, standard way to give feedback to their teachers so we can practice advocating for our education. 
In an opt-in Schoology survey conducted by the Campanile, 88.5% of the 82 students who responded said they would support a formal, standardized feedback system for teachers that could be monitored by administrators and include an option for anonymity. 
Students should be also able to submit feedback throughout the year to give teachers a chance to make immediate changes, and teachers and administrators should have access to this feedback year-round, receiving notifications and alerts. 
Throughout high school, teachers play a crucial role in shaping their students' post-graduation plans as students develop motivations and goals. 
However, without the option to freely communicate our concerns, no matter how well a teacher may teach, students will have a limited connection with their teachers. This lack of communication may cause some students to feel uncomfortable asking questions and reaching out for help, leading to lower successes for both teachers and students.
Though students know where they are struggling, teachers may be unaware that their teaching is ineffective for some students, so implementing a formal feedback system will allow teachers and administrators to illuminate potential causes for lower and higher success rates. 
This information would be instrumental in improving education systems because teachers can more effectively learn and improve their teaching methods. 
In my math class, for instance, my teacher creates a class discussion board for each unit, where the class can comment and answer questions about the lessons or assignments. This strategy has been extremely beneficial because students get immediate feedback and feel more connected to the classroom. 
Although developing such a system would have major benefits, the process of establishing it would play a crucial role in its success. 
Anonymity should be an option to ensure all students feel comfortable giving teachers feedback. Especially in a competitive school where grades are emphasized, an anonymous feature would help students who are worried about their performance in school if their criticism is traced back to them. 
Having an anonymous system would allow students to freely comment without having to worry about it impacting their grades. 
Though anonymity poses a possibility for exaggerated or false claims, when a large-scale system is created, the legitimate comments will vastly outweigh the small minority that are false. 
That being said, if students feel the need to intentionally harm or negatively portray their teachers through false claims, why they would want to do this to their teacher is another, deeper issue that should be analyzed. 
Allowing for administration's oversight is equally important. If the feedback system is not monitored by administration, some teachers may not take feedback seriously, defeating the purpose of the system. If enough of the same criticism is received, administrators should be alerted to this so they can intervene. 
In an ideal school, students and teachers should have a mutually beneficial relationship where students can learn from their teachers, and teachers can also learn from their students from a positive cycle of constant feedback and improvement. 
On a broader scale, the action of allowing students to give feedback to their teachers instills an important idea in their minds. Students are shown that their opinions matter and their concerns are taken seriously. 
When students are punished for sharing their legitimate worries, they learn to avoid tension instead of advocating for what they think is right. 
As a school that emphasizes academic growth and engaging classroom environments, we need to encourage students to utilize their right to speak out through implementing a standardized teacher feedback system, especially when the issues on their mind are not only affecting their performance in high school but also in their lives after graduation.