Silicon Valley Bank failure causes stress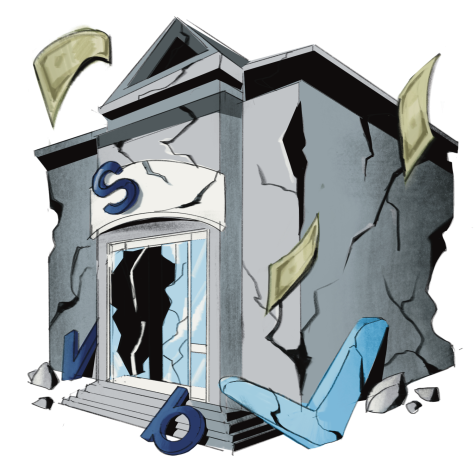 After filing for bankruptcy on March 10, Silicon Valley Bank was purchased by First Citizens Bank from the Federal Deposit Insurance Corporation. First Citizens will now take over the sale of all SVB's deposits and loans.
Days prior to filing for bankruptcy, SVB sold its government bonds and incurred a loss of $1.8 billion because of a significant increase in the interest rate of bonds at the time of the sale.
In addition to the issue with its bonds, Economics teacher Grant Blackburn said the bank failed due to faulty investment decisions.
"SVB collapsed largely because of bad risk management," Blackburn said. "They should have looked at their balance sheet and realized they're not well diversified. You don't want to buy all of one asset, because if that asset does poorly, you've lost all your money."
Senior Niklas Hagstroem, who said he became engrossed in researching the SVB failure after it happened, said SVB's decision to invest in government bonds when interest rates were low was a poor decision because the bonds' value decreased as interest rates went up. 
"The fundamental business concept was kind of risky," Hagstroem said. "They gambled it all on red when red had been rolled four times in a row."
According to Blackburn, SVB's poor decisions have affected the entire community.
"There's gonna be a lot of ripple effects," Blackburn said. "Anybody that works for the bank, their future is unknown."
Senior Samantha Lee's parents banked with SVB and were among those impacted by the failure. Lee said her family was able to recoup its money but also said the event opened her eyes to the risks of depositing money in banks.
"I feel that (being aware about the economy) is important because I don't know if people understand the implications (the SVB's failure) could have had if the federal government hadn't stepped in," Lee said. "(There) could have been a recession, and that would have impacted us all."
According to junior Roshan Nadhani, who made investments after the crash, SVB's failure has deeper implications that extend beyond the company. He said in addition to the SVB employees who will lose their jobs, people working in other companies may face similar consequences.
"A lot of companies are ready to lay off a lot of their employees just because they couldn't pay them," Nadhani said. "If you're working at a startup, you're worried that you won't get paid or that you might get laid off because your company is worried that you might sue them."
Nadhani said the SVB failure will also impact the community long term as people will likely shift to larger banks such as Citibank and JP Morgan because they have more stability.
In addition, Blackburn said SVB's failure may make people more cautious about spending money.
"Their future is unknown," Blackburn said. "And so whenever you're in an unknown situation, you are immediately going to stop spending money (and) start saving money, and that's going to have an impact on our economy." 
Blackburn said SVB's failure can teach people valuable lessons about financial literacy and help them become more aware of the economy.
Blackburn said, "If you understand how banks work, and how the FDIC works, then perhaps you're going to make better decisions and not react fearfully."