Girls' tennis looks towards CCS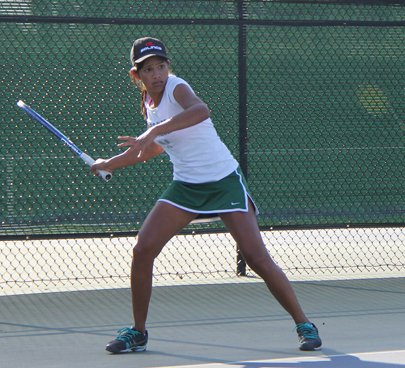 The girls' varsity tennis team won its first non-league match of the 2013 season. After defeating Aragon High School the team is currently ranked high in its league with a streak of 12-1.
The team continued its season with a win against Mountain View High School on Sept. 17 by a final score of 6-1.
At the annual Palo Alto High School Invitational, the girls played Homestead High School, Castilleja School and Aragon High School. The Vikings beat all three of these teams by small margins. The team beat Homestead 10-9, Castilleja 10-8 and Aragon 5-3, although the Aragon match had to be cut short due to weather issues.
The team came off of a  successful weekend at the Paly Invitational, and continued their successful season by beating Los Altos High School by a final score of 4-3, Henry M. Gunn High School by a score of 6-1, Lynbrook High School 5-2 and Los Gatos High School 6-1. However, the team was disappointed when they lost to Monta Vista 3-4 last week as they were looking to continue their previous success as they had against their previous three opponents.
Regardless, the Vikings are performing much better than they did last season due to the help of underclassmen. Senior Samantha Dewees is pleased with how the team has been playing so far this season and hopes that its successful streak will continue.
"It was really exciting to win against not only Mountain View, but also Los Altos and Gunn so far this year," Dewees said. "They were all fantastic matches and this season has just been great so far."
Although the team has been victorious among most of the schools it has played against so far, there were quite a few close calls.
"The Los Altos game was the most intense game we had so far, because the score was really close," sophomore Kelsey Wang said. "But we're going to be playing so many more talented teams this season, so we're expecting many more close matches where we really need to focus."
Even with these close matches and their two losses, the team is learning from every game and improving as much as possible. The girls are also confident that this extraordinary start to the year is a sign that the team will go far this season. The team expects to make it to the Central Coast Section playoffs and hopes to avenge one of their losses by beating Monta Vista High School in their rematch on Oct. 24.
"We were close to defeating some top teams in our league last year," Wang said. "We're hoping that we've improved enough so that we'll be able to put up an even better fight this year."
The whole team is satisfied with how the team has been doing so far. Most, if not all members have been playing exceptionally and working well together as a team. Dewees is confident that the team will be successful.
"I'm really hoping we continue to play this well for the rest of the season, and I definitely think we are off to a great start," Dewees said. "We're playing increasingly better each year, and I'm hoping we'll continue to play so well throughout this season."
Leave a Comment
Your donation will support the student journalists of Palo Alto High School. Your contribution will allow us to purchase equipment and cover our annual website hosting costs.