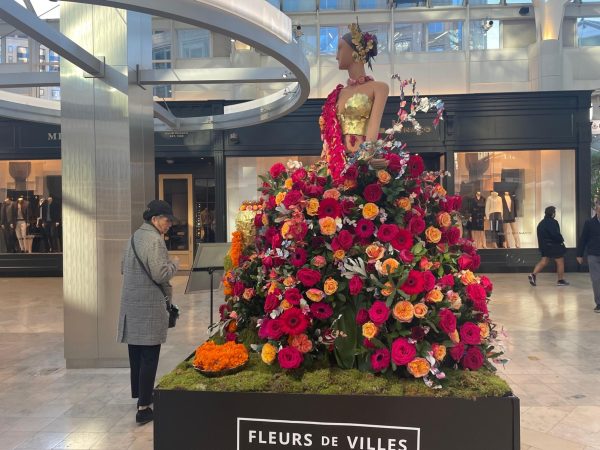 The Prudential Center is the home to more than 70 shops and eateries and is a place of livelihood. Located in the heart of Boston, people pass through for a variety of reasons, whether a stop on the commute, for work, or a break. The glass paned ceilings and windows let in the sunshine and keep out the brisk cold air, making it a desirable space to be in the fall season.
Right now a special showcase is being held. Fleurs de Villes or "Flowers of the Cities" displays 17 extravagant mannequins. Their displays travel through major cities in the US and Canada, including Vancouver, New York, and now Boston. Each mannequin has a country that it represents, and its display contains unique architecture, fresh flowers, and significance to the given country. 
The mannequins are scattered throughout the walkways of the center, giving more opportunity for spontaneous sightseeing. Passersby stop to appreciate these new additions, which recently arrived November 2nd. Some examples of represented countries are Columbia, Vietnam, Tahiti, and India. 
Fleurs de Villes works with many different artists and flower studios, a different local studio for each mannequin. Every display holds information about the customs, celebrations, and cultural significance of the country. Education through art was found very effective and intriguing to people walking in the center. 
"Of course the history … throughout different [countries] is super amazing. I really love the way this type of art brings things to life, it's beautiful."
— Local commuter, Flavia
Many appreciate the beauty and education the pieces offer, while others, such as Estefania, a passerby, are happy for their country to be represented and portrayed in this way. 
"I am from Colombia and Colombia is a country that everybody knows because of the flowers. So Colombia exports flowers to the United States, so when I saw that it has my country's name there, I said yeah, I am waiting for this," she said. 
Fleurs de Villes also offers activities incorporated with the art. On Saturday November 4th one of the local studios, Cass School of Floral Design offers a free floral demonstration. In addition, there are generous prizes for voting on your favorite mannequin or sharing the displays and tagging #VoyageBoston to support @fleursdevilles on Instagram.
Hannah, a Boston commuter, says, "I really like that every piece is representing one culture, and the fact that [the artist] uses warm colors. … It makes [the mall] more lively."
For more information visit:
https://www.fleursdevilles.com/event-page/boston-voyage-2023