Senior portraits should express individuality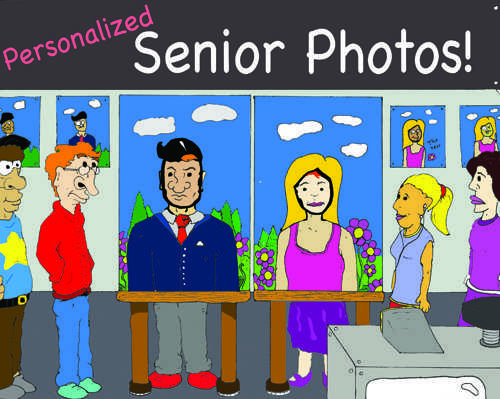 In recent weeks, most seniors have changed their Facebook profile pictures to showcase their senior portraits. Although these portraits all feature perfect hair, perfect makeup and perfect lighting, the process of taking the portrait itself is much less than perfect.
For the past three years, Madrono, the Palo Alto High School yearbook, has upheld a revised policy regarding senior portraits. Previously, students could submit a picture of their choosing, on or off campus, that could be taken by anyone. Some of these pictures were professionally taken, while others were taken by friends or were "selfies." Whatever the portrait, it represented how students wanted to be remembered by their peers.
With Madrono's new policy, students can select to be professionally photographed by one of seven photographers with prices ranging from $75 to $195 per session. If students do not want to pay for their portraits, they can attend a free mini-session during tutorial throughout September.
If neither of these options are fitting for students, they can opt to use their school ID photos. If a student does not submit a portrait before Oct. 11, his or her school ID photo will be used in place.
While these rules offer more options for students, they eliminate the most important aspect of senior portraits: individuality. In previous years, the multitude of photos submitted by students added personality and fun to the senior portion of the yearbook.
If one student's chosen picture illustrated him sitting up in a tree on a hike, then maybe they were outdoorsy. If students wanted to pose with their favorite drawings, they were probably artistic throughout high school.
Other portraits have been random photographs taken around campus that capture the personality and individualism of a student — with all different aspects of the photo adding in to this.
Although some photos were not the best quality, these photos did a better job of depicting the senior class as individuals instead of as a group of students who paid upwards of $100 to sit and smile for half an hour. The most differentiating part of senior portraits taken by the list of photographers is clothing choice and setting. However it is "suggested" to wear clothing that covers the arms and to avoid wearing "too many prints." As for setting, Elizabeth F. Gamble Gardens is a popular venue, as is anywhere that has bushes or flowers.
"I think that having a limited list of professional photographers was a bad idea," senior Remi Wolf said. "First, all of the options were over $70 and second, there wasn't a lot of variety in the type of photos the photographers specialized in. In my opinion, the point of senior portraits is to show your individuality and the fact that everyone's photo was taken by the same photographer makes each photo a lot less unique. I liked the photos that were taken of me though, and I do agree that the photos should be professional looking."
While Madrono's rules regarding senior portraits are in place to make it easier for the yearbook staff, the old policy, which worked for both students and Madrono, could still be used today. Dealing with many different photographers and students might be a pain, but Madrono staff assumes responsibility for such tasks when they choose to sign up for the class. One thing that could make it easier for the Madrono staff if they choose to opt back to the previous senior portrait guideline is to create a checklist of what a photo needs to include to be viable for Madrono.
This checklist of formatting and content requirements, can be broadcasted across school and senior class Facebook groups at the end of the class's junior year, so upcoming seniors have plenty of time to ponder their portrait choices.
There could also be an incentive for turning in senior portraits early, so the Madrono staff is not flooded with photos on Oct. 11. And if self-submitted photos do not comply with the rules, Madrono should then use students' school ID photos instead, since Madrono gave freedom and choice to a student who did not use this choice responsibly.
If Madrono switched back to the old rules, many students and parents would breathe a sigh of relief. It would be cheaper and offer more variety for students. It would also allow for more self-expression because students would spend more time and creativity on photos that their class would remember them by.
There is something satisfying about choosing senior portraits. Sure, everyone looks good if they have perfect hair, makeup and lighting, but everyone also looks the same too — and where is the fun in that?
Leave a Comment
Your donation will support the student journalists of Palo Alto High School. Your contribution will allow us to purchase equipment and cover our annual website hosting costs.