Spirit Week must incorporate variety of students in activities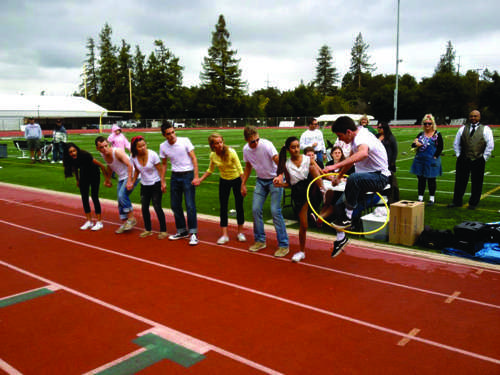 Every year, the entire Palo Alto High School student body dresses up in its craziest, most spirited clothes in an attempt to win the famed battle amongst the grades: Spirit Week. Students storm out to the Quad to get the best spots on the bleachers and yell so loud practically all of Palo Alto can hear them. But as you look down to see the two or three people standing on tables calling out the cheers for each grade, you realize that those same students have been there every single year and that the leadership still has yet to change. This is a flawed practice and we need to implement diversity into our Spirit Week leaders, whether that be introducing new students to call out the cheers, participate in grade-wide activities or perform the spirit dance.
Throughout Spirit Week, hundreds of students put their best foot forward by being as spirited as they can possibly be. However, the majority of these students are somewhat forgotten due to the fact that they do not play an active role in their grade. Instead of standing out on the Quad for everyone to see, these students are stuck in the top corner of the bleachers behind the tallest people in the grade, completely out of sight. If a new set of leaders went up on the table and called out the cheers each day, the student body would witness a more diverse group of leaders.
Furthermore, students who secretly yearn to show their true spirits, but are out shined by their peers, would be able to do so.  While this rotating system would only allow for an additional fifteen or so students to lead Spirit Week, these additional students would still be an improvement from previous years.
The fact that students can name every single person who has participated in a Spirit Week activity for the past three years reflects the lack of diversity in leadership that affects the student body. If we implemented a system that allowed each student to participate in only one activity during Spirit Week, the variety of people would instantly increase because limiting the number of activities would force a larger amount of students to participate.
This mandate for new students to participate would alleviate the intimidation for students who are nervous about competing against those who have mastered popular Spirit Week events, such as the relay race and musical chairs.  While it is true that certain people are more fit for some of the activities, for example the biggest people should be on tug-of-war, this does not mean that they still need to be in every single activity.  Leaders should thoroughly search for students who genuinely want to participate or are too shy to volunteer in front of the student body. In order to increase diversity, those in charge of Spirit Week should look for people other than their friends.
Lastly, as the Spirit Dance should be one of the most fun and entertaining activities of the week, a larger amount of students should be able to perform, rather than watch passively on the bleachers. Although most students are not proficient dancers, the Spirit Dance team should still reach out to additional dancers who are not currently on the team. Similarly to the solution for lunchtime rally activities, the participants should be rotated out every year in order to give a larger variety of people a chance. Of course, the one or two leaders can stay, but they should reach out to dancers who are not represented in Spirit Week.
Spirit Week is designed to be a fun and inclusive event for the entire school, but it has become increasingly exclusive. In preparation for this year's upcoming Spirit Week we need to change the way it has been done for years and invite a new crowd of people to the front stage.
Leave a Comment
Your donation will support the student journalists of Palo Alto High School. Your contribution will allow us to purchase equipment and cover our annual website hosting costs.