Environmental Club revamps recycling effort to minimize impact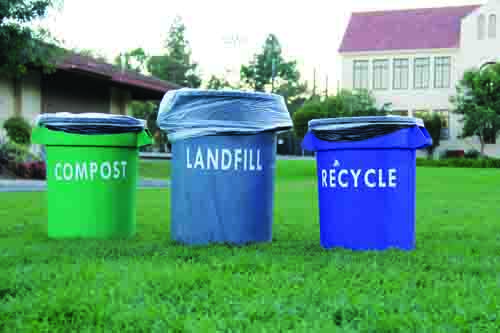 The Paly Environmental Club (PEC) has decided to turn the current ineffectual system of separating waste into compost, recycling and trash at Paly into one that is functional in correctly separating waste to benefit the earth. Disregard for the proper usage of the green compost or blue recycling bins is prevalent; along with a few compostable or recyclable items, trash is common throughout. This misplacement of items also occurs in the trash bin, which often contains items that could be recycled or composted.
This compost and recycling movement has infiltrated many other Palo Alto Unified School District (PAUSD) schools, but has failed to take hold at Paly. A few years ago, the Green Team, a former Paly club focused on bringing awareness to environmental issues, attempted to initiate this movement through labeling the compost, recycling and trash bins and creating laminated "Got Green?" posters that displayed information as to which color represents which means of waste disposal. However, these efforts by the Green Team "didn't change the climate of the school," according to Assistant Principal Jerry Berkson. Despite the Green Team having disbanded and never succeeding in creating an effective system to promote composting and recycling at Paly, this year, PEC has assumed plans to revamp prior efforts.
PEC plans to kick off its efforts to increase awareness around the school of the importance and environmentally positive effects of compost and recycling during Paly's annual Turkey Trot on Nov. 22.
Along with the Parent Teacher Student Association (PTSA) handing out Thanksgiving feasts for a cash or canned food donation, PEC will be stationed on the quad to advise students in their trash disposal. Added guidance supplied by the club is aimed to help students and clear up any confusion on which items belong in which bin. PEC realizes that sorting composting, recycling and trash is not always simple, and even the most environmentally conscious people struggle in deciding where each item belongs.
"I was a part of the Green Team, and I still walk up to [recycling and compost bins] and take five seconds to really think about what goes where," Berkson said.
With club officers manning every recycling and compost bin on the Quad during Turkey Trot, PEC is hoping to leave students with no excuse to put items in the wrong bin.
To publicize their efforts at Turkey Trot, PEC will be decorating the library chalkboard wall. Since PEC focuses on promoting environmental awareness, it will not display paper posters around school in order to minimize paper waste. Instead, PEC plans to publicize the event via Facebook.
As for future efforts, PEC plans to photograph typical packaging waste from Town and Country stores and advertise which bin each piece of waste belongs in. This specific labeling is intended to present students with the knowledge they need to put their waste in the correct bin. This is one of the club's many efforts to tune the composting and recycling system to Paly students' needs.
Additionally, the club is aiming to work with InFocus to provide segments on composting and recycling to better inform and remind students of their potential positive impact on the environment.
Palo Alto, a generally green city, has taken many steps towards being more environmentally conscious. PEC hopes to push Paly in the same direction by changing the Paly perspective of trash as a burden to the view of trash as a resource that can be an asset to the environment when compost and recycling are used effectively.
Leave a Comment
Your donation will support the student journalists of Palo Alto High School. Your contribution will allow us to purchase equipment and cover our annual website hosting costs.