Condoleezza Rice appointed to BCS committee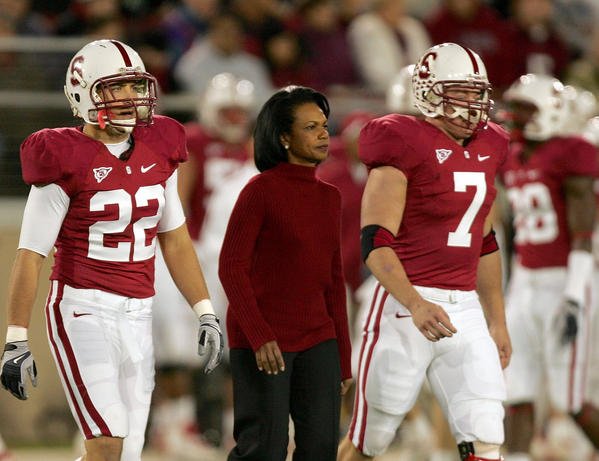 Former Secretary of State and current Stanford professor Condoleezza Rice will join the College Football Playoff selection committee when it is officially announced in November, according to ESPN.
The announcement of Rice's participation was initially met with controversy. Many football fans declared the diplomat unqualified to serve on the committee. Some fanatics furthered tensions by suggesting that women do not belong on the panel. These disputes, however, were mostly settled after diplomatic responses from the committee executives and Rice herself.
Executive Director of the College Football Playoff Bill Hancock noted that Rice rightfully earned the spot on the panel.
"Rice knows the game," Hancock said to ESPN. "Obviously, part of [participating in the selection committee] is going to be the ability to make judgements under scrutiny, and [Rice] has that."
Hancock noted that Rice met all of the appropriate criteria of a selection committee judge.
"We wanted people of the highest integrity for this committee," Hancock said in an interview with USA Today. "Every one of [the judges] has vast football knowledge, excellent judgement, dedication and love for this game."
According to ESPN, Rice believes she is well-qualified for the job.
"I have experience in decision-making under pressure, decision-making when you have to evaluate information, look at it in a variety of ways [and work] in a team to try to come up with good decision," Rice said in an interview with ESPN. "I think I can bring that to [this] committee."
In addition, Rice claims that her presence will add variety to the mixture of judges on the panel.
"People thought it was important to have diversity of experience," Rice said to the New York Times. "Secondly, they said [they] want people who will make critical judgements."
The selection committee will be responsible for determining the four teams that will compete in the College Football Playoffs following the 2014 regular season. The committee is comprised of athletic directors across the National Collegiate Athletic Association conferences, which include the Big 10, Atlantic Coast, Pacific-12 and Southeastern Conferences. The panel also determines the teams that will play in the Cotton, Fiesta and Chick-fil-a Bowls.
Former athletes, coaches, administrators and media representatives will make up the panel of 13 members. Rice will be the only female member.
Rice has never worked in college athletics; however, she is an avid sports fan, especially when it comes to Stanford football. Rice's father, who passed away in 2000, played a significant role in her attachment to the game. While speaking with the New York Times, Rice claimed that her father would be proud of her position.
"He'd be thrilled about the playoff system," Rice said. "I think he'd think I've finally found honest work."
Chaired by Arkansas Athletic Director Jeff Long, the committee will begin work in the fall of 2014, when the new playoff system begins.
Leave a Comment
Your donation will support the student journalists of Palo Alto High School. Your contribution will allow us to purchase equipment and cover our annual website hosting costs.