Local charities kick off holiday fundraisers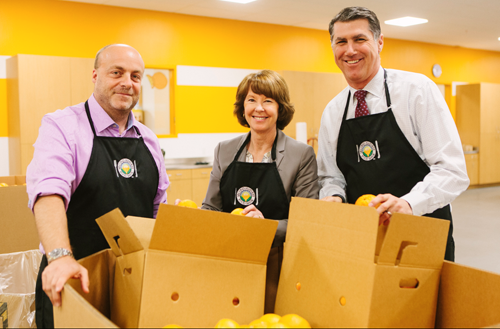 The holidays are quickly approaching, and while most students anxiously await the end of a long semester and the bounty of festivities winter break brings, they should also take time to join in the seasonal spirit of giving back. A wide range of charity drives spring up around this time of year, from the Salvation Army Red Kettle stations disseminated across Stanford Shopping Center to the Palo Alto YMCA Giving Tree, the gamut of charities offer opportunities for anyone who wishes to donate money, objects or time.
A short drive down Embarcadero Road lies the Ecumenaical Hunger Program (EHP), located at 2411 Pulgas Ave. in East Palo Alto, which will be hosting special holiday distributions on Dec. 17 and 18. The nonprofit organization is currently in need of volunteers, as well as items such as frozen meats, clothing and new gifts (especially for children ages eight to sixteen.) To participate as a volunteer in distribution over the holidays, contact the EHP volunteer coordinator at (650) 323-7781 or [email protected] to be added to the volunteer schedule and for additional information on volunteering opportunities during the holiday season.
The Second Harvest Food Bank of Santa Clara and San Mateo Counties is another organization hosting a holiday drive that aims to benefit the 250,000 people it serves every month. Second Harvest, which is one of the largest and most renown food banks in the country, has recently launched its Holiday Food and Fund Drive for the 2013 winter season.
Looking to raise nearly half of its revenue during this season as it has done in years past, Second Harvest has extended drop-off hours at its three locations within the counties from 8 a.m. to 6 p.m. Food in its original, sealed packaging may be dropped off at the lobby or warehouse of any of the following locations: the Curtner Center (750 Curtner Ave., San Jose 95125); the Bing Center (1051 Bing St., San Carlos 94070); or the Cypress Center (4001 North St., San Jose 95134). Turkeys are in high demand during the holiday season, and fresh or frozen turkeys may be dropped off only at the Curtner and Bing Centers and not at any Second Harvest-labeled barrels located around town. Traditional donations of canned goods and other packaged foods may, however, be deposited in the barrels. For more information on what and how to donate, visit www.shfb.org or contact the organization at the address listed on their site.
Another way to benefit local Bay Area families is through the Feed 4 More Program ran by KPIX/KBCW and Whole Foods Market. This drive, which runs until Jan. 1, allows anyone the option to purchase a breakfast for $5, lunch or dinner for $10, or a full-day-meal for only $25 for someone in need. Donations can be made at local Whole Foods supermarkets and stores. Stores will also have food barrels available for donations of non-perishable goods.
For parents or friends aged 21 and older, Santana Row in San Jose, in conjuction with the Second Harvest Food Bank, will be hosting a "Shop, Enjoy & Give" Wine Stroll event on the first three Tuesdays of Dec. 3, Dec. 10 and Dec. 17 from 6 p.m. to 8 p.m.
Participants will receive a complimentary signature Santana Row wine glass and "a passport to the participating Santana Row shops, spas and restaurants that will each offer appetizers, cocktails/wine and exclusive shopping discounts," according to the event's website.
Tickets are $10 and can be purchased online at www.santanarow.com or inside the Concierge Center. Additionally, if you donate a canned food item, you will receive $2 off of your ticket price. All proceeds of the event will benefit the local Second Harvest Food Bank.
Regardless of how busy everyone is during this holiday season, there is always time to give back. Whether this is achieved through a simple online donation to benefit Bay Area food banks or physically in order to help distribute food and supplies, there are a plethora of ways in which both students and parents can give back to their communities during this holiday season.
Leave a Comment
Your donation will support the student journalists of Palo Alto High School. Your contribution will allow us to purchase equipment and cover our annual website hosting costs.