Boys' basketball team looks to get even record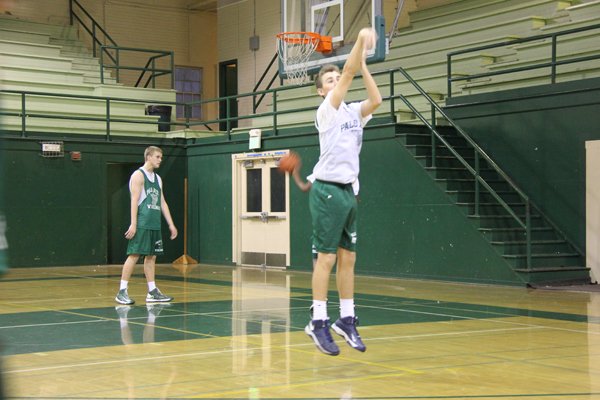 The Palo Alto High School boys' basketball team is midway through the 2013-2014 season and is currently sitting at a 7-7 overall record and a 2-1 record in league play. The Vikings' goals from the beginning of the season remain the same.  These goals are to win league and play team-oriented basketball.
Senior center Matt Fogarty remains confident in the team's chances of accomplishing its goals, but acknowledges that the league is very competitive this year.
"The league is pretty even; there isn't a huge frontrunner," Fogarty said.
However, Fogarty did mention that Los Altos High School, a team to whom the Vikings recently lost, is the team to beat right now.
"Los Altos is pretty hot, but we are confident that we can beat them at home," Fogarty said.
In an interview, senior point guard Clark Schmutz is as confident as Fogarty.
"We just need to play with confidence and the pieces will fall into place," Schmutz said. "We are starting to hit our stride and are playing some of our best basketball."
Schmutz later went on to talk about some of the team's adversities from the start of the season and how the team is now faring.
"It was tough with some of the football guys coming back late, but I feel like we're starting to play more as a team and we're improving with each game and practice," Schmutz said.
Coach Adam Sax is proud of the way that the team has come together this season.
"These guys have done an incredible job as far as playing hard, moving the ball, playing as a team, so I'm very impressed from that standpoint," Sax said.
Sax sees shooting, defense and moving the ball as the team's strengths, and he sees height as the team's main weakness. He says that the team relies on its defense and its ability to shoot the threes as ways to compensate for this.
Sax thinks that the team has potential and believes that if the team continues to play together, it will be successful.
The Vikings continue to play sound ball and remain in contention for a league title. They have upcoming games on Wednesday at home against Saratoga High Schooland Friday at Mountain View High School.
Leave a Comment
Your donation will support the student journalists of Palo Alto High School. Your contribution will allow us to purchase equipment and cover our annual website hosting costs.