The decline of Nike in sneaker culture
Nike's prominence lowered by competitors as collaborators continue to leave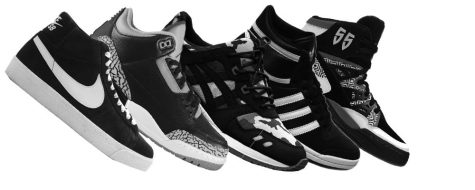 Ever since its resurgence in the early 1970s, Nike has consistently been the fixation of of sneaker culture. However, as the quality of shoes continues to wane and collaborations become less and less exciting, the question is raised: has the Nike empire reached its peak?
It was 1984 when Michael Jordan signed an endorsement contract with Nike, spurring a revolution in the sneaker industry. Jordan shoes soon made their ways on the basketball court as well as the street.
By doing this, Nike established a near monopoly on all basketball shoes. The popularity of Jordan shoes skyrocketed and was in the spotlight for many years. However, as Nike continues to make questionable choices in the way the shoes are constructed and released, this monopoly appears to be declining.
In the past decade, Nike has been forced to compensate for an influx in consumers in the sneaker community, specifically in the Jordan line, resulting in less exclusive releases and also poorer quality in the construction and material of shoes.
Nike's popular Air Force 1 model has suffered some of the worst quality decreases. Since its debut in 1982, the Air Force 1 shoe has gone from having genuine leather to synthetic.
As well as skimping on the quality of their shoes, Nike is also increasing the prices. Come holiday 2014, Jordan Retro models are to be priced at $190 compared to last year's $170, even though they are the same shoes.
Nike has not only has decreased the quality of their products, but many prestigious collaborators are also leaving Nike for other shoe companies.
One of their most famous collaborators, Kanye West, left Nike in 2013 after expressing discontent with the method in which his "Red October" Air Yeezy shoes were released.
Nike only maintains contracts with one major fashion designer: Ricardo Tisci. Nike is still collaborating with well-known basketball players, the most notable of which being LeBron James, Kobe Bryant and Carmelo Anthony, but the shoes are becoming more performance-oriented and not suited towards casual wear.
Other ascending companies like Adidas, who has been in the shadow of Nike almost since its establishment, are showing fierce competition, specifically with their celebrity sponsorships. Adidas has planned collaborations with Pharrell Williams, Big Sean, B.o.B., Katy Perry, Snoop Dogg, 2 Chainz, Kanye West, Tomoaki Makino and many more.
2014 will be a big year for sneakers. As more and more customers are discontent with the releases and quality of Nike shoes, the opportunity for other shoe companies to make their way into the spotlight is broadening.
Leave a Comment
Your donation will support the student journalists of Palo Alto High School. Your contribution will allow us to purchase equipment and cover our annual website hosting costs.