Spirit: A lifestyle Paly needs to adopt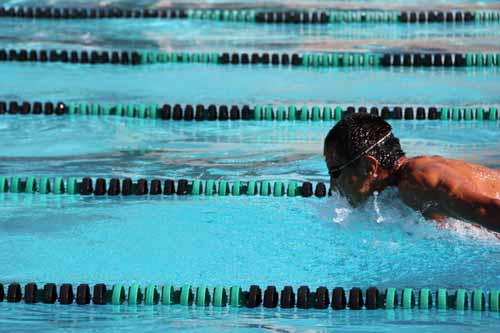 Palo Alto High School boys tennis: senior night. The team is playing an important match to be seeded in the Central Coast Section (CCS) tournament. The team is excited and tempers are flaring on all the close calls. Seven seniors are playing their final home Paly match of their lives, some have been playing all four years. As you scan the scene it seems normal, each court with an intense match, but when you reach the stands, you find no one except one or two parents and the coach. There are no cheers of encouragement, no oohs and ahhs after great shots and an all around boring atmosphere.
This is not an unusual sight for Paly sports. Tennis is just one of the many sports that gets few to no fans coming out to the games, even when it's senior night. This makes sports not nearly as fun for the players as they could be. While students do go out to the football games and some to the basketball games, there are 13 other sports that Paly students are putting their hearts into, but are getting little out of because of the lack of fans.
As a school, we need to stand up and stand out as a spirited school. Everyone has at least one friend who plays a sport, so everyone must make it their duty to go out and support a Paly sport. It is an easy task, especially for home matches. The entire sports complex is not even a five minute walk from anywhere on campus and there seems to always be some game going on. And, lets be honest, no one wants to go home right after a long day of school and start working, so instead take a break and support some sports.
Now for another example. This past winter, boys basketball had their senior night. While there was a decent showing of Paly students, they were outnumbered by the away team. I mean, come on Paly, what are you doing? We at least have to get more kids coming out than the opponent. And not only were we outnumbered, but we were out-cheered. Their fans screamed louder, clapped more and made their presence felt in our territory. This brings me to my next point, if you are going to go to sporting events, you better make some noise.
I cannot tell you how many times I have been out to a sporting event and people are not there cheering. Paly will score a goal and people will sit and stare blankly. The baseball team will score a run and people will not even notice because they are too focused on talking to their friends. And we will run in a touchdown, but people are too enthralled by their hamburgers from the food stand. People need to get into the sports they are watching and get pumped.
Back when I was a freshman, it seemed like every student was out at the football games, focused and into the game; people actually knew what was happening. This year, the stands were half filled, people sat and stared at the phones, and then left halfway through the game. What happened? We need to get back to the Paly of four years ago and cheer our team to victory.
So Paly, I am proposing a challenge to you. The student body needs to step up. Grab your friends, grab your acquaintances, grab your teachers and head out to support your fellow peers at Paly sporting events. Whether it be your favorite sport, one you have never even heard of or one for which your best friend plays, go out and show your support. Cheer to your heart's content, until you have lost your voice, and help develop Paly's reputation as one of the schools with the most school spirit.
Leave a Comment
Your donation will support the student journalists of Palo Alto High School. Your contribution will allow us to purchase equipment and cover our annual website hosting costs.