1 in 2000: Callie Walker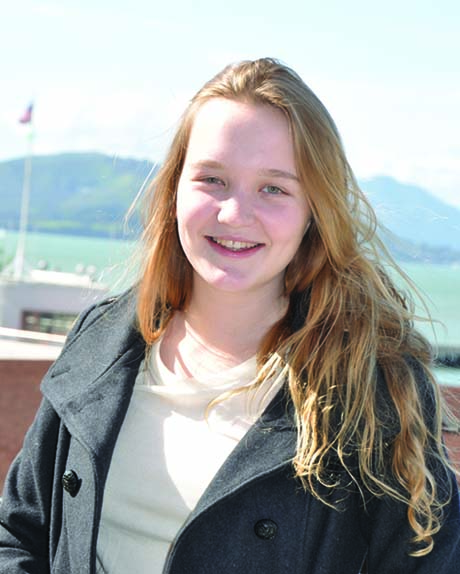 The Campanile: Do you prefer Callie or Mary Callaghan?
Callie Walker: That's a hard question… probably Callie. It's a little less formal. But Mary Callaghan has a nice ring to it.
TC: Talk about your social life.
CW: Well, I have some really good friends. And I like hanging out with them during the daytime. And in the nighttime, I just decide not to take part in activities that may be… questionable.
TC: What kinds of things do you like to do when you're not doing questionable stuff.
CW: I watch "Jeopardy" and I sing, play piano, hang out with my cat, bake… geocaching.
TC: Talk about your love for cats.
CW: I love cats. My motto is that people who don't like cats haven't had a cat. Cats don't start off as your best friend, but they'll become it if you're nice enough.
TC: Is your cat your best friend?
CW: She's one of them. Actually, one day Maizie attacked me and she was really digging into my skin and I said, "Maizie get out of my room."
TC: So it was like a catfight? No pun intended.
CW: If you put that in there, that's terrible.
TC: Ok, next topic. So your editorship at the Paly Voice has ended. What's the best publication at Paly besides the Paly Voice?
CW: Caroline Moley is the best publication. Just listen to what she says, and it's funny.
TC: What do you think has been the most defining moment of your senior year?
CW: Musical chairs. Spirit Week. [Senior Andrew Frick] got out in the first round and I said, "Oh, ok delightful." This is the thing about musical chairs, I have my own strategy. Everybody does it with their back turned to the chairs. Wrong. Front, you straddle the chair. And I won two years in a row, so maybe it works.
TC: You wanna play would you rather? Would you rather have whiskers on your face or snapping turtle claws on your hands. Like whiskers in "The Hunger Games."
CW: Maybe the claws because there are some X-Men that have claws. But I could probably go through life more normally with whiskers.
TC: Callie, what is true love?
CW: I don't know. When you love something truly.
TC: I hear you're going to Harvard. Harvard Yard. What was the deciding factor?
CW: Well I had decided on Harvard multiple times and then I just second-guessed myself. I think I can grow a lot as a person, and I'm really excited to explore a new area.
TC: You already have some friends going to Harvard, like [senior] Aaron Slipper.
CW: I love Aaron. I think he's a precocious young man. He has many talents.
TC: Do you think you could be a comedian?
CW: Some days. I was "Class Clown" in eighth grade and won it this year too, but chose "Most Fun on a Deserted Island."
TC: What are your final words for Palo Alto High School as you leave this beloved place? Do you have any confessions? Something racy.
CW: Well this isn't about high school but one time I stole stickers from University Art when I was three. But in all seriousness, if you drink water, wear sunscreen and laugh a lot you'll turn out just fine.
Leave a Comment
Your donation will support the student journalists of Palo Alto High School. Your contribution will allow us to purchase equipment and cover our annual website hosting costs.