California drought is relying on El Nino for rain
Agricultural economic and employment decline due to the West Coast's increasingly severe shortage of water.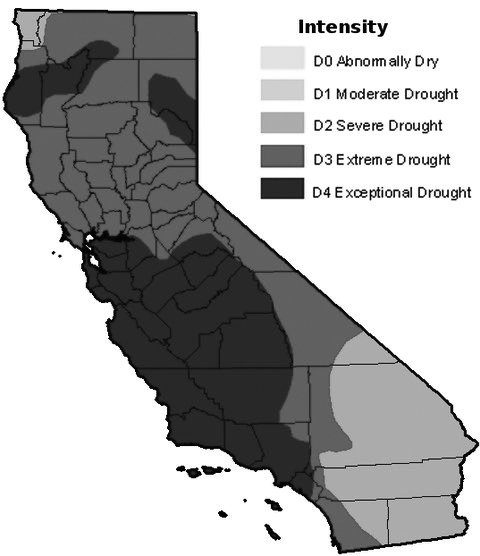 Last year, California received the least amount of rainfall since it achieved statehood in 1850. Currently, the Golden State is in its third year of drought and conditions do not appear to relieve soon.
"California is short more than one year's worth of reservoir water, or 11.6 million acre-feet, for this time of year," meteorologist Brad Rippey wrote in a report released by the U.S. Drought Monitor.
According to the U.S. Drought Monitor, 100 percent of California was facing drought as of Aug. 28. As of Sept. 4, 58 percent of California is considered to be facing "exceptional drought," considering that over 37 million people have been affected.
This year's El Nino was expected to bring a good amount of rainfall to drought-stricken California. El Nino is a seasonal climate pattern that, depending on its strength, can bring impressive amounts of snow and rainfall to America's West Coast.
However, due to elevating Pacific ocean temperatures, the chances of El Nino occurring this year have dropped from 80 to 60 percent since May.
Earlier this year, Gov. Jerry Brown declared a drought state of emergency and is urging state officials to take necessary actions to handle this drought.
Such actions include hiring additional firefighters, since a dry California leads to more wildfires. Though it is not yet mandatory, citizens are strongly encouraged to reduce their water usage.
The city of Palo Alto has implemented new water usage rules and though many Palo Alto High School students do not feel personally affected by the drought, many have taken some steps towards reducing the drought.
"To be honest, I have not been as conscientious about the issue as I should be, but I have definitely been wasting water less, turning the faucet off quickly, etc," senior Sheila Subramanian said.
Junior Sean Jawetz has also been cutting down on his water usage, though he doubts the efficiency of his actions.
"To help combat the drought I've been shortening my showers," Jawetz said.
California is the largest produce grower in the US and because of the drought's effect on agriculture,   economy will suffer.
It is very difficult for those who have not witnessed the impacts of the drought first hand to be able to understand just how bad the drought is. This drought is expected to cost the economy $2.2 billion in lost jobs, crops, and other damage.
"I lived on a farm over the sum mer and definitely felt the impact there," junior Bryn Sullivan said.
"We pumped our own water from the river, and we ran out of water so all our crops and flowers died.
Now that I'm back in Palo Alto, I can't really feel the effects here, but I try to be water conscious because I know how it is to be affected by it."
Freshman Noga Hurwitz is optimistic, however, that there ways students and others can help reduce this drought.
"By spreading awareness and advocating for shorter showers, closing the tap when brushing teeth, reducing the times lawns are watered or transitioning to artificial turf, and hundreds of other small actions," Hurwitz said.
The West Coast is home to more than 70 million people, and it is here that the effects of the megadrought will undoubtedly be felt first. Furthermore, the implications are daunting for the national and global economy.
Leave a Comment
Your donation will support the student journalists of Palo Alto High School. Your contribution will allow us to purchase equipment and cover our annual website hosting costs.