Mitchell Park Library finishes renovations, set to open in Dec.
After lengthy delay, committee sets date for opening ceremony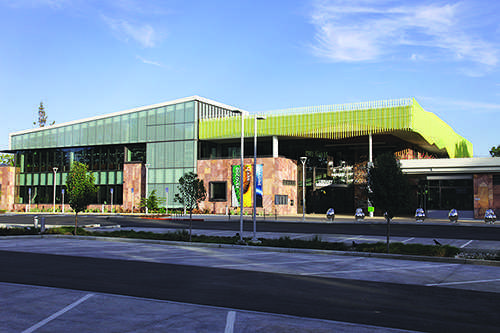 Palo Alto residents can finally mark their calendars for the much anticipated grand opening of the Mitchell Park Library and Community Center on Dec. 6.
The city's largest library will be a two-story, 56,000-square-foot complex with amenities such as quiet reading areas, a large multi-purpose event room, flexible classrooms, a basketball court in the community center and a small restaurant run by Ada's Café.
In addition, the $28 million facility is designed to meet Leadership in Energy and Environmental Design (LEED) Gold, or higher, standards of excellence.
LEED is a rating system used by the U.S. Green Building Council to determine how environmentally friendly or "green" a building is.
The water efficient landscaping, innovative wastewater technologies and the on-site renewable energies are some of the features of the new library that qualify it for LEED Gold standards.
"We are all excited for this beautiful new space to open," Library Director Monique le Conge Ziesenhenne said in a press release. "It is gorgeous and our staff is working extra hard to get it ready for the public."
The library staff is enthusiastic about  the new features and has already made plans for the upcoming years.
Ziesenhenne hopes that these numerous changes to the Mitchell Park Library will be able to attract new  people in a variety ways.
"We have plans for an expanded International Languages collection and hope to become a hub for new residents in our community who visit here from other countries," Ziesenhenne said. "The Teen Zone will serve the needs of young adults in a new way, having computers and a comfortable space all for themselves."
The Mitchell Park Library began construction in 2010 and was slated to open in the summer of 2012, but issues with its general contractor, Flintco Pacific, Inc., caused an extensive delay to its development.
The City issued numerous warnings to Flintco Pacific, Inc. about its missed deadlines, decline in staff and faulty work, but its lack of adequate progress prompted the City to terminate Flintco's contract and to hire Big-D Pacific Builders to finish the construction project.
Junior Charlotte Hall has been affected by the library's multiple delays.
"I've been seeing the construction for years, and I'm glad that [the library is] finally opening because it has been a long wait," Hall said. "It is frustrating that it hasn't been open for a long time because now students have had time to adjust to not having a library close by,"
Although the community has  adapted to using other libraries during the renovations, sophomore Josh Code is still excited for the opening.
"I'll go to the new Mitchell Park Library whenever I need a good place to study," Code said. "It'll be nice to have new facilities."
The costly facility's grand opening on Dec. 6 will be a day-long event, and all other branches of the Palo Alto City Library will be closed.
Before this main celebration, the City has planned a "Come Together" event on Sept. 27, which will feature a concert as well as tours of some of the new facilities that have been renovated, including the center's public art, the El Palo Alto community room, the new Teen Center and Ada's café.
As the opening of the Mitchell Park Library and Community Center approaches, the city hopes that the new community center will be a dynamic and vibrant place where Palo Alto residents can join together to enjoy the multitude of opportunities and services available to them.
"We know that the community has been waiting for this building and its services for a long time," Ziesenhenne said. "Mitchell Park will be able to serve the community in an entirely new way."
Leave a Comment
Your donation will support the student journalists of Palo Alto High School. Your contribution will allow us to purchase equipment and cover our annual website hosting costs.