New superintendent creates district goals, hopes to establish unity among schools
McGee aims to improve communication, accessibility and consistency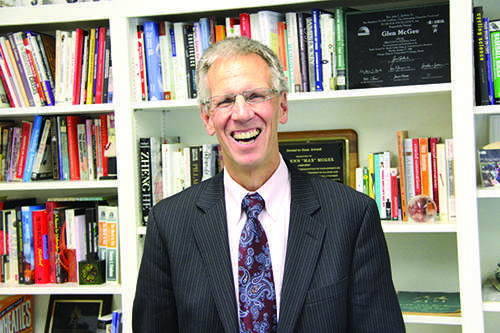 After the departure of Kevin Skelly last spring, Palo Alto Unified School District (PAUSD) welcomes Dr. Max McGee as the new superintendent.
McGee has accumulated over 40 years of education experience, ranging from substitute teaching to working as the State Superintendent of Illinois. McGee most recently worked at the Illinois Math and Science Academy doing research, where after he took a year off to start a private school just outside of Princeton, NJ before coming to California.
New to Palo Alto, McGee's plans for the district revolve around three central ideas: improving both internal and external communication, ensuring equal access to high quality education and balancing schools' autonomy with a district central vision.
One of his primary goals for the beginning of this year is to improve communication within the district and with the larger Palo Alto community.
McGee aims to establish a more dynamic communication network that entails methods such as establishing a larger online and social media presence, more frequent newsletters, initiating student forums and more effort to keep in contact with alumni. McGee believes this will provide more effective and transparent communication that will benefit individual schools as well as the larger community.
"It'll entail common message points, delivered through multiple medias by multiple messengers," McGee said. "I think individual schools do a good job. Both internal and external communication really enables us to tell our story, enables us to learn from each other."
Along with better communication, McGee also aims to expand opportunities for students and ensure equitable access across all schools.
"To ensure that all students have opportunities and access to consistently high-quality education is essential," McGee said. "An issue that we've had historically is consistency among schools, just trying to ensure that everyone has high-quality instruction, fair assessments and great opportunities to learn."
Experienced with students pursuing opportunities beyond the classroom, McGee believes this is a frontier for the district to expand in and is among some of his goals for this upcoming year. Citing PAUSD's high schools' reputation for being very college-driven, McGee acknowledges this and adds this is not a finite goal.
"There's some really cool things [students] can do, and so I realize that getting into college is important, but what matters to me is that you are ready for careers that don't exist," McGee said. "So what I'm trying to think of for the high schools is what kind of curriculum, instruction, opportunities can we provide, so that you're ready to collaborate and compete internationally, so that you will make your own careers in your own fields, because just getting into college shouldn't be a goal."
Lastly, McGee plans to better link individual schools within the district. By use of both an articulated collective goal and the support of individual schools' goals, he hopes to better unify schools and foster a more effective relationship. McGee emphasizes though the importance of maintaining the diverse school character that has developed while still creating a better relationship between the district and the schools.
"There's a culture in the district that every school is a separate entity and there's so much autonomy that I think we lost sight that we're also a district, and there's a balance," McGee said. "It's how you balance a district vision, district strategic plan, district goals, this sense of a central mission and articulation along the way, and remembering that you are a part of a collective."
McGee is excited to be in Palo Alto and even though these goals are intended for PAUSD, he believes that these are goals that all districts should strive for. Palo Alto is an incredible city for opportunity and McGee is eager to explore the talent here.
"We talk about getting from good to great, but how can we get from great to awesome?" McGee said. "There's incredible human resources [in Palo Alto]. There's so much talent here that we can tap. Even in Chicago, there wasn't the kind of human support, human resources, human capital, that we have here. Palo Alto has struck me because you can make dreams into reality, transform vision into action."
Leave a Comment
Your donation will support the student journalists of Palo Alto High School. Your contribution will allow us to purchase equipment and cover our annual website hosting costs.