Jordan library among those honored "The African Library Project" at gala
Jordan Middle School's "The African Library project" donates over 13,000 books to start 13 libraries in African countries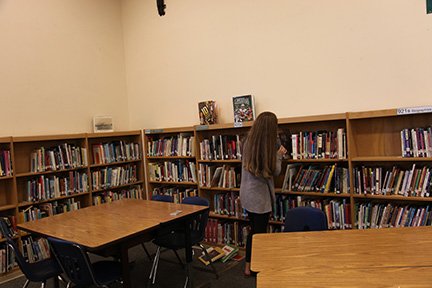 The African Library Project recognized Jordan Middle School at a gala on Saturday, Sept. 20 for starting 13 libraries in Africa and collecting over 13,000 books.
The African Library Project was created in 2005 by Chris Bradshaw to provide books and libraries to children in African countries. Upon her visit to Lesotho, a country land- locked by South Africa, Bradshaw was shocked to learn that there was only one library in the whole country, and began the African Library Project, aimed at providing impoverished African nations with books to increase their literacy rates.
The African Library Project chose to recognize Jordan Middle School for "going above and beyond" in collecting enough money and books to create new libraries in Ghana, Lesotho, Botswana, Malawi and Swaziland.
Jordan has been holding book drives for the past eight years. It requires 1,000 books and $500 dollars in shipping costs to set up a library in an African country.
"About 95% of our libraries are in schools," Bradshaw said. "Mostly in Africa they don't have public buildings, it's not a concept that they have in rural areas. So these schools, and this usually depends on the area and surrounding villages, are open to the community."
This year, the school is aiming to collect another 1,000 books to send to Fenaso School in Ghana. The school's website encourages the donation of educational or non-fiction books.
Each year, Jordan Middle School holds a flea market to raise funds to pay for shipping costs.
This year's book drive will begin on Feb. 24 with the aim to collect books from a preschool level through a fourth grade reading level in order to raise money for more libraries in Africa.
A garage sale is going to be held this year to raise funds for the transportation of the books, which will first be shipped to New Orleans, LA. and then shipped from New Orleans to Ghana in Africa.
Leave a Comment
Your donation will support the student journalists of Palo Alto High School. Your contribution will allow us to purchase equipment and cover our annual website hosting costs.