How to be your own valentine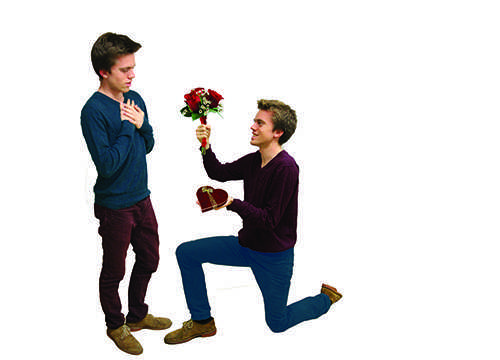 Valentine's Day can be a struggle for all of us single high schoolers. But I'm here to help you out with the perfect schedule to give you your own special day.
Preparation:
1. Purchase a body pillow with the appropriate measurements of your ideal suitor.
2. Preorder the most romantic bouquet you can find from flowers.com. Send it to your address with a computer-generated love note, so you don't ruin the surprise.
3. Download the Invisible Boyfriend or Girlfriend app (it's real, I promise — $25 on the app store). Instead of searching through thousands of fake profiles on Match.com or the trollers on Tinder, you can create the perfect man or woman for yourself (which for most of us will be another version of ourselves, because we're all narcissistic at heart).
4. Men, shave one leg. Women, grow the hair out on the other (requires prior anticipation of loneliness). Now everyone gets to feel like they have someone of the opposite sex sleeping next to them!
Day of the 14th:
10:00 a.m.-11:00 a.m.: Enjoy some quality time in bed cuddling with body pillow.
11:00 a.m.-11:30 a.m.: Suddenly remember that a package arrived from flowers.com and read love note: "It's still a mystery to me, I haven't got a clue, how I got so lucky and found you!"
11:30 a.m.-11:50 a.m.: Check phone to find a text from your "Imaginary Girlfriend" (Diana) inviting you to a romantic lunch for two at In-n-Out (she knows you too well).
11:50 a.m.-12:20 p.m.: Shower (making sure to text a towel selfie to Diana and let her comment on how much work you've done on your abs) and put on the maroon v-neck sweater and chinos combination mom and dad gave you for Christmas.
12:20 p.m.-12:40 p.m.: Uber your way to In-n-Out. Make sure to take advantage of the free Valentine's Day chocolates while practicing the flirty compliments you prepared for Diana on the driver.
12:40 p.m.-12:50 p.m.: Order two 3×3 animal styles, animal fries and shakes and return the cashier's judgemental stare because he's the one working on Valentine's Day and you've got a date.
12:50 p.m.-02:00 p.m.: Give Diana a call and kick the conversation off with a few of the pick-up lines you read in the latest Buzzfeed article. "Are you going to kiss me or do I have to lie to my diary?"
02:00 p.m.-03:00 p.m.: Uber to the nearest beach while sitting on your hand till it goes numb and upon arrival, grasp numb hand (interlocking fingers, we're being intimate here) as you fulfill your rom-com dream with a romantic walk along the sand.
03:00 p.m.-03:30 p.m.: After numbness wears off, find a private section of the coast as you continue your fantasy of "The Vow" (it's all of our fantasies to be Channing Tatum, no judgement here) in the ocean (clothing optional).
03:30 p.m.-04:00 p.m.: Uber to the nearest hotel and give the driver all the dirty deets from your date.
04:00 p.m.-05:30 p.m.: Whip out the old arts and crafts and draw some brunette hair onto a mirror.
05:30 p.m.-08:00 p.m.: Enjoy a lengthy romantic dinner, "treat yo' self" (Aziz Ansari provides the best life guidance) with your hair mirror. Be sure to sass the hostess when she asks "Table for one?"
08:00 p.m.-10:00 p.m.: Birthday suit over to the bathtub and enjoy some well-deserved alone time ;).
Leave a Comment
Your donation will support the student journalists of Palo Alto High School. Your contribution will allow us to purchase equipment and cover our annual website hosting costs.