Alumnus works to become a firefighter
Walker Mees explains how he balances academic life and a fiery fast-paced career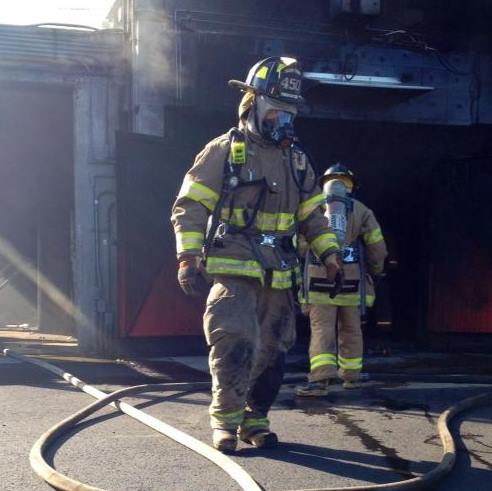 Being a firefighter is a thrilling childhood dream for many. It appeals to kids with its exciting, adventurous nature and offers countless opportunities to do good for the community. However, as children in Palo Alto grow up, academic pressure causes many to dismiss the potentially low paying career. By the time high school wraps up and career paths and secondary education become increasingly pressing issues, this choice is largely forgotten. Walker Mees, Palo Alto High School Class of 2013, was a student who pursued a career in the fire service.
After graduation, Mees chose to continue his education at Kenyon College in Ohio where he currently attends. In addition to the academic courses, he volunteers as a firefighter in his spare time. On the weekends, he also works paid shifts at another station. The shifts can be hard to handle, but professors are generally understanding about the occasional missed class, such as when he is out on a call.
Throughout high school, Mees did not considered a career in the fire service, though he did have a general idea of what direction he wanted to go in.
"I was always intrigued by law enforcement or the military, just having a job that didn't involve sitting at a desk for eight hours a day," Mees said.
He first saw a flier posted by the local fire department, which said that it was looking for applicants, then attended a meeting and applied in the recruitment process.
Though firefighting may not be a common career path, departments are generally still very competitive. They mainly follow a strict hierarchy similar to that in a military, and the system is reflected even for entering firefighters.
To Mees, the entire process was personally rewarding, despite the numerous challenges.
"Being able to help people out in their time of need is always a good feeling," Mees said.
The focus of the job is still on community service, and that is a focus for senior firefighters looking for new applicants in a department. As demanding as the job can potentially be, emergency response can often be inspiring.
"There are some calls that are more memorable than others, though," Mees said. "Last year our crew was able to bring a man back to life using CPR after he suffered a heart attack. It was great to see all of our training pay off when it really mattered."
Leave a Comment
Your donation will support the student journalists of Palo Alto High School. Your contribution will allow us to purchase equipment and cover our annual website hosting costs.