Free Wi-Fi program ends in East Palo Alto
Funding from closed EPA program to be used for Mountain View Wi-Fi renewal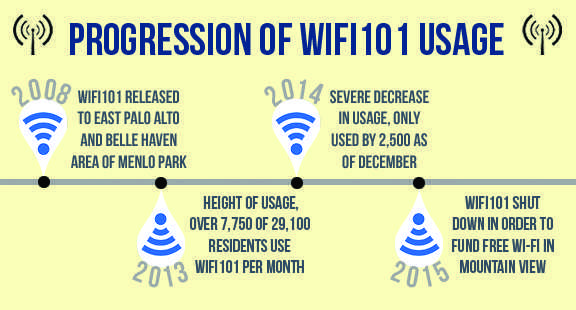 In the near future, the non-profit organization Computers for Everyone (CFE) will shut down the free Wi-Fi from East Palo Alto, Calif. as well as the Belle Haven area of Menlo Park, Calif. in order to fund the renovation for the Wi-Fi network in Mountain View, Calif.
In February of 2014, Google decided to help fund the free Wi-Fi program in Mountain View. As of 2008, Google had been providing free Internet connection to about 80 percent of East Palo Alto and the eastern part of Menlo Park. In 2008, Wifi101, the current free network for East Palo Alto, was released to residents in East Palo Alto as well as the Belle Haven area of Menlo Park in an attempt to close the technology gap between students who have easy access to technology from their homes and those who do not.
According to the information site for Wifi101, the strength of the provided Internet connection is partially dependent on the type of building. The signal cannot be used through buildings because of interception by metal, concrete or large trees, most of which are very hard to avoid when completing construction work outside. The wireless network is operated by Computers for Everyone, a non profit company in Menlo Park that aims to give everyone the ability to use technology for a low price or for no charge at all. On the information website, CFE admits that although the use of Wifi101 is free, more support is charged and if users have problems with their computers, they are "on their own."
Senior Tyana Moore, a resident of East Palo Alto, does not seem to be affected by the upcoming shutdown of the six-year-long network.
"[Wifi101] is slow and it only works in certain areas in East Palo Alto," Moore said.
Many reasons have been given as to why CFE has made the decision to shut down the network, and most of them point to the fact that actual usage of the network has been decreasing considerably since the release of the network.
At the height of its usage, over 7,750 people of the combined population of over 29,100 residents in 2013 used Wifi101 per month. However, as of last month, only around 2,500 used it.
Moore herself does not use the free network. Instead, her family pays for its own network.
In addition to the decrease in use, the out-dated equipment and lack of funding from Google, the CFE decided that it would be best to shut down the free network in East Palo Alto.
Many students who go to Palo Alto High School live in East Palo Alto and Menlo Park but were not even aware of Wifi101, much less a free network. Even if some have heard of it, their knowledge of the service is minimal.
"There is a Wi-Fi [hotspot] called Wifi101, but I don't use it, and the signal is bad," sophomore Troy Henderson said. "My family does use a different Wi-Fi source that we do pay for."
The Wifi101 network has also been integral as part of Google's new Wi-Fi network in Mountain View, which has also been temporarily shut down for renovation. However, the free Wi-Fi in Google will soon be back with a much broader network territory. These facts spark the question: why would Google provide the funding to revamp the network system for free Wi-Fi in Mountain View but not do the same in East Palo Alto and East Menlo Park?
"Either there are more people in Mountain View who use the Wi-Fi or it has something to do with the wealth comparison of [East Palo Alto] and Mountain View," Henderson said.
Mountain View has also been the home to Google's headquarters since Google began, which makes Mountain View more economically wealthy. This has also been stated as another possible reason for the shutdown of the free Wi-Fi in East Palo Alto and East Menlo Park.
"I think it's because Mountain View has the money to fund it and more [opportunities] to offer than East Palo Alto does," Moore said.
Regardless of the reason, CFE has promised to continue using funds from others supporters such as Four Seasons Silicon Valley, Plugged In and the cities of East Palo Alto and Menlo Park to "enable the underserved communities of East Palo Alto and East Menlo Park to access the digital world through affordable education, equipment, connectivity, and support."
Leave a Comment
Your donation will support the student journalists of Palo Alto High School. Your contribution will allow us to purchase equipment and cover our annual website hosting costs.