New playground set to open
Magical Bridge Playground designed for children of all abilities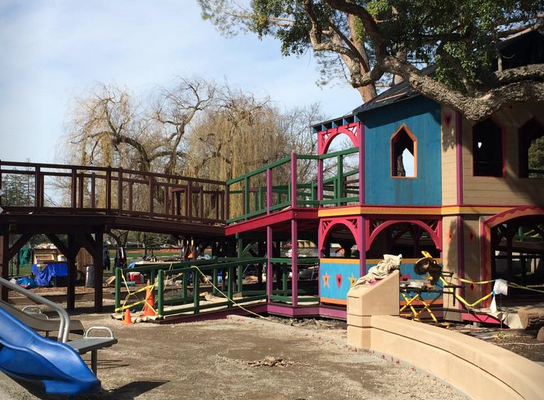 Magical Bridge Playground is a new type of playground set to open on March 28, offering areas children of all abilities can enjoy at Mitchell Park. Magical Bridge Playground is a fully-accessible playground designed for children with special needs to focus on distinctive play needs of every individual. It is the only one of its kind.
"We call it Magical Bridge, because we say the playground is bridging the gap between those with and without disabilities, and we think that's pretty magical," Olenka Villarreal, founder of the Magical Bridge Playground said.
After raising nearly $3.8 million in donations, construction began with high ambitions from the founders.
"We are aiming to start a national conversation that community parks must be built for everyone in the community, which means you think about the different kinds of people who are in the community," Villarreal said. "There are many things that can be done in the design of a playground that are very simple, but that open it up to many people."
Villarreal came up with the idea to build this playground six years ago when her daughter, Ava, who has special needs, was unable to find a playground that provided for all of her developmental needs.
"She was only about five-years-old, and I started looking for a park to take her to in Palo Alto, and I discovered that there were no parks that were made for children that were not typical or a little different," Villarreal said. "So I went to the city of Palo Alto and I asked them whether any parks had been made that are under ADA (American's With Disabilities Act) compliance."
After learning there were no parks that offered areas to fit needs of children with all abilities, Villarreal made it her mission to create one.
Magical Bridge has six different parts of the playground which are helpful for children at all developmental stages. The areas include the magic of music, swinging, spinning, tot play, playing on a stage or in a treehouse and sliding.
One of the most technologically advanced aspects of the park is the magic of music area, which consists of a structure with streaming laser beams that are used as a giant harp.
The area is specifically designed for children who may have a hard time communicating verbally, and helps all children to stimulate different areas of the human brain through music.
Magic of swinging is the part of the park that focuses on the alleviating motion of rocking back-and-forth which helps with hearing and comprehension for children on various spots of the autism spectrum.
With similar effects of swinging, spinning gives an esoteric impact on the human brain and is one of the most important forms of sensory input.
The tot play area is the part of the playground that focuses on incorporating children with disabilities into the community early on so the students avoid forming stereotypes and misjudgements.
Another influential area that improves developmental skills for all children is the stage section that focuses on bettering social interactions.
Sliding is the area created for children to build better self awareness and balance and the park's array of slides helps children to do so.
Villarreal hopes that by creating this park, it will bring inclusion to all children of Palo Alto with any ability, and by forming these relationships between children of all abilities early on, it will bring awareness to the special needs community.
"People are uncomfortable with things they don't know about, but once they become aware of it they realize, I can say hello [to this unfamiliar peer]," Villarreal said. "Guess what? By saying hello, to these children or these young people with special needs, you totally make their week. It's such a small gesture, but it makes them feel so good."
Leave a Comment
Your donation will support the student journalists of Palo Alto High School. Your contribution will allow us to purchase equipment and cover our annual website hosting costs.