Athlete of the Month
This edition featuring Christian Rider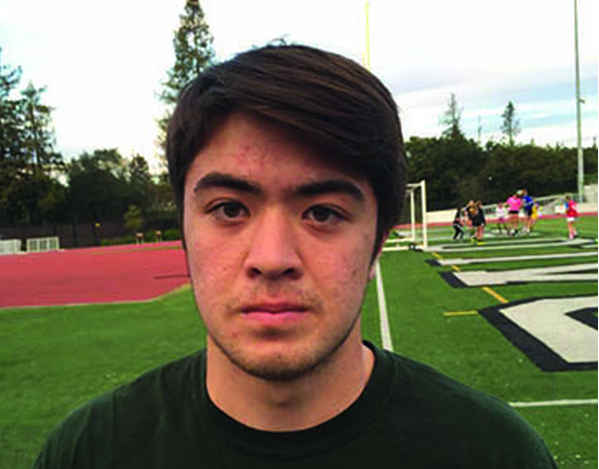 Christian Rider is a sophomore on the Palo Alto High School varsity boys lacrosse team. He plays long stick middie (LSM) and defense in his first year on the team.
The Campanile: What position do you play?
Christian Rider: I play LSM and a little bit of defense.
TC: Can you describe your position as LSM for me?
CR: It's basically a long pole middie that is ready to go back and defend the ball and sometimes you have to get ground balls off of faceoffs.
TC: LSM is a really difficult position to master and the player is crucial to pretty much every team. When did you know that you wanted to be an LSM and what do you think your best strengths are at that position?
CR: I found out that I was really good at being able to defend a person as well as take away the ball and get it back on offense — the takeaways are a lot of fun for me.
TC: Could you describe your relationship with Hayden Libbey, the other sophomore midfielder on the team?
CR: We were friends beforehand. We just knew each other through playing lacrosse but when we both moved up on varsity we just connected more and became much better friends.
TC: Your brother Drew Rider played for a year on the Paly team. What would you describe it being like the younger brother of a former player?
CR: I'd just describe it as like a friendly little competition between two brothers. Even though he didn't play for very long and we played two different positions, it was fun for that year to compete against him.
TC: How long have you known coach D.J. Shelton?
CR: I think he coached me for some camp in seventh grade, and I saw a little bit of him in eighth grade. Then he became head varsity coach for Paly. He was also my coach for the NorCal Platinum team.
TC: So you are a huge, huge player on the varsity team and you've been playing for quite a while and you really seem to know the system. What would you say your goals are for this season?
CR: I want to be able to get better communication on defense, and I want to be able to get the ball faster and be able to clear it at a faster pace than I usually do.
TC: What would you say are your greatest strengths as a lacrosse player?
CR: I would say that my ground ball skills and my ability to slide on defense.
TC: Where do you see yourself in the future in lacrosse?
CR: I don't plan to go to some big school in lacrosse. In fact, I really want to just go to UCLA and play there. But I've been recruited by a couple schools already. My top three that I want to be recruited for are UCSB, UCSD and UCLA.
TC: Who would you say is your biggest mentor on the lacrosse team?
CR: I would say Matt [Seligson].
TC: How would you describe the new 'swag' upgrade that the team got before the season started? What do you think of the new jerseys and helmets?
CR: The swag is fire like my mixtape.
TC: Thank you very much and good luck to you this season. Do you have any closing words?
CR: Nah. Thank you.
Leave a Comment
Your donation will support the student journalists of Palo Alto High School. Your contribution will allow us to purchase equipment and cover our annual website hosting costs.