WASC concludes tour, generously praises Paly
Community commitment provides outstanding support to students and teachers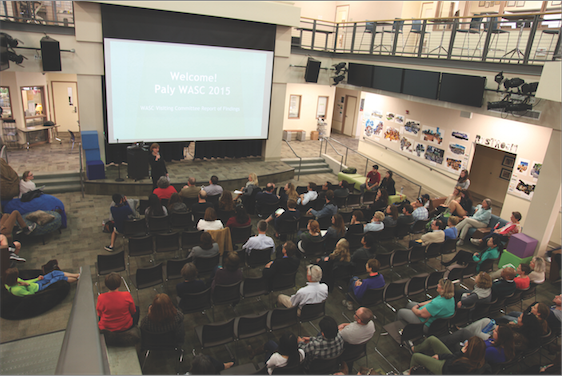 Western Association of Schools and Colleges (WASC) officials visited Palo Alto High School from March 1 to March 4, ending its visit with a presentation in the Media Arts Center (MAC) Atrium.
The findings report included five categories detailing strengths and weaknesses in specific areas of the school.
During the presentation, WASC visiting team member Tina Graff introduced the positive observations for Category A, organization.
"Paly is strongly committed to continue to build transparency and open communication with the Superintendent and the district," Graff said.
Graff continued with the report, commending the community involvement.
"Commitment of the community to Paly offers outstanding support both in the way of budget and volunteer time to continue to provide the academic atmosphere to promote success for all students," Graff said.
Other strengths mentioned include professional development opportunities and re-structuring Paly's academic honesty policy.
The key issues brought up include completing a new vision and mission statement and developing common assessments and other forms as assessments used for driving student learning.
Ignacio Ramirez, a member of the WASC visiting team, presented positive points surrounding curriculum in standards-based student learning.
"[The] block schedule supports students by creating an advisory time and a tutorial time for students to receive support and guidance," Ramirez said.
Other assets discussed were the variety of elective and Advanced Placement courses offered and the rigor of the curriculum, promoting a college bound mentality.
Ramirez also presented the issues for the topic.
"[Paly needs to] increase the opportunities of minorities to access the rigorous curriculum available," Ramirez said.
Other areas of growth included exploring additional support for students whose access to resources does not extend beyond the school day.
In the categories of instruction, assessment and accountability and school culture and support, the points of growth ranged from the expansion of collaboration time to developing horizontal and vertical alignment. Reducing strategic cutting on test days and improving consistency in alignment for grading policies and homework are two additional topics WASC team members addressed as problem areas.
Prior to the visit, Emily Garrison, the WASC coordinator, released Paly's WASC self-study online.
The officials were visiting as part of the process Paly is undergoing to become WASC accredited. According to Garrison, the WASC team members are all volunteers and professional educators from various schools.
While on campus, the visiting committee observed the general school climate. The team's two main objectives were to validate the self-study and to comment and improve upon the action plan.
The committee began their visit with a meeting with Principal Kim Diorio and a school tour.
WASC officials also met with the district, community members, students and parents. Other events included informal discussions with students, meeting with focus groups and observations of classrooms and student work.
The team met with three different groups of students: the WASC student group, Associated Student Body and an ad hoc group consisting of randomly chosen students. These groups had both formal and informal conversations in which they spoke honestly about the strengths and weaknesses of the school.
Garrison encouraged all students to be honest with the WASC team while it was on campus.
"It's only going to help us the more we [speak] to the team," Garrison said. "We want to give them a perspective — a really complete view of what it's like to be at Paly, what it's like to be a student, what it's like to work here at Paly or to learn here at Paly."
On the final day of the visit, the visiting committee met with the Paly WASC leadership team to discuss its findings and concluded with an oral presentation in the MAC Atrium for students, staff and the community.
"We're probably going to have to either do an addendum… or change it a little bit based on what the team [told] us they think we should do," Garrison said. "That's going to [be] incorporated into our six year plan."
Garrison has high hopes for the results of the visit.
"WASC is what's called a value added process, which means they're not here to point fingers or to tell us what we're doing poorly," Garrison said. "They're here to make us a better school."
Leave a Comment
Your donation will support the student journalists of Palo Alto High School. Your contribution will allow us to purchase equipment and cover our annual website hosting costs.