Chu, former U.S. Secretary of Energy, promotes solutions to climate change
Steven Chu kicks off 'Great Minds' speaker series in the MAC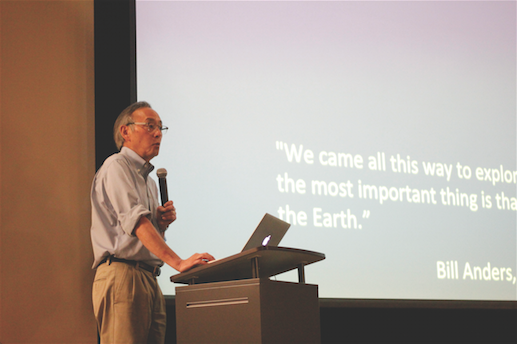 Starting on Feb. 26, Palo Alto High School's Media Arts Boosters began the launch of its new "Great Minds" speaker series, the Media Arts Center Great Minds At Campus (MAC-G-MAC), designed to educate and engage students and the Palo Alto community.
The first speaker to launch the series was former U.S. Secretary of Energy Steven Chu, who spoke about the solutions to the environment crisis in his talk, "Energy, Climate Change and a Path Forward." Michelle Dulik, one of the leaders in organizing the speaker series, believes that hosting the speakers on Paly campus is a great way to educate students, as well as others in the Palo Alto community through a diverse group of speakers.
The program is a fundraiser for Paly's multiple media arts programs. Tickets cost $10 for adults and $5 for kids. The tickets are bought in advance through eventbrite.com in order for the organizers of the event to keep track of the 200 spaces available in the MAC. Tickets are sold at the at the door if spacing permits.
Many students who are interested in technology and journalism did not hear about the MAC-G-MAC event, and unfortunately missed it.
"The Steven Chu event had approximately 125 attendees, but only a handful of which were students, so we are hoping to increase student attendance in the future," Dulik said.
A variety of members of the community came to hear him talk. However, this program is highly recommended for Paly students, especially those who are taking classes in the MAC or are interested in technology or journalism.
"The mission of the 'Great Minds' series is to invite the greater Palo Alto and neighboring community to join Paly students and parents in engaging and topical discussions led by speakers who are leaders in fields such as journalism, education and technology, all of which are very relevant to the media arts programs at Paly," Dulik said.
Palo Alto is in the heart of Silicon Valley and it is constantly surrounded by innovation and advanced people, which Dulik hopes to take advantage of.
"The long term goal of the Media Arts Boosters would be to have the MAC host monthly MAC-G-MAC events attended by Paly students and parents, and interested community members," Dulik said. "We want to get people of all ages talking and thinking about the issues of the day, and what better place to do this than in the MAC?"
The MAC-G-MAC event has been advertised at many locations applicable for students and adults alike to attend these informative events, such as Facebook, PalyLink, and posters all over University and California Avenue, libraries and on campus.
The next event will be in late April featuring nationally recognized technology journalist John Markoff, and the MAC-G-MAC programmers plan to have another speaker sometime in May and hope to see a diverse audience of both students and adults.
Leave a Comment
Your donation will support the student journalists of Palo Alto High School. Your contribution will allow us to purchase equipment and cover our annual website hosting costs.