Parenting strategies may lead to narcissism
Certain styles of parenting, such as overvaluing children, may lead to narcissistic behavior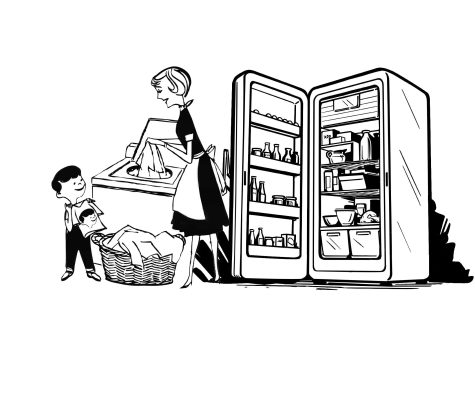 At least once in our lives, we have probably heard someone say the phrase "I know that I'm always right." — a statement typical of a narcissist, someone who is "overly self-involved, and often vain and selfish," or a person who derives "gratification from admiration of his or her own physical or mental attributes." Everyone knows a narcissist — but rarely do we ask, how did he or she become narcissistic? What led him or her to become that way?
Recently, a new study conducted by researchers at Ohio State University and the University of Amsterdam has attempted to answer these questions for the first time. After surveying 565 children and their parents, the study has ultimately been able to determine one of the primary causes of narcissism: parents who overvalue their children during their developmental stage. According to the study, parents who believe that their children are better, more special and more deserving than other children create narcissists by passing these ideas on to their children, overpraising them and telling them that they are superior and thus entitled to special treatment.
But what exactly does it mean to "overvalue" children?
In the newly released study, Eddie Brummelman, one of the study's co-authors and a postdoctoral researcher at the University of Amsterdam, asked parents questions such as whether they thought their child was more special than others, or whether their children deserved something extra in life. Through carrying out his research, Brummelman was ultimately able to determine what it meant for parents to "overvalue" their children.
"What we found was that parents who overvalue [their children] think their child is very smart but in reality, the child isn't smarter than others," Brummelman said to the Cable News Network (CNN).
While Brummelman's classification of what it means to overvalue children is valid and has significance, some students alternatively believe that it is crucial that parents convey to their children that they are meaningful and carry an important value in society.
"I believe that it's hard for parents to strike a balance [between overvaluing and not valuing their children enough]," junior Andrew Lee said. "Parents have an important role to play in showing their children that they care for them [while also] preventing them from becoming self-centered."
According to Brad Bushman, a researcher from Ohio State University who contributed to the study linking parenting and narcissism, there is a significant role that parents hold in ensuring that their children are not narcissistic and self-centered, while maintaining and assuring that their children still have self-confidence and self-esteem.
"Of course, self-esteem and narcissism are two very different things," Bushman said to National Public Radio. "Self-esteem basically means you're a person of worth equal with other people. Narcissism means you think you're better than other people."
This means, according to Bushman, that telling a child that he or she is very smart or that he or she is special fosters their narcissism. Telling a child that he or she works very hard, on the other hand, raises self-esteem while preventing egotism. On the surface, all of these may seem like compliments — but the slight distinction between these phrases of praise and flattery are integral in determining whether a child develops valuable self-confidence versus unhealthy narcissism.
Sophomore Daniel Li believes that this necessary balance between self-esteem and narcissism in children is both fragile and of paramount importance. In fact, according to the study, phrases such as these that parents use to compliment their children during childhood ultimately create the narcissists that we see during adulthood.
"I think it's really interesting how such a small difference in how we praise our children can affect how they view themselves in an immense way," Li said. "It seems like there's a lot of pressure on parents to say and do the right things in order to create a moral and respectable child, and I guess narcissism is another one of those things that parents have to control in their children."
So ultimately, aside from having to deal with a narcissist and his or her obnoxious self-confidence, why should we care so much about narcissists? Do they actually contribute anything detrimental to society or our lives?
Brummelman's answer to that question? Yes.
Narcissism has risen among Western youth in recent decades, and in his study, Brummelman has established the underlying dangers of narcissism.
"I've been studying aggression for about 30 years, and I've seen that the most harmful belief that a person can have is that they're superior to others," Brummelman said in an inverview with The Washington Post. "'Men are better than women, my race is better than your race, my religion is superior to your religion.' When people believe they're better than other people, they act accordingly."
A study published in 2011 explored the changes in music over the past three decades, and researchers found a significant shift toward lyrics that reflect narcissism ("I" and "me" appear more often "we" and "us") and hostility (change from positive to angry words and emotions).
This phenomenon of narcissism is larger and greater than just egotism and self-absorption — the attitude of "you're on your own" and the shift in societal values from collectivism to individualism has consequently shifted people away from civic responsibility and more so towards an attitude of self-gratification.
Now, we often meet people who always choose their own desires over others, who need constant attention or admiration or who have a strong sense of entitlement.
This growing shift in Western culture — in which we live in an age of digital narcissism, with the rise of the selfie and the constant sharing of our digital profiles on social media —  is not the only issue with this growing culture of narcissism.
Leave a Comment
Your donation will support the student journalists of Palo Alto High School. Your contribution will allow us to purchase equipment and cover our annual website hosting costs.