Paly ASB will drop powder puff
"Viking Best of the Best Sports Fest" to replace spring sport event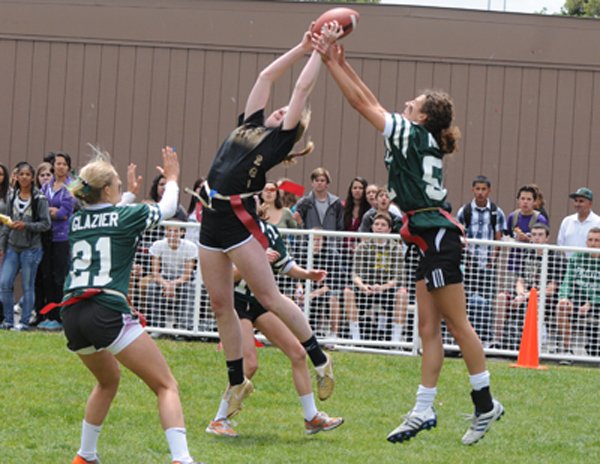 Palo Alto High School's Associated Student Body (ASB) has announced that it will be replacing the tradition of Powder Puff football with a new coed multi-sport competition called the "Viking Best of the Best Sports Fest."
While Powder Puff is gone, football still remains a part of this new competition. The "Viking Best of the Best Sports Fest," starting on May 19, will consist of three separate competitions in the first round. All teams will participate in a flag football game, an ultimate frisbee game and a volleyball game.
Although ASB is very excited about the prospect of a new tradition, others are disappointed that the much beloved all-girls football game is no longer taking place.
"It's disappointing because Powder Puff is something that I know not only I look forward to, but the rest of my class looks forward to," junior and former Powder Puff player Jacey Pederson said.
Pederson, however, continued on to describe her excitement over the new competition.
"Despite being a little sad, I am also excited for the new tradition and to see how it goes," Peterson said.
After winners are crowned and points are announced, the top six teams will advance to a final round in which the sole winner is decided by a relay race. While there is no tangible prize for the winners, they will be announced "Grand Champions" and will have bragging rights until next year's events unfold.
ASB has quite a lot to live up to with the cherished tradition of Powder Puff having always excited and entertained the school. Anything less would be considered a disappointment.
The main idea that pushed this change in tradition was inclusiveness, which has been the goal for this year's ASB to improve school wide.
ASB's reasoning for the departure from Powder Puff has been reinforced by ASB Student Body Vice President Reid Walters
"Powder Puff was taken away because we wanted a more inclusive event that was open to all students," Walters said.
Powder Puff football used to consist of 40 to 55 female students, and only 10 male students. With this new competition, ASB envisions around 200 students participating.
ASB Sports Commissioner Livi Musil references the fact that Powder Puff was sexist, as it created a separate event entirely for females that could not compete with the boys.
"It's time to be progressive and let go of an activity stuck in the 1950s," Musil said.
Another facet of the teams is diversity. Teams will have to have at least four members a different gender. While other school spirit events have teams that are grouped by grade, ASB has placed no such limits in this event and hopes to have teams that are age diverse, continuing the trend ASB established with volleyball.
Leave a Comment
Your donation will support the student journalists of Palo Alto High School. Your contribution will allow us to purchase equipment and cover our annual website hosting costs.