The Champions League: A Modern Holy Grail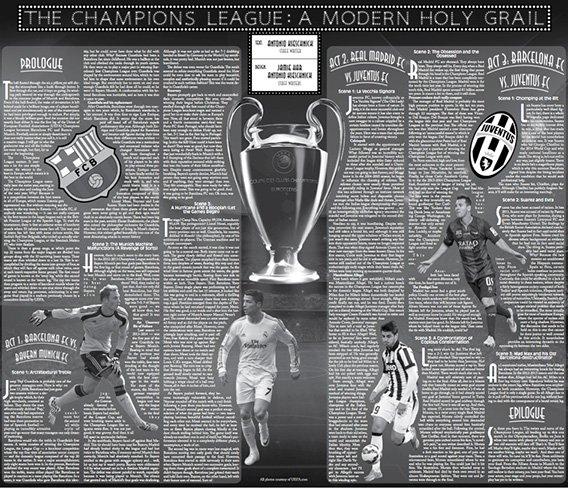 Prologue
The ball floated through the air, a pillow, yet still slicing the atmosphere like a knife through butter. It flew through the net, and it kept on going. Its winding path weaved its way through the undergrowth in the concrete jungles of Munich and Barcelona. Even if the ball floated, the wake of devastation it left behind made for a brilliant image, one of a player humiliated and yet simultaneously in awe of the masterpiece he had been privileged enough to endure. Put simply, it was a bloody brilliant goal. And the occasion did not exactly hurt either. It was the first leg of the Union of European Football Associations (UEFA) Champions League between Barcelona FC and Bayern Munich. Football, soccer or simply fanaticism: it does not really matter what you call it, it is still a massive stage. I will get to who the goalscorer was and all the hullabaloo soon enough, but first, let us start at the beginning.
The Champions League matters. It matters a lot for one simple reason: the winner is the best in Europe, which means it is the best in the world.
The Champions League essentially lasts the entire year, starting in July of one year and ending the June of the next year. Why? Because it is a competition between the best teams in all of Europe, which means Estonia gets represented too. But without meaning any disrespect to the top team in Estonia — Levadia FC, if anybody was wondering — it can not really compare to the best teams in the larger leagues such as the British Premier League or the Spanish Liga. To start the tournament, there is first an arduous series of knockout rounds where 55 inferior teams face off. This vast pool of teams has left fans with some curious results, like Serbia's Red Star Belgrade, who ended up actually winning the Champions League, or the Sweden's Malmo FF, who were finalists.
There is then a group stage, at which point the top 22 teams from the major leagues are divided into groups along with the 10 surviving lesser teams. These teams are then whittled down to a last 16. This is accomplished by dividing the teams into groups of four, as which they will face off against each other twice, once at each team's respective home ground. The first round of games is known as the 'away leg,' while the second round is known as the 'return leg.' The top two teams then progress to a series of knockout rounds where the teams are whittled down to one true victor through the away and return leg processes, culminating in a one-game final played in a stadium previously chosen by a committee formed by UEFA.
Act 1: Barcelona FC vs. Bayern Munich FC
Scene 1: Architextural Treble
Josep 'Pep' Guardiola is probably one of the greatest managers ever. Here is why: on June 17, 2008, Barcelona had just gone two seasons without a single trophy which, by their high standards, counted as failure. They chose the man affectionately dubbed 'Pep,' a man who only had experience coaching the Barcelona reserve team but had won them promotion to the second tier of Spanish football — all while playing an incredibly attractive style of pass-and-go soccer that many managers can only dream of instituting.
Barcelona would win the treble in Guardiola's first season. A treble consists of winning the Champions League, the League Cup — a knockout competition where the top four tiers of association soccer compete — and the domestic league composed of the top 20 teams in the nation. It was a major accomplishment; only eight teams have won it. In the process, Barcelona redefined the way soccer was played. After Barcelona won the treble, teams either played like Barcelona or played in reaction to a team playing like Barcelona. In a sense, it was Guardiola who gave Barcelona this identity, but he could never have done what he did with any other club. Why? Because Guardiola had been a Barcelona fan since childhood. He was a ballboy at the club and climbed the ranks through its youth system. He then went on to play a major part in winning Barcelona's first Champions League ever. Guardiola was shaped by the environment around him, which in turn led him to shape that same environment in his own ideal image. But everybody has to move on and soon enough Guardiola felt he had done all he could, so he went to Bayern Munich. A confrontation with his beloved Barcelona was inevitable, and so here it was that it came to pass.
Guardiola and his replacement
After Guardiola, Barcelona went through two managers in two years which, by Barcelona's standards, is a fair amount. It was then time to sign Luis Enrique, which Barcelona did. It seems that the move has paid off based off of Barcelona's superb performance this year. Although both Enrique and Guardiola played for Barcelona and became cult figures during their time there, their differences were evident — while Guardiola was a meticulous and renowned tinkerer who changed formations multiple times throughout a match and expected each of his players to be able to play around three positions, Enrique seems to have finally settled for his best formation and stuck with it, and who could blame him? It is a pretty good formation. A formation composed of three of the best players in the world: Lionel Messi, Neymar and Luis Suarez. There had been doubts in the preseason that these three giants of the modern game were never going to gel and their egos would clash in an absolutely cosmic boom. There had been big stars in the past, notably Zlatan Ibrahimovic, the player who coined the philosopher nickname for Guardiola, who had not been capable of living in Messi's shadow. However, this trident gelled beautifully into one of  the most devastating attacks in recent history
Scene 2: The Munich Machine Malfunctions (A Revenge of Sorts)
However, there is much more to the story here. In the 2012-2013 Champions League semifinal, Bayern Munich put four goals past Barcelona in the first leg, or first round of games. Barcelona, although slightly on the wane, was still expected to beat Munich and move on to the final. Well, come on. It was Barcelona. How could Bayern hope to beat them? Well, they ended up doing just that. And not only did Bayern beat Barcelona, but they also demolished them. The aggregate score over two legs was 7-0. 7-0! Bayern were good — we all knew that, but that good? It was insane.    
An Unsavory Bit of Failure
Last season — 2013-2014 — was the first year of the new Guardiola era at Bayern Munich. Bearing in mind that in the previous year Bayern had already won the treble, fans were drooling at the thought of the best team in the world now equipped with the best manager in the world. For most of the season, the Munich juggernaut trampled over the competition in the German league and was already favored to win the league even a few weeks before the winter break. Bayern had strolled to the final of the League Cup, and they were brushing teams aside in the Champions League like an iguana swats flies. It was not just good; it was groovy. And then it all fell apart in spectacular fashion.
In the semifinals, Bayern faced off against Real Madrid. This tie should have been easy for Bayern; Madrid had already looked shaky in the league and had lost twice to Barcelona who, if memory served Munich fans correctly, Munich had absolutely smashed. So Bayern strolled to the game with swagger aplenty and… well, let us just say it wasn't pretty. Bayern were obliterated 4-0 by what turned out to be a flawless Madrid organism. The defeat was almost painful to watch, especially because it was being played in Munich. The silence that greeted each of Madrid's four goals was deafening. Although it was not quite as bad as the 7-1 drubbing handed to Brazil by Germany in the World Cup semifinals, it was pretty bad. Munich was not just beaten, but humiliated.
The defeat was even worse for Guardiola. The result seemed to refute everything Guardiola stood for. How could he even dare to ask his team to play beautiful, complex and aesthetically pleasing soccer if it could be crushed in such ruthless fashion? This was the worst defeat in Guardiola's career.
Recovery
Bayern promptly got back to work and steamrolled their domestic competition this year, virtually winning their league before Christmas. They strolled through the first round of the Champions League knockout stages and seemed a good bet to re-stake their claim as Europe's best. Now, all that stood in between them and a fourth consecutive semi-final was Porto FC from Portugal, who should have been easy enough to defeat. Hold up, not so fast. 3-1 loss in the first leg in Portugal. This wasn't too great. Fans started panicking. Is this the fall? How could it have been so short? They were so good, but now they were losing to Porto? Well. Bayern fixed that just wonderfully back in Munich with a 6-1 thumping of the Iberians that left them with their reputation restored while striking fear into the hearts of their fellow semifinalists. Despite many commentators gleefully heralding Bayern's speedy demise, Munich had proven they were not going away anytime soon and if anything, they were stronger than ever. They felt unstoppable.They were ready for whoever might come. This was going to be good. And it was going to be Barcelona FC too. Oh man, was this going to be good.
Scene 3: A Hurricane and a Hooplah (Let the Games Begin)
The stage? Camp Nou. Capacity: 99,354. Attendance: 95,639. The protagonists? Lionel Messi, arguably the best player of not just this generation, but of every previous one as well. Guardiola, his mentor, dubbed 'el fílosofo' (the philosopher), by one of his embittered ex-players. The German machine and its Spanish counterpart.
As soon as the match started, it was clear it was not going to be a normal one. Both teams came out to attack. The game slowly drifted and flowed into something different. The players morphed from their human form into droplets of water, floating this way and that in the grand oceanic tumult that was the game. As the wind blew in furious gusts across the waves, the game became increasingly hectic, flowing from one side to the other at an incredible speed. First Barcelona came within an inch. Then Bayern. Then Barcelona. Then Bayern. Every single player was performing to best of his abilities and until the last 15 minutes, it looked like this was going to end in a stalemate, albeit a thrilling one. Then out of this oceanic chaos there rose a player, nay, a god. Poseidon emerged from the depths of Tartarus where he had remained trapped for years. Messi. His first was good, a cut inside and a shot into the bottom right corner of Munich keeper Manuel Neuer's goal. The crowd descended into an utter unabated frenzy and so did the players on the pitch, who stampeded after Messi. However, once the celebrations were over, Barcelona surprisingly kept attacking, and it paid off. First, Ivan Rakitic slid a pass through to Messi who was now up against Bayern's Jerome Boateng. Messi had two options here: shoot or cut inside and then shoot. Messi took the third option, and with a turn sharper than Louis C.K's tongue, Messi drifted past Boateng. The turn was so crisp that Boateng began to fall. As the ground itself slowly started to race towards Jerome, Messi was busy lobbing a wispy cloud of a ball over Neuer, all 6-feet-4-inches of him, and into the net.
As Bayern pushed forward, they became increasingly vulnerable in defense, and Neymar rounded off the match with a cool finish following a pass from you-know-who. However, it seems Messi's second goal was a perfect encapsulation of what the game had been — two teams playing luscious, beautiful football without cancelling each other out. Messi seemed to be everywhere, and every time he received the ball, he left at least two or three Bayern players clawing blindly at the dust clouds trailing behind him. The game itself was already an excellent one in and of itself, but Messi's performance elevated it to a completely different plane, a masterpiece, a work of art.
The second leg was in many ways less magical, with Barcelona scoring two early goals that should surely have cemented their passage to the final. However, Barcelona fans started to shift nervously in their seats when Bayern Munich scored two successive goals, leaving them three goals short of a complete turnaround. It didn't happen though. Barcelona just gritted their teeth and held their own. Bayern, on the other hand, left with their honor sort of restored. Sort of.
Act 2: Real Madrid FC vs. Juventus FC
Juventus FC, known colloquially as "La Vecchia Signora" (The Old Lady) has always been a force of nature. In Italy, it is the most successful club and its success means it has also come to define Italian culture. Juventus brought a new swagger to a culture crippled by a certain fatalism caused by countless disappointments and losses throughout the years. Here was a team that rejected failure in favor of unerring victory.
Calciopoli
It started with the appointment of Luciano Moggi as general manager. What followed was an incredibly successful period in Juventus' history which included five league titles (later reduced to three after the scandal) and a Champions League trophy. However, this golden era was not going to last forever, and Moggi knew it. In the 2004-2005 season, he began to influence the choosing of referees. The referees chosen were usually those perceived as generally ruling in Juventus' favor. Most of this was achieved through an intricate network involving secret bribes and disposable phones amongst other Mafia-like deals and threats. Juventus won the Italian league championship that year and the following one. Everything was groovy … until an investigation by an Italian agency uncovered the scandal and Juventus was relegated to the second division of Italian soccer.
Needless to say, it was humiliating. Despite winning promotion the next season, Juventus's reputation had still taken a brutal hit, and although it was still hanging around the upper echelons of Italian soccer, it just wasn't the same. Juventus wasn't striking any fear into their opponents' hearts, teams no longer respected them. That was when they signed Antonio Conte to be their new manager from the lesser known Siena. In his first season, Conte took Juventus to their first league title in ten years, and he did it unbeaten. However, Juventus still crashed out of the Champions League at embarrassingly early stages while their lesser rivals AC Milan were busy cruising to successive quarter-finals.
Massimiliano Allegri
Now here's where it gets weird(ish). Milan's coach was Massimiliano Allegri. He had a curious knack for success in the Champions League but catastrophe in the domestic league. Allegri was both despised by Milan fans for Milan's failure domestically but lauded for his good showings abroad. Soon enough, Allegri's credit finally ran out, and he was fired. Events then conspired to make Allegri Juventus manager after Italy put on a dismal showing at the World Cup. This meant Italy manager Cesare Prandelli was forced to retire and would be replaced by none other than Antonio Conte, Juventus' manager. This in turn left a void at Juventus that needed to be filled. Who better to fill it than Allegri? Well, as far as Juventus' fans were considered, basically anybody. Allegri, as AC Milan's coach, had regularly mocked the two titles Juventus had been stripped of. He was generally perceived as not being good enough for the job as he had led Milan to a lowly 11th place the previous season. On his first day at training, Allegri had his car pelted with eggs and spit. Not exactly a warm welcome.
Soon enough, Allegri won over Juventus fans with the tried and trusted Juventus method of winning things. Juventus players were Italian League champions, champions of the Italian cup and in the final of the Champions League. There was a power and a sort of braggodoccio to the team that had returned after years in the shadows. Juventus were back to their old selfs, a team ready to take on the world and reestablish the Italian identity. More than that, they were brushing off opposition teams left and right like Darth Vader and any secondary characters , but I'll get to Allegri's success with Juventus later on in this winding epic.
Scene 2: The Obsession and the Obsessed
Real Madrid FC are obsessed. They always have been. They always will be. Every day, when a Real Madrid fan wakes up, the first thing that passes through his head is the Champions League. Real Madrid is a team that has been completely consumed by the Champions League. Madrid won it for the tenth time last year. In the process of winning this tenth title, Real Madrid spent around $1 billion across ten years. It meant a lot to them, and it still does.
Pressure cookers don't really compare
The manager of Real Madrid is probably the most high pressure position in sports. In the last ten years, Real Madrid president Florentino Perez has gone through 12 managers. The first of these was Vicente Del Bosque. Del Bosque was fired having won the league title that year and two Champions Leagues in the previous four. The official reason was that Madrid needed a new direction following an 'unsuccessful season' in which it only won the league. Del Bosque didn't fit with the glamorous view Perez had of Real Madrid because with Real Madrid, it is no longer just a question of winning the Champions League but of winning the Champions League with style.
So Perez searched, high and low, from the most unknown to the most preeminent coaches. From Vanderlei Luxemburgo to Jose Mourinho, he searched. Finally, he chose Carlo Ancelotti. Going in to the the 2013-2014 Champions League final, Ancelotti was in danger of losing his job. He had only won the League Cup and Real Madrid had no shot of winning the league. The fans were in the process of rebelling, as they invariably are, and booed goalkeeper Iker Casillas. This was like Yankees fans booing Derek Jeter, or Americans booing George Washington. An utterly self-defeating endeavour that only served to discredit them as fans. Luckily, or maybe unluckily, Ancelotti won the Champions League and lived to fight another season.
This season, Ancelotti has been faced with the same dilemma, only this time, he hasn't gotten out of it.
The Prodigal Son
Madrid has never had a great youth policy. Usually one or two of the best players in the youth academy will make it into the first team, where they will become cult figures. Alvaro Morata was not one of those figures. So Morata left for Juventus, where he played just as well as everyone knew he could. He was good enough for Madrid. Everyone knew that. He wasn't bad, the starters were just too good. So Morata left for Juventus where he helped them to the league title. Then came the tie with Madrid. He couldn't, could he?
Scene 3: A Confrontation of Copious Consternation
Long story short: he did. The first leg was a 2-1 win for Juventus that left Madrid shocked. They expected to win — they had to be better than Juventus. No? I guess not. Morata scored a tap in. They looked more organized and all around better than Madrid. There wasn't much else too it.
Madrid was still relatively sure of passing on to the final. After all, due to a bizarre rule that basically means an away goal counts double, Real Madrid only needed a 1-0 win at home to go through, as it had already scored one goal at Juventus' home ground in Turin. Real Madrid scored its goal midway through the first half. Now it was all set up. And then, in  minute 57, a cross into the box. There was Morata, in a twist every single Real Madrid fan expected, Morata calmly controlled the ball while everything around him descended into chaos as everyone around him hectically scrambled after the ball. Following the control, Morata volleyed emphatically past goalkeeper Iker Casillas. And in that moment, there was genuine pain etched across his face, "a novelist's pain," as one writer described it. Morata was a fan first and foremost. First, he had a fan's reaction to his goal, one of pain and frustration at a goal scored against your team. Then, a microsecond later, Morata remembered where he was and who he was playing for. You could just feel it hit him. The frustration. Morata then wheeled away to celebrate. Madrid had died by their own sword in an almost Shakespearean fashion. They were out and Juventus were through to the final.
Act 3: Barcelona FC vs. Juventus FC
Scene 1: Chomping at the Bit
Luis Suarez has never been a particularly well-liked figure. In fact, there is a whole Wikipedia page dedicated to his controversies. Suarez has an incredibly intense drive to win, a drive that has made him a one of the best players in the world but nonetheless an intense one. It was Suarez who bit Giorgio Chiellini in the 2014 World Cup and who made national headlines as a result. The thing is, he's not evil in any way, just slightly insane. There is no doubt he's a magnificent player, which is why this summer Barcelona signed him despite the biting incident under the condition that he would seek professional help.
The man who Suarez bit, Chiellini, plays for Juventus. Although Chiellini has publicly forgiven Suarez, it'll still make for an interesting matchup.
Scene 2: Suarez and Evra
Suarez has also been accused of racism. In late 2011, Suarez was accused of racism by Patrice Evra, who now plays for Juventus, during a game between Suarez's Liverpool FC and Evra's Manchester United. The findings by the British Soccer Association declared conclusively that Suarez had in fact used racial slurs in Spanish against Evra. Suarez cited his diverse ethnic background as evidence that he had not in fact used racial slurs. The thing is, Suarez probably had used racial slurs. Why? Because the race issue remains an unaddressed issue in the Hispanic community. From Spain to Peru, certain racist attitudes continue to pervade throughout the Spanish speaking community. Curiously, this could be attributed to a lack of racial diversity in these nations, where despite a fairly heterogenous society composed of both 'Indios' and Spanish colonists, Hispanic society still proves surprisingly intolerant towards a variety of minorities. Ultimately, Suarez's discrepancies could be viewed as endemic of a larger societal problem that needs to be remedied. The same actually goes for most of southern Europe, where the specter of racism still casts a long shadow. However, the discussion that needs to be held on this is one that cannot be done justice or well covered in this article. It nonetheless provides an interesting dynamic to the upcoming tie between the two sides.
Scene 3: Mad Max and his Old Barcelona-destructinator
As I mentioned earlier, Massimiliano 'Max' Allegri has always had an interesting knack for beating Barcelona. In the 2012-2013 season and the one before that, Allegri had led his AC Milan to a first leg victory over Barcelona before he was undone in the return leg, where Barcelona won emphatically on both occasions. However, the Champions League final is only a single game. So all Allegri has to do is pull off his previous trick for one leg, without having to deal with the consequences of a brutal return leg.
Epilogue
So, there you have it. The twists and turns of the Champions League, all leading up to this one match in the Olympiastadion, Berlin on June 6 when two teams with plenty of history and one or two old enemies will face off. That's it. They'll face off. Maybe they'll fight, maybe they won't. Maybe we'll see another biting, maybe we won't.  And then one of them will win. So tune in; it'll be fun. From architects to geniuses via corruption and cannibalism, you have your final. From the Allianz Arena in Munich to the Santiago Bernabeu stadium in Madrid where the fans still wallow in their misery, you have your final. You have your actors, your stage and your props, but your screenplay has yet to be written.
Leave a Comment
Your donation will support the student journalists of Palo Alto High School. Your contribution will allow us to purchase equipment and cover our annual website hosting costs.