Taekwondo emerges in Palo Alto community
Students undergo strenuous training in martial arts and apply learned morals and ideologies to everyday life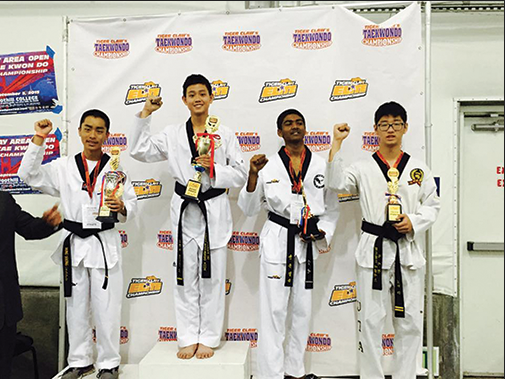 For most high school students, 6 a.m. on a Monday morning is the time to sleep. But for some athletes, it means waking up and embarking on a 3-mile run. Palo Alto High School sophomore Andrew Ho is one of those athletes. Morning runs four times a week have been a routine of his since the summer of 2014.
"Sparring requires a lot of endurance," Ho said. "If you can't keep up, it's actually somewhat dangerous."
The "sparring" that Ho refers to is taekwondo, a self-defense martial art of Korean origin. Ho is a first-degree black belt and a certified referee in the sport, spending approximately five hours every week in training. Outside of training in the studio, the ultimate mastery of taekwondo requires a great deal of extra effort — Ho runs 12 miles a week, does conditioning for two hours a week and stretches 30 minutes a day to stay in top shape.
Taekwondo was first developed in the 1940s and is based on mixed styles of karate, an older martial art developed in the 15th century by the Japanese. The Korea Taekwondo Association was the first organization to govern taekwondo competitions, but the main governing body for taekwondo today is known as the World Taekwondo Federation (WTF).
WTF brought taekwondo to the Olympics in 1992. Since then, taekwondo's popularity among children, teenagers and adults around the world has rapidly grown. Approximately 8 million people of over 200 different nationalities practice taekwondo with a certified organization, and many more athletes do so independently.
Paly senior third-degree black belt Johnny Lee sees a number of characteristics in taekwondo that differentiate it from other martial arts such as kung fu or karate.
"Taekwondo has an emphasis on kicking techniques," Johnny Lee said. "The first practitioners believed that the fists were too special to be used in combat. Philosophy-wise, taekwondo strives to suppress fighting and promote peace."
Palo Alto has its very own taekwondo studio under the name "Palo Alto Martial Arts." The studio was founded six years ago by Grand Master Kwangil Bae who has been teaching taekwondo for 35 years — since the age of 13. According to Bae, the curricula, styles and motivations vary from studio to studio.
"Sometimes, studios will only think about the business," Bae said. "Others, like ours, will prioritize personal development."
Bae explains that in Korea, studios can only be started by those who reach a certain qualification that requires a significant amount of mental discipline and a sincere love for the sport. Here in the U.S., anybody who is interested can start a studio, and that is why the number of studios in the U.S. has grown so rapidly — many people have founded studios primarily to make money.
"I started a while back, when I was in first or second grade," Ho said. "I started because I saw a Jackie Chan movie and wanted to be able to do [what he did]."
After nine years of training, Ho has become an incredible competitor and has won multiple local tournaments. He has yet to place at the state tournament in previous years, but Ho is optimistic about the future.
"[In] junior year, [my team has] a shot at first place [at the state tournament]," Ho said. "It's one of my goals. If we get first, second or third, we will qualify for [the national tournament], which is in Texas over the summer."
However, there is more to taekwondo than winning tournaments and learning how to fight. According to sophomore third-degree black belt Albert Hwang, taekwondo has taught him a wide range of valuable lessons applicable outside of the sport itself as well.
"There are leadership qualities that follow with the martial arts," Hwang said. "One of the prerequisites before the black belt tests was that I had to have teaching experience. I had to teach children's classes, young adult classes as well as adult classes."
Johnny Lee seconds the argument that taekwondo has enormous influence on a person's everyday life.
"Besides self-defense, taekwondo has taught me the importance of focus," Johnny Lee said. "Every class session, I do meditation, thinking about what I accomplished the day before, what was blocking me and what I will achieve that day."
Johnny Lee also acknowledges that taekwondo takes a tremendous amount of time out of his daily life, but he has ultimately benefited from having to balance it with school and other extracurriculars by learning to become more organized.
"One thing that really kept me balanced was organizing everything into my calendar," Johnny Lee said. "By listing out everything I had to do, I became more aware of the tasks I needed to get done right away. Having a sport after school pushed me to be more organized with my time."
Johnny Lee plans to join the University of California, Los Angeles Bruins' Taekwondo Club this fall as a freshman in college, and hopes to further his passion for taekwondo.
Freshman second-degree black belt Juyon Lee has also had meaningful experiences in taekwondo. Contrary to popular belief, it is not unusual to see girls participate in taekwondo. According to Juyon Lee, it is sometimes more difficult for girls to succeed in competitions especially in poomsae — a style of taekwondo that is acrobatic as opposed to sparring, which involves physical striking. Juyon Lee explains that this is most likely because many boys prefer to compete in sparring rather than poomsae, so there are more participators in the girls division than that of the boys.
"My level [in poomsae] last year had around 50 girls per division while the boys had about 20," Juyon Lee said.
Despite having differences in competition, poomsae and sparring teach similar lessons. Juyon Lee explains that lessons of determination are not unique to sparring, but a value that all of taekwondo has to offer.
"Taekwondo teaches a lot of discipline and hard work," Juyon Lee said.
At the same time, Juyon Lee enjoys her taekwondo training sessions despite having to battle many mental and physical obstacles, largely due to the friendships made at the studio.
"I've been at the same studio my entire life, so the people I train with have become really close friends," Juyon Lee said.
Ho, Hwang, Johnny Lee and Juyon Lee all attend Bae's Palo Alto studio, and have been strongly influenced from his teaching philosophy. From Ho's confidence in himself and his team to Hwang's acts of service through leading taekwondo classes, Bae has encouraged growth in mental toughness for all of his students.
On a wall in the studio, Bae's four core values that he aims to teach are printed — Confidence, Respect, Modesty and Service — all of which Bae believes to be interconnected.
"Sometimes, people who learn taekwondo know the skills and they have too much confidence — these people become arrogant," Bae said. "Instead, if you're modest, others automatically begin to respect you. From this, you must also learn to respect others and serve others as well. That is what we want students to gain from taekwondo."
Leave a Comment
Your donation will support the student journalists of Palo Alto High School. Your contribution will allow us to purchase equipment and cover our annual website hosting costs.