Athlete of the Month
This edition featuring Kevin Bowers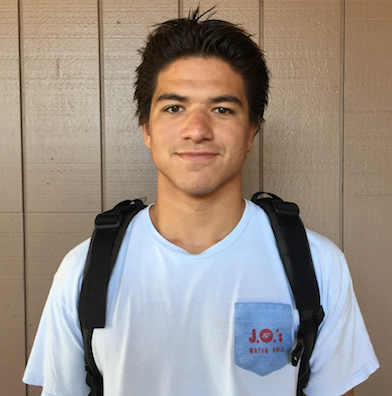 Kevin Bowers is the boys water polo captain and has played on the varsity team since sophomore year.
The Campanile: What position do you play?
Kevin Bowers: I'm a driver, but everybody will just play whatever position they have to depending on where they end up.
TC: What are your contributions to the team?
KB: I would like to think that I contribute on offense and defense. I want to work on my defensive game this year, and my main focus is to improve my defensive game and provide a little bit of leadership too.
TC: How long have you been on varsity?
KB: I've been on varsity for three years. I got pulled up my sophomore year, and it has been a blast.
TC: Wow, are there any pre-game rituals that have helped you achieve that success?
KB: Oh boy … there's some good ones. Everybody has their own weird thing. I just like to put on the headphones and get in the zone and eat some weird food.
TC: What are these weird foods?
KB: There's a lot of string cheese, I love the stuff. I'll have like four of those before a game. I don't know, nothing else gets me like string cheese.
TC: List three things you won't miss about water polo:
KB: 1) Not having cheerleaders. I think we should have some cheerleaders in there.
2) On multiple occasions, having see-through speedos, especially this year. If you guys come out to a home game there's a special treat for all of you out there. Some mistakes were made in designing the suit.
3) Not having a pool my senior year.
TC: Spit some words of fire regarding the pool:
KB: F***** sucks man … F***** sucks. But I mean things happen, and they've done a good job compensating us by buying us new goals and equipment. I'm thankful for that, but it does suck.
TC: What are your strengths?
KB: I can rock a speedo. I think I play a pretty good defense, and I play pretty well on offense, and I create opportunities. Outside of the water I would like to think I help the team stay together.
TC: What's your policy on speedos?
KB: I think every sport should have them. It should be a school-wide thing, I mean, honestly, football could use them. Mobility goes up! There's absolutely no disadvantage to using them. Spread the love!
TC: What's your worst injury?
KB: Last summer at Junior Olympics I got elbowed in the face and my teeth went through my bottom lip. I got out, plugged it and kept playing.
TC: What is it like having your mom as athletic director?
KB: Do me a favor here, imagine your mom is at Paly pretty much all day. So she's there, and she is doing her job … that's it. She's just here. She's the athletic director and she's also my mom, and I'm really proud of her.
TC: What is your greatest moment in water polo?
KB: During a game during my sophomore year I jumped into the pool, some Baywatch goin' in … and my suit came off. And there I was, in all of my sophomore glory. That's a wrap.
Leave a Comment
Your donation will support the student journalists of Palo Alto High School. Your contribution will allow us to purchase equipment and cover our annual website hosting costs.