Fall Fashion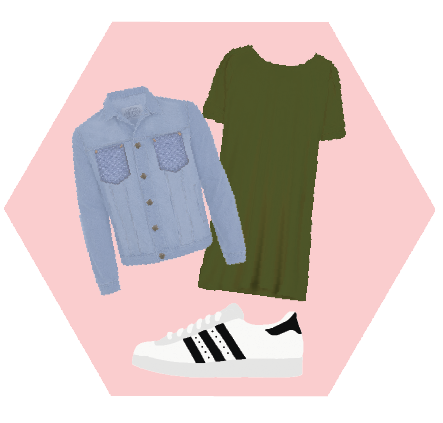 With the new school year in full swing and the weather transitioning into the chillier fall temperatures, a fashion crisis is inevitable and panic may set in as go-to outfits run low. But no worries — here are this season's top trends to stay stylish and comfortable while on a budget. Fall's versatile weather provides a diverse array of opportunities to branch out into fashion, which makes this season the best time to step up one's fashion game.
Chelsea Boots
With their sleek and understated appearance, Chelsea boots are a perfect fall staple that can make any ensemble look put together. Girls can create a simple autumn outfit by pairing the boots with a flowy dresses and denim jackets. For guys, style these boots with a simple tee and skinny jeans. H&M carries a wide range of Chelsea's, but the cheaper price will typically result in lower quality. To invest in a more long-lasting pair that will endure years of wear, try Nordstrom or Topshop.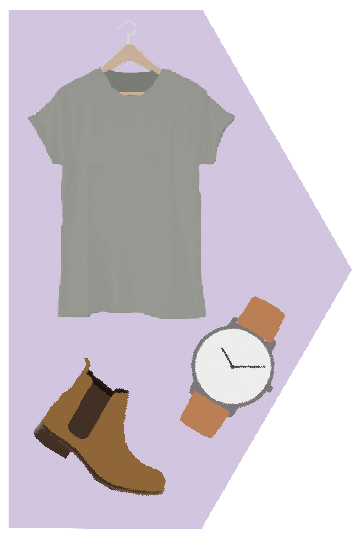 Watches
"What time is it?" The infamous question of humankind can now be answered by anyone with just a glance at the wrist. While watches are by no means a recent invention, they have stood the test of time and have made several comebacks in the fashion world. With smartwatches being all the rage recently, it will be pleasantly nostalgic to step back into an era where watches' only purposes were to tell time and to look ravishing. Watches can be found at a variety of stores, but for those who are looking for one that will last them a while, consider investing in the more expensive brands such as Seiko, IWC and Montblanc. Some of the most popular styles of watches include sport, retro and leather strap watches. These functional accessories can give the impression of being put-together, well-managed and sophisticated. With that said, the answer to "What time is it?" is as follows: "Time to get a watch."
Cuffed Sleeves on T–shirts
The classic t-shirt has been a staple item in everyone's wardrobe since it was popularized in the 20th century. Although some may consider the t-shirt to be ordinary and uninspired, the cotton tee is effortless, undemanding and fashionable. Playing up the classic t-shirt is as easy as cuffing its short sleeves — all it takes is two rolls. This simple adjustment gives the illusion of a cohesive outfit without having to compromise comfort or style. Cuffing sleeves works best on men's cut t-shirts, as men's shirts have looser and long er sleeves. This '50s inspired trend can be sported by anyone who has the time to roll up their sleeves. T-shirts can be found anywhere, from places as simple as drugstores to sophisticated, high end boutiques — anyone can find a price range and quality level that suits them.
T–shirt Dress
Aah, the t-shirt dress, the most comfortable article of clothing any girl can own and still look good in. This dress is essentially a long, extremely soft t-shirt, that can be pulled off as a dress. Some have a tighter, body-con fit and some have a more relaxed fit, but all are perfect for the summer or fall. To dress up any t-shirt dress, pair it with with black booties and throw on a leather or denim jacket. They can also be dressed down with casual sneakers or a baseball cap. T-shirt dresses usually come in solid colors, like white, grey or black, or striped, and are wearable. These dresses can be found in a spectrum of stores, including Brandy Melville (home to the classic striped t-shirt dress), Urban Outfitters and Forever 21.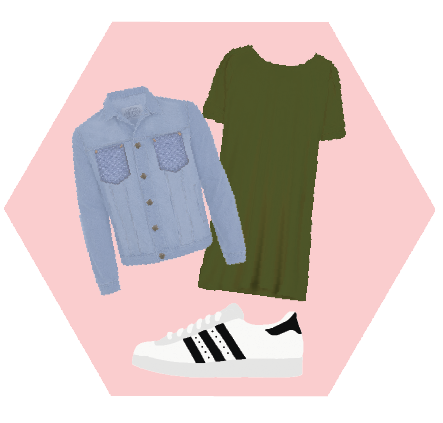 Denim Jackets
As the weather gets cooler, many people will find themselves faced with the choice of warmth or style. On cold mornings, the temptation to throw on a hoodie and go often outweighs putting together a stylish outfit. A denim jacket makes that choice much easier, as it is the perfect piece to keep warm while still looking fashionable. Either fitted or oversized, denim jackets can be extremely adaptable and are great when paired with simple tees and chinos for guys, and skirts and dresses for girls. Denim jackets are as easy to find as they are to style; ASOS jackets have a wide variety of unique washes, fits and details at a high price point, usually around $70, while H&M and Forever 21 have various options at a more realistic cost. One rule to keep in mind for denim jackets: stay away from denim on denim.
Athletic Sneakers
Combining comfort, practicality and style, sneakers have moved beyond activewear. They have made their way up in the fashion world and have been spotted on the runways of Chanel, Dior, Marc Jacobs and more. With classic retro designs and simple colors, sneakers can be paired with virtually any outfit, while adding a sporty element to your outfit. For girls, sneakers pair well with overalls, shorts or any casual ensemble. For guys, they can be worn with jeans and a pullover. Whether it means investing in Adidas, Nike or New Balance, sneakers will become anyone's go-to shoes every morning. For those looking to purchase the most trendy sneakers this fall season — guys, try Adidas Stan Smiths; girls, check out Adidas Superstars.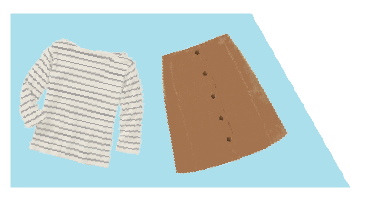 Striped Shirts
Ask any slightly fashionably inclined person if they have a classic striped shirt they love and they will most likely say yes. The striped shirt is a timeless style and exudes a Parisian flair. A striped shirt goes with virtually any article of clothing — it can be tucked into a cute skirt or paired with a denim jacket and black skinny jeans. This classic trend can be found virtually anywhere, from Brandy Melville, which offers some particularly soft shirts, to J.Crew, which offers a collection of preppy and upscale striped t-shirts. Of course, Forever 21 and H&M sell some more practically priced tops.
Button–front skirts
This '70s era, A-Line skirt is becoming popular again just in time for fall, with button-front skirts  being made in new fabrics such as denim and corduroy, as well as a wide range of colors. The lengths of button front skirts range from being supermini, a quarter down your thigh, to almost at the knee. These skirts are great for anyone who wants to look a little stylish by throwing on a crop top or tucked in top and booties. For colder days, pair these skirts with tights or over-the-knee socks and a pair of ankle boots. Famous British fashion model and contributing editor at British Vogue Alexa Chung has featured this classic and vintage-looking piece in her fashion line, Alexa Chung for AG. In addition, a variety of famous bloggers have featured these types of skirts in many of their posts, showcasing the revival of a classic trend. Button-front skirts can be found for a variety of different prices and in many stores, including Topshop, Urban Outfitters and Forever 21.
Leave a Comment
Your donation will support the student journalists of Palo Alto High School. Your contribution will allow us to purchase equipment and cover our annual website hosting costs.