Hip Hop Hopefuls: Kanye West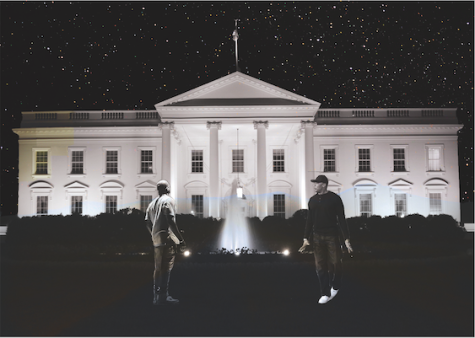 Kanye West is nothing short of a Christ figure in his own careening story. One that reads like a podracing scene in Star Wars, full of mumbled expletives and grandiose statements flung defiantly at the heavens while everyone from Jay Z to Taylor Swift hangs on by his coattails. All the while, Kanye charges on, led by unwavering ambition, like an amoeba in a petri dish, always eager to consume the stragglers up ahead. The public has always subliminally condoned this behavior, where its words say, "No! This man is a self-serving egomaniac," but its eyes say, "Yes! This is pure, raw, freebased entertainment that verges on perfection."
Because the thing is, Kanye makes points many can not help but agree with. Critics and supporters alike cannot deny the social relevance of Kanye's heavily anti-corporate message — one that promotes introspection and trodding out one's own path in life. Kanye's early albums like "College Dropout" and "Late Registration" were widely acclaimed as instant classics not just for their production, but also for their lyrical content.
Nonetheless, in the last few years, Kanye is no longer the critically and publicly acclaimed wild child of hip hop; instead, it seems his personality and egotism have overshadowed his music and his message. His newest album "Yeezus" was met with heavy criticism for its arrogant tone. Even so, although his message may have been obfuscated by his controversial behavior in the last few years, it remains just as powerful and to ignore Kanye would be a myopic error.
     It was in keeping with his notoriously controversial persona that Kanye announced his presidential campaign for the 2020 election at the MTV Video Music Awards. The announcement was originally met with mockery and tongue in cheek articles in the media scorning his candidacy. However, there are some suggestions that perhaps Kanye might not be such a bad candidate for president. One only has to compare Kanye to the other current candidates to rethink their stance.
If someone with radically right-wing views like Donald Trump can mount a serious campaign, so can Kanye. If a candidate who is half of the required age for a candidate can run with a meme-name like "Deez Nutz" and garner a significant number of votes in Iowa, so can Kanye.  If politicians with homophobic views like Rick Santorum or Scott Walker can be taken seriously, so can Kanye. If Martin O'Malley, a man whose name is heavily linked to police brutality in the public eye, can run for president, so can Kanye. Hell, if Hillary Clinton, who has faced plenty of criticism for her heavy corporate ties can run for president, so can Kanye.
The point is, it is possible Kanye's presidential run is not so crazy as we think it is. The only difference is public relations. Kanye's highly provocative facade generates serious antipathy from the general public, but it also sells millions of records. If anything, Kanye has become a pop culture icon as a result of this hornets-nest pugilism. If he had simply stuck to making music, Kanye would have long faded from the public's conscious attention. Instead, it seems he is only increasing in popularity; more people know Kanye the celebrity than ever knew Kanye the musician.
There is, of course, a flip side to Kanye's presidential campaign, and that is the possibility that this might all just be more self-promotional grandstanding. Kanye is most likely releasing an album within the next year, and announcing his presidential bid could very easily just be a ploy to gain more publicity for his next album. Nonetheless, Kanye will still have to prepare quickly if he wants to genuinely have a chance as a presidential candidate in 2020. At the end of the day, if Kanye just had a problem with society's fallacies, that is not something that he could realistically fix as a politician. If Kanye just wants to promote self-confidence, he should remain a pop culture icon and not throw his proverbial hat in the political ring. However, if Kanye genuinely wants to run for presidency, he needs to be just as capable of discussing the shortcomings of the veterans administration as he should about "Black Skinhead[s]."
In a sense, the true gauge of how serious Kanye is about this presidential bid will be how much he changes his own image into one that the American public will stomach. Either way, Kanye will always be Kanye and, to quote Mr. West himself, "Nobody can tell [him] where [he] can and cannot go."
So now, let's zoom out, and instead of talking about Kanye West, let's talk about the rap industry in which Kanye cut his teeth. Because now the question has become: If Kanye's running for president, why isn't Jay Z? Why not Dr. Dre?
To understand why this question needs to be asked, we need to go back to Dr. Dre's departure from the rap group N.W.A., where, along with his bodyguard Suge Knight, he created Death Row Records. There, Dr. Dre was responsible for the pressing and release of some of the most important rap albums in rap history, including "The Chronic," "Doggystyle" and "All Eyez on Me", all of which form a vital part of the rap canon.
This move into enterprise would pave the trail for others like New York rapper Jay Z to move into business themselves. Jay Z actually founded Roc-A-Fella in order to release his first album after it was snubbed by major record labels at the time. The fact that we are still talking about Jay Z's success should tell you all you need to know about his success in the music industry and ascension to the pantheon of true rap greats alongside N.W.A and Tupac Shakur, amongst others.
What made Jay Z unique or perhaps simply a sign of things to come was his willingness to expand out from music into other arenas, including sport — he founded Roc Nation Sports, an agency whose current signees include Kevin Durant of the Oklahoma City Thunder — as well as fashion and movie production.
However, Jay Z isn't even the biggest rap-business crossover. In the last year or so, Dr. Dre declared himself "the first billionaire in hip-hop" after he sold his line of headphones Beats to Apple for $3.2 billion, of which he had a $600 million share that left him with a net worth of about $800 million. Although this leaves Dre $200 million off of being hip hop's first billionaire, he's closing in on the title and the likelihood is he will soon be able to truthfully state he is hip hop's first billionaire.
Now, it is probably at this point that you might be asking yourself why exactly one would care about Jay Z or Dr. Dre's net worth. The point is that as its major artists start to reach new financial heights, the hip hop industry could become a force to be reckoned with in the political coliseum. For example, if the top five earners in the rap industry were to amass their wealth, they would have enough financial clout to match Hillary Clinton's campaign (even if there wouldn't be that much left over) and without any of the negative corporate connotations her election is currently plagued by.
Although Kanye may not be the ideal candidate for the hip hop moguls to back, a candidate coming out of the rap industry might still be a legitimate possibility. If anything, hip hop would be a more powerful force than any the U.S political landscape has ever reckoned with before. Why? Hip hop defines cool. Hip hop has the sort of pop-culture clout that the Koch brothers could only ever dream about. Because, as much the Koch brothers might be able to pay for political advertisements, Hillary Clinton never produced "Straight Outta Compton" (Dr. Dre) and Jeb Bush never wrote "The Blueprint" (Jay Z).
Hip hop has the ability to appeal to a younger generation and potentially make under-30s show up to voting booths in droves. Appealing to an older generation would simply be a question of finding a candidate with a squeaky clean image and policies that weren't overly idealistic. As a matter of fact, hip hop's cool factor would give it leeway to go much further right than any standard leftist campaign could.
Although Kanye West getting heavy backing from hip hop would be an interesting prospect, the industry has yet to muster up the financial clout necessary for Kanye to be backed purely by hip hop.
Even if the hip hop industry has yet to reach the point where it might completely finance a gale-force presidential campaign, it is slowly edging towards the point where it could finally power a candidate through to the White House. Most probably, this could happen in the next 20 years as the industry grows.
Ultimately, the hip hop industry is a nascent political force that politicians would do well to acknowledge, because, despite the scorn he faced following his presidential bid, "Kanyeezy" is just the tip of the iceberg.
Leave a Comment
Your donation will support the student journalists of Palo Alto High School. Your contribution will allow us to purchase equipment and cover our annual website hosting costs.