Bay Area: The New New York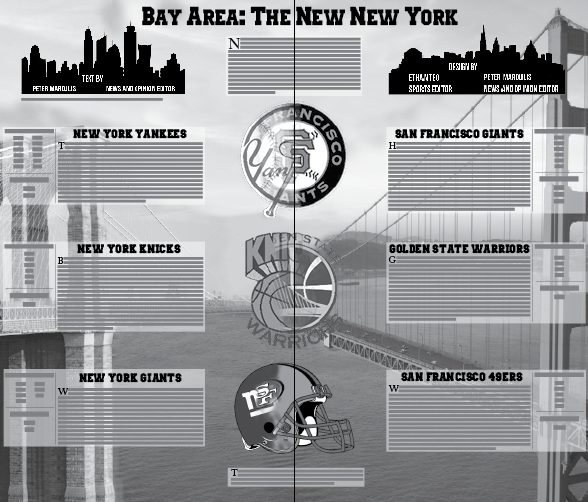 New York City, the so-called capital of the world, has long been associated with a higher standard of life, from food to art to athletic franchises. Boasting America's most expensive baseball, basketball and football teams, the city has enjoyed a prosperous period of winning, particularly during the millennial era. The mid-2000s was a time where few seats remained empty in Madison Square Garden, The House That Ruth Built (Yankee Stadium) brimmed with eager fans and East Rutherford's highways overflowed with traffic going towards Giants Stadium. While New York was in the process of being graced with a true golden age of sports success, franchises in the Bay Area were quietly building themselves up, gathering steam as the Dot-Com boom swept through Silicon Valley. When the 2000s came to a close, a formidable threat had been established in the West, a threat that soon put an end to New York City's decade of dominance. In the blink of an eye, the Bay Area had become America's capital of sports, a title it still holds today. This is the story of a recent spectral shift in baseball, basketball and football, an explanation of the Empire State's downfall and the rise of the Golden State.
New York Yankees:
The Yankees are the most successful baseball team of all time, with 27 World Series victories to date. At the turn of the 21st century, they boasted a loaded roster led by the charisma of hard-hitting catcher Jorge Posada and shortstop Derek Jeter, the slugging threat of center fielder Bernie Williams and the ingenuity of relief pitcher Mariano Rivera. From 1995 to 2012, the Yankees made the playoffs every year except for 2008, snagging a couple of rings as well in 2000 and 2009. By 2010, it seemed like the team had at least several more years of playoff berths ahead of them, but front office mistakes had in fact rotted the team almost to the core. General Manager Brian Cashman signed third baseman, now designated hitter, Alex Rodriguez to a 10-year, $275 million contract in 2007 and pitcher C.C. Sabathia to an 8-year, $186 million deal in 2008. These monster contracts not only limited new signings due to salary caps, but also set a precedent of pomp in the Yankees organization, scaring off talented potential signers like Cliff Lee. Since their 2009 World Series victory, little new talent has been farmed by the Yankees which, along with the retirements of Posada, Rivera, Jeter and ace pitcher Andy Petite, has led America's wealthiest baseball team into a tailspin. With a recent rebound in the 2015 season (due in large part to the efforts of pitcher Masahiro Tanaka), the Yankees hope to dig themselves out of five year's worth of mediocrity.
New York Knicks:
Basketball's most expensive franchise has arguably become its most laughable. Major spending and inefficient player acquisition strategies have led the Knicks, a rather successful team in the 2000s, into a state of chaos and seemingly endless losses. The year 2000 saw Madison Square Garden dominated by a team of solid-scoring, defensive players who guided the Orange and Blue to a playoff appearance, and did so again in 2001. Though not enjoying quite the amount of success as other New York franchises on this list, the Knicks nonetheless retained a respectable standing in New York, making it once again to the playoffs in 2004 and then in 2011, 2012 and 2013. But don't be fooled by the recent playoff records — the Knicks have completely given up their modest dominance. In 2011, the prolific scorer Carmelo Anthony was brought in from Denver to revive a lethargic roster. Anthony played alongside J.R. Smith, Amar'e Stoudemire and Tyson Chandler, creating for a couple of brief, charmed years the atmosphere of a dominant franchise. In 2014, Anthony, the self proclaimed franchise player, signed a whopping 5-year, $124 million contract, after a disappointing 2013-2014 season with a .450 finish, setting off a chain of events that quickly placed the Knicks at the bottom of basketball's totem pole. Suddenly, after 2013, coach Mike Woodson's Knicks couldn't win, in part due to personal differences between Woodson and Anthony, on top of which the entire team demographic was restructured. Chandler and Stoudemire went to Dallas in 2014, and Smith left for Cleveland in 2015. Thus, The Knicks have subsequently been cursed with a team full of nobodies and an expensive contract that they are obligated to pay.
New York Giants:
What the Knicks may have lacked in winning, the New York Giants certainly made up for. In 2000, the Giants contended for the Super Bowl against the Baltimore Ravens, losing on account of a weak running game. From this hard loss, the Giants built momentum, making playoffs in 2003, 2005, 2006 and even conquering the regular season undefeated New England Patriots for the Super Bowl in 2007 (with quarterback Eli Manning, running back Ahmad Bradshaw and receivers David Tyree and Plaxico Burress working in tandem to ensure the victory). Under the guidance of living legend coach Tom Coughlin, the Giants were undoubtedly one of the greatest if not the greatest team of the 2000s. And, like the Yankees it seemed like they should have been able to parlay that success deep into the 2010s, but alas it was not so. Another victory in the 2011 Super Bowl, masterminded again by Coughlin and an aging Manning, marked the last point of success for the Giants to date. The past three seasons have yielded disappointing records of 9-7, 7-9 and 6-10, due to lackluster offense and defense and of course an aging quarterback. With plenty of targets to hit, like the dazzling Odell Beckham Jr. and the showy Victor Cruz, fans are counting on Manning's arm and Coughlin's skill as a caller of plays to lead the Giants out of a slump and back into the limelight they basked in for so long.
San Francisco Giants:
Hailing originally from New York City, San Francisco's pride and joy has made AT&T Park a home of champions in the past five years, with the Giants claiming three World Series victories since 2010. Catcher and fan favorite Buster Posey has anchored the team since the start of the 2010 season with a solid batting average and stellar defense. Excellent pitching has also helped the Giants, with Tim Lincecum in his prime from 2009-2011, Matt Cain slinging heat from 2010-2013 (with a perfect game in 2012) and 2014 World Series Most Valuable Player Madison Bumgarner — a star of the pitching lineup since 2010. Among other names on the pitching staff, Sergio Romo and Ryan Vogelsong have also contributed hugely in helping the Giants become among baseball's elite teams. Unlike the Yankees, Giants front office personnel have made solid use of their annual payroll, which ranks fifth in the league at $132 million. Before signing a recent contract for about $6 million a year over six years, Bumgarner was being paid less than $1 million a year. The Giants also owe much of their success to their farm system, which has produced young, inexpensive players like recent Willie Mac Award winning third baseman Matt Duffy and dependable slap hitting second baseman Joe Panik, both of whom are 24 years old and cost around $500,000 annually. Despite the odd issue of not being able to win or even make the playoffs in an odd numbered year (2011, 2013 and now 2015 seem to have been disappointments) the Giants remain one of baseball's strongest teams with a devoted fan base and a quite recent history of, coupled with a penchant for, excellence.
Golden State Warriors:
Golden State's glorious Warriors have wowed America in recent years with flashy small-ball, topped off by the breathtaking shooting of point guard Stephen Curry. Besides the odd 2007 year wherein Baron Davis popped the Dubs into the postseason, the 2000s were not a particularly notable time in Oakland. Yet in 2009, the then-rookie Curry began developing his game and a team soon developed around him, with several key acquisitions such as center Andrew Bogut in 2012 and versatile forward Andre Iguodala in 2013. With new prowess, they landed playoff spots in both 2013 and 2014, exciting fans and leading Oracle Arena to be crowned with its present title: Roaracle. By 2014, Curry and shooting guard Klay Thompson composed the NBA's most dangerous shooting backcourt, with Bogut and power forward David Lee aggressively attacking the rim. Finally, the 2014-2015 season brought a surefire starting five lineup of Curry, Thompson, Bogut, athletic small forward Harrison Barnes and relentless 6'7'' power forward Draymond Green. With astonishing speed and ferocity, the Warriors' top ranked offense plowed through every team over the course of the season, putting them in first place at the beginning of the summer and giving them the coveted championship by summer's end. While the Knicks languished in huge expenses and watched a team decay around them, the Dubs did exactly the opposite, building a relatively cost efficient team that quickly and effectively made its way to the top.
San Francisco 49ers:
With the departure of Joe Montana and then later Steve Young, the Niners took quite a hit after the 1990s. The 2000s saw them trying to rebuild nearly an entire team, a process which takes time, energy and money. While the Giants were turning heads and capturing the nation's attention in New York, the 49ers were quietly implementing key assets such as running back Frank Gore and linebacker Navorro Bowman and replacing ineffective quarterback Alex Smith with the far more athletic Colin Kaepernick. Besides building up their prowess with players, the team's management strategists decided to bring in a proven rebuilder, Jim Harbaugh, as head coach. Harbaugh had taken the decrepit football program at Stanford University and turned it into a top 20 college football team in just two years, enjoying another two years of success at Stanford before being spirited away to San Francisco to lead the 49ers. With all their planning finally coming to fruition, the stage was set for the Niners to dominate, which they did, making it to the conference championship in 2011 and 2013 and barely missing a Super Bowl victory in 2012 over one of the most disputed football calls of all time. Admittedly, the team has recently lacked severely in the wins department, and Harbaugh left the team in 2014 following the missing of the playoffs, but the 49ers cannot be discounted as a major threat and are counting on new team talent like running back Reggie Bush, wide receiver Torrey Smith and special teams player (and rugby standout) Jarryd Hayne.
The past five or so years have shown America a shift in the geographical hotspot of the sports world. Having a big payroll is no longer enough to make a winning team, seen in the recent downfall of many wealthy New York teams. Instead, making intelligent, well-informed decisions has led The Bay Area to become the new New York.
Leave a Comment
Your donation will support the student journalists of Palo Alto High School. Your contribution will allow us to purchase equipment and cover our annual website hosting costs.